Do What You Love: Kevin Chiam
Keeping people at the heart of his design, Product & Industrial Design graduate Kevin Chiam won the Dyson Prize in 2018 for his design of user-friendly kitchenware for the visually handicapped. Kevin has also been awarded the DesignSingapore scholarship to pursue a double Masters degree in Innovation Design Engineering from the Royal College of Art and Imperial College, London. He graduated from TP Design School as the top student in his course and winner of the Lee Kong Chian Award in 2012.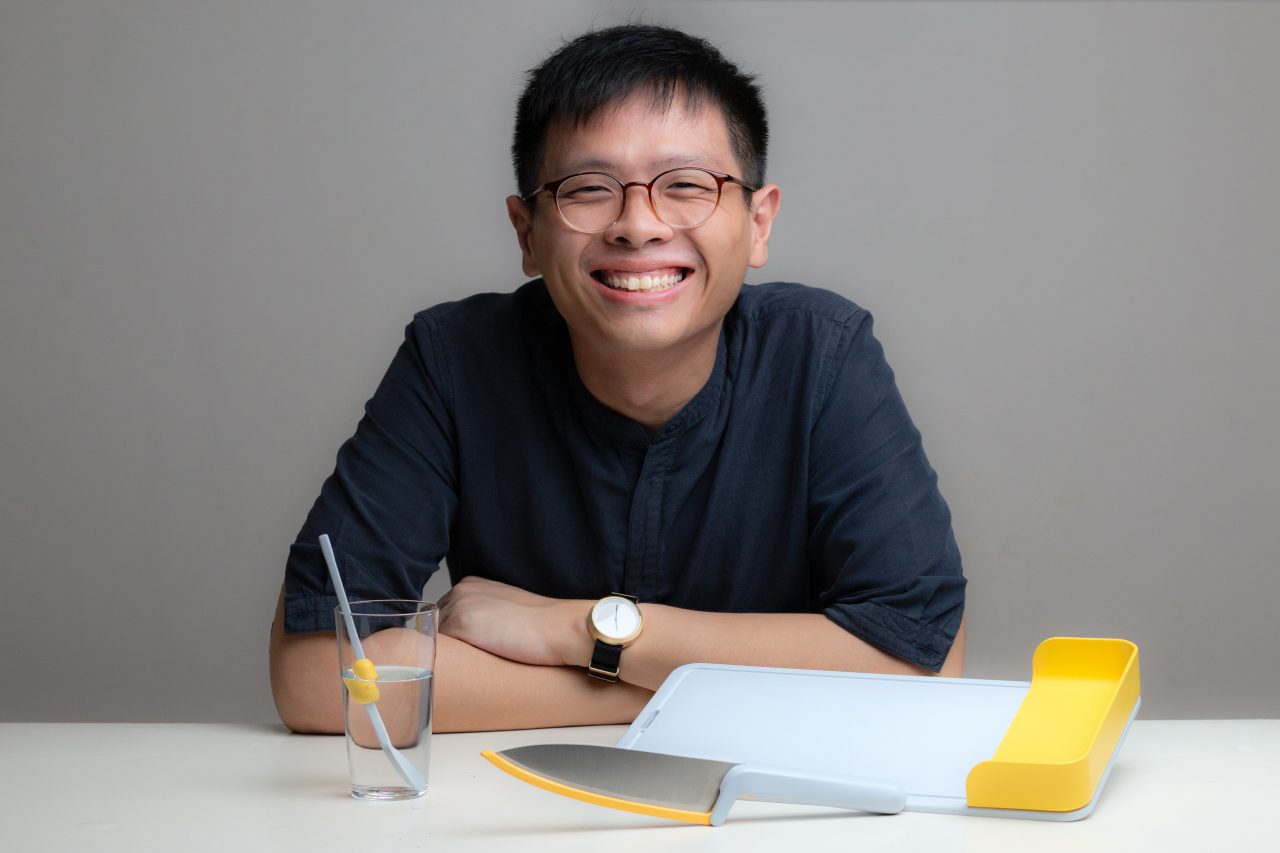 1. Why design?
Drawn towards the arts and design, I chose to pursue my tertiary education in a polytechnic setting rather than in junior college, a path that was less taken by my peers then. That passion in design, specifically industrial design, eventually led me to National University of Singapore (NUS), Division of Industrial Design (DID) where I continued to explore the discipline's potential. Looking back, there were 2 peaks throughout this journey – being in both institutions. Temasek Polytechnic (TP) trained me in the hard skills of industrial design and that stint granted me maturity in thought. NUS on the other hand challenged my perceptions of design, its reach, the importance of being sensitive and how I should be looking for opportunities instead of just solving problems.
 2. What was the best part of your time at TP Design School? What's your fondest memory?
There are many fond memories of TPDES but I would say the moments spent with my friends in the studio and the workshop are the closest to heart. We worked and played hard together, motivated each other and spent most of our time as students in TPDES. Calling TP Design School our home would not have been an overstatement.
 3. What's the most important lesson you learned here in TP Design School?
I would say that being in TP Design School taught me resilience and that diligence will eventually pay off. This is so as we are often encouraged to try and experiment, even if it does not work the very first time. In a way, this builds grit and tenacity – two key factors to being a good designer.
 4. What do you love most about design?
I think what excites me most about design is that it is never stagnant, always changing and always anticipating what people or industries need. This means that the scope is often changing and challenges come naturally – something that I love because challenges put us in discomfort and that is necessary for growth.
 5. What do you love most about your work?
Well, I will always love the next piece of work because experience, maturity and sensitivity improves and accumulates with time. Hence the best piece of work always comes next.
 6. Why did you choose to do design as a course/career?
I choose to take the path as a designer because I am inquisitive by nature and love to experiment and try new things. That proclivity made problem solving and searching for opportunities fun – which is essentially what designers do.
 7. Any message for our current students?
Be open. In fact, being open is a fundamental requisite for designers – how can we interpret, understand and translate what people want/need if we are closed and fixated on our own set of beliefs? So to any new endeavour anyone takes, I suggest approaching with an open mind.
Naturally, it also means to be receptive to failures, mistakes and reflect when things do run smoothly. While this constant self-evaluation does not guarantee success, it trains you to take on the hard knocks in life.
The "Do What You Love" series of short interviews showcases the love that students, lecturers, alumni from the School of Design have for design and where this love is taking them in life through the discovery of new skills, new opportunities, new careers and life-paths.