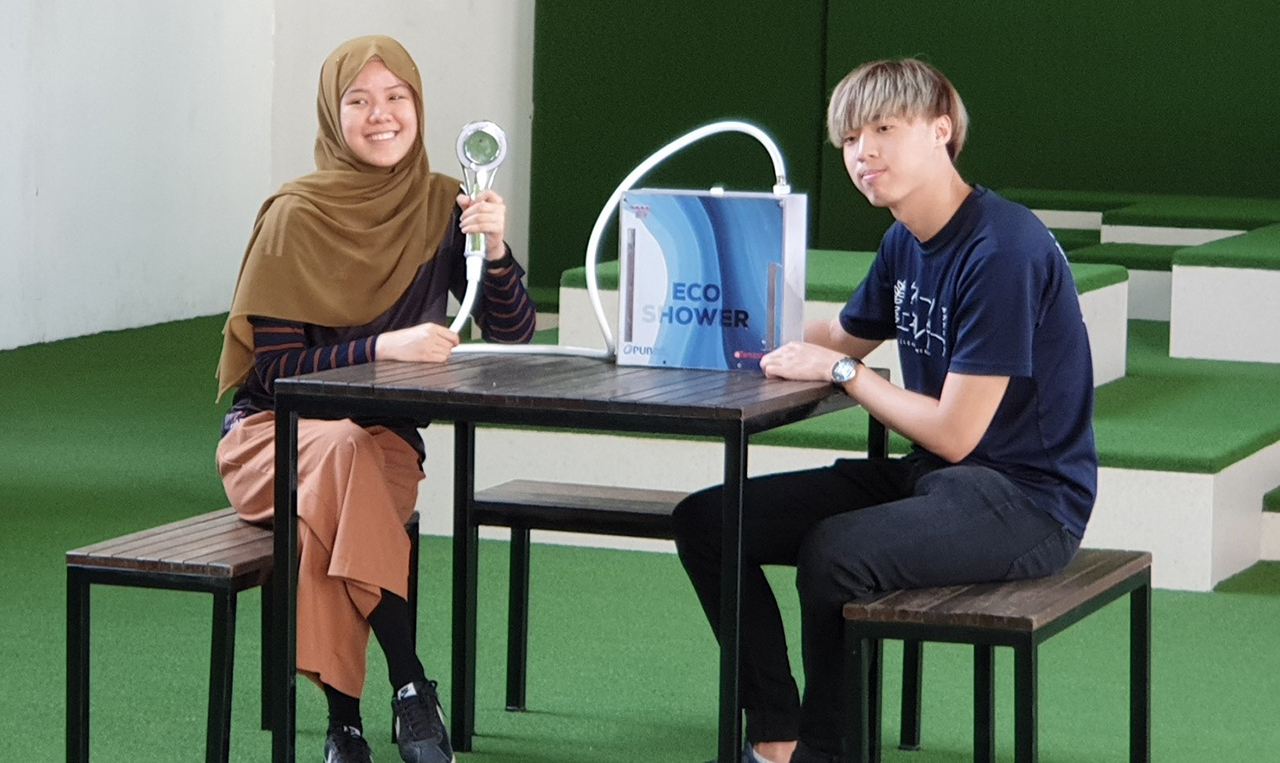 CER students with their award-winning Eco Shower
Did you know that each Singaporean uses an average of about 148 litres of water per day, out of which, showering makes up the largest amount of water used?
To help homeowners reduce their water consumption, students from the Diploma in Clean Energy (CER) invented the "Eco Shower", which promises to save 13.34 litres of water per user per shower taken.
This unique shower system comes with a water-saving mechanism to capture the cold water that spurts out when a shower is first turned on before the heater kicks in. This cold water, which is usually allowed to flow away, is channelled into a holding tank. Once the flowing water heats up, a valve then opens, allowing the water to flow through the shower to the user.

In addition, the shower-head is programmed to first spray a fine mist to moisten the user. The mist stops when the user activates the automatic soap dispenser. Pressing a button will then reactivate the shower, this time with a full spray, for rinsing. The shower will automatically be cut off after 40 litres of water has been dispensed, thereby limiting water usage.
The system is also linked to a mobile app that allows users to track the amount of unheated water collected in the holding tank, as well as the total amount of water used.
This ingenious invention was conferred the 1st Prize (Gold award) in the inaugural PUB Splash Lab@TP competition, held on 26 Mar 2020.
The competition, held within Temasek Polytechnic (TP), was organised by PUB and partner Equator Pte Ltd as part of the "National Water Conservation" outreach, and attracted numerous submissions from the various TP academic schools.