Mongolian company signs MOU with TP for strategic collaborations
Mr Neo Gim Kian, Director and the Co-Founder of ALLiN Technologies (left) and Mr Sam Ang, Director of Innovation and Entrepreneurship, Temasek Polytechnic (right) singing the Memorandum of Understanding at Bistro Lab, TP, October 11, 2018. (PHOTO: Vera Sim)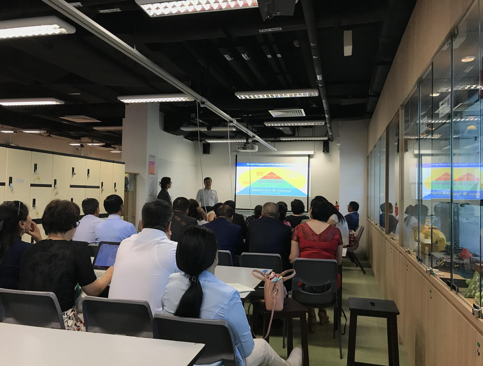 The teachers and staff from Mongolia and the Executives from the Mongolian Education Ministry listening to a presentation by Mr Sam Ang, Director of Innovation and Entrepreneurship, Temasek Polytechnic, regarding to TP's successes and how TP will help MDS, at Makerspace+, TP, October 11, 2018. PHOTO: Vera Sim
A Memorandum of Understanding (MOU) was signed between TP (Temasek Polytechnic) and ALLiN Technologies to provide a strategic framework for the two associations to develop the innovation and entrepreneurship skills amongst the Mongolians youths through the Mongolian Digital School (MDS).
The MOU Signing Ceremony was held on October 11 at Bistro Lab, Temasek Polytechnic. It was signed by Mr Samuel Ang, Director of Innovation and Entrepreneurship, Temasek Polytechnic and The Co-Founder and Director of ALLiN Technologies, Mr Neo Gim Kian.

The MOU provides a platform where TP is able to work together with the Mongolian Education Ministry to help them in their big plans. This will also allow TP to take part in Corporate Social Responsibility and be able to share the school's expertise with other countries. Moreover, there will also be possibilities of Overseas Student Internship Programme (OSIP) for the students and opportunities for them to also be able to materialise their innovations.

"[Through this MOU] there will be opportunities for exchange programmes, not only for students but the staff as well. We will also be able to help forge a better relationship between the two countries," said Mr Ang.

Before the signing of the MOU, TP showcased one of their areas of expertise which is the Makerspace+. Around 40 teachers and staff from the Ministry of Education, Culture, Science and Sports and MDS were able to come down and take a look at the innovations created by TP students and alumni. This helped the visitors form a better idea of the experiences that the students in Mongolia will be able to receive through the signing of the MOU.
"Singapore is a young country and using the vast technology in your studies [in TP] is very impressive," said Mr Tumur Ochir Nyam Ochir, the State Secretary/Director General of Education Policy Department.

The executives from the Mongolian Education Ministry who came down were also given the opportunity to walk around Makerspace+ and observe the inventions done by the students of Temasek Polytechnic. This allowed them to learn the innovative ways which TP uses to teach their students. Hence, this would have been able to give them an idea of how to improve and develop a more effective education system for the Mongolian students.

"They would be able to take from the different experiences and see what works best for them. What I sense is a very strong desire to improve their country and that is a good sign," said Mr Neo Gim Kian.

This also adds on to TP's recent efforts to secure more industry collaboration opportunities for its students and staff. The signing of the MOU between TP and ALLiN comes right after the MOU that TP signed with Our Tampines Hub earlier in September.
By: Vera Sim & Harshitha Kandakumar