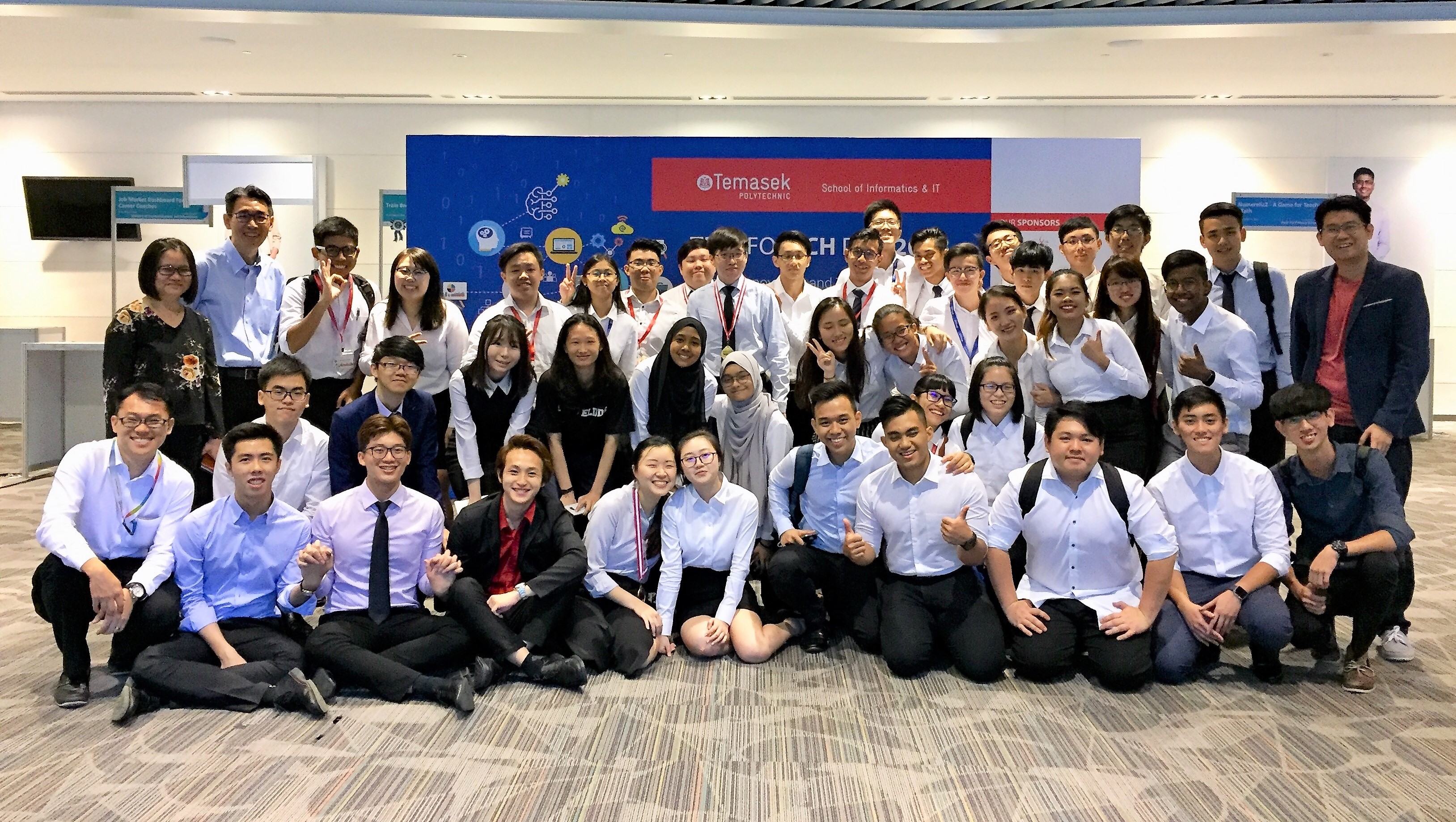 The annual TP InfoTech Day saw a range of technical innovations and ideas on display at Temasek Polytechnic's Auditorium. Organised by the School of Informatics & IT on 20 March 2018, this year's theme was "Digital Innovation & Transformation : Start Small, Think Big".
The theme for this event was chosen to show how digital innovation can transform services and add value to the economy. It also encourages students to enhance Singapore's digital innovation and transformation efforts by having the confidence to test their ideas, take small steps and be bold in envisioning what they can do with the skills they have acquired.
There were 30 projects showcased by final year students covering the fields of business analytics, cyber security, AI, Fintech and software development. These projects were developed in collaboration with industry partners.
Eight projects were selected for the Best Project Award. "An Efficient Monitoring Software for Computers"developed by students from the Diploma in Cyber & Digital Security, won the Best Project prize. This project is able to record computer activities with less processing power and storage space. It can also complement existing security measures to monitor computers in sensitive facilities like secured labs, data centres or corporate environments.
Students and teachers from Ngee Ann Secondary School and Xinmin Secondary School attended the event and were impressed with the projects they saw. The Ngee Ann Secondary students are currently in Secondary 3 and pursuing Computing as a GCE O Level subject.
There were a wide range of industry speakers at the event, including IIT's alumni such as: Ms Chelsea Chan, Co-Founder & Project Director, FoodZaps who spoke on the topic "Building Singapore's Most Innovative & Scalable F&B App" and Mr Peter Yeo, Co-Founder, XinFin, who shared about his entrepreneurial journey from TP, to Bitcoin and finally to the Hybrid Blockchain.
All visitors and students enjoyed the good networking opportunities with the industry experts and guests and found the input from various IT experts relevant and insightful. More information about the event can be found here.