Course Overview
This 12-month course aims to provide recent graduates from polytechnics and Institute of Technical Education (ITE) a head-start in the hawker profession through classroom and on-the-job training which will prepare them for a career as a hawkerpreneur and also in the larger food and beverage industry. Trainees will undergo an in-depth training to enhance business management skillsets and culinary skills needed to operate on a commercial scale.
This course comprises of 3 phases. Phase 1 (Training Phase) which runs for 2 months will have trainees attend structured lessons on campus to learn foundational skills in culinary art and science, and business operations. Phase 2 (Apprenticeship Phase) spans 4 months of which 3 months are spent working under the mentorship of an experienced hawker to acquire the experience of running a hawker stall. Then, trainees undergo 1 month of business preparation training back in campus, where they will acquire the basics of preparing a business plan and perform product differentiation. The final phase, Phase 3 (Incubation Phase) lasts for 6 months, where trainees will run their business at their individual stalls. Trainees will apply for their individual hawker stall under NEA's Incubation Stall Programme. Experienced hawkers and mentors from TP will provide support and guidance to the young aspiring hawkers.
Trainees are provided with S$1,000 training allowance per month during the course.
What You'll Learn
Phase 1 (Training Phase) - 2 months
Module 1
Food Hygiene and Safety (includes WSQ Basic Food Hygiene Course) - This subject trains you to be competent in following food and beverage safety and hygiene policies and procedures and to be able to apply them at the workplace. It will also cover common control measures and relevant practices to ensure food safety in a hawker stall setting.
Module 2
Local Hawkerfare Culinary Skills - This subject covers the application of culinary skills in the preparation, cooking and presentation of local hawker dishes from various ethnic groups in Singapore. The identification and selection of food ingredients will be included.
Module 3
Healthier Recipe Development - This subject aims to equip you with design thinking strategies to develop product prototypes that are healthier and/or innovative through the integration of culinary science and arts as well as to use nutrient analysis software to determine the nutrition information of recipes.
Module 4
Practicum - This subject is designed to provide the necessary practical training in an operating kitchen in TP that is performing high-volume food production. Fundamental culinary skills will be reinforced and new skills in using modern equipment for improved productivity will be taught. Menu items from different cuisines will also be covered. Food safety and workplace safety will be emphasised throughout the subject.
Module 5
Operations and Cost Management - This subject covers areas that include the fundamentals of: operational profit & loss statement; recipe costing; food cost; the cost-volume-profit relationship (sales mix); purchasing and receiving; storing and issuing; food production management; monitoring of food and beverage operations and manpower costs.
Module 6
Basic Marketing - This subject exposes you to basic marketing theories and techniques employed in the restaurant and catering business. Applicants will not only be exposed to tried and tested marketing efforts, but also challenges the learner to exercise creativity and innovation by developing your own marketing plan for your business.
Module 7
Basics of Entrepreneurship - The subject enables the learners to gain an understanding of the basic principles necessary to start and operate a business. It is designed for individuals who have an interest in developing the knowledge, attitudes and skills necessary to become successful entrepreneurs. The subject will value add to the learner's entrepreneurial journey.
Phase 2 (Apprenticeship Phase) - 4 months
Work attachment with mentorship (3 months) - Trainees will work under the mentorship of an experienced hawker to acquire the experience of running a hawker stall.
Business preparation training (1 month) - Trainees will undergo business preparation training back in campus, where they will acquire the basics of preparing a business plan and perform product differentiation.
Phase 3 (Incubation Phase) - 6 months
Operate individual hawker stall (6 months) - Trainees will run their business at their individual stalls. Trainees will apply for their individual hawker stall under NEA's Incubation Stall Programme. Experienced hawkers and mentors from TP will provide support and guidance to the young aspiring hawkers.
Modes of Assessment
The assessment would be based on 100% coursework with written and practical tests, assignments or projects.
Intake Info
Application Closing Date
Course Duration

Q4 2023

NA

12 months
(excluding stall bidding and renovation duration, min. 4 months)

9.00am to 6.00pm

Monday to Friday
Registration may be closed earlier due to overwhelming response.
Application Procedures
Click on the Apply button above to submit your application online. Steps to follow in your application:
Step 1 - Enter NRIC/Passport No.
Step 2 - Select ZOQ and course commencement date.
Step 3 - Enter personal, qualification and employment details (where applicable).
Step 4 - Make declaration and submit online application.
Step 5 - Submit the following documents via email to tsa_wsp@tp.edu.sg. Indicate "WSP Hawkerpreneurship" as email subject title. Kindly name the files according to the guidelines below.
1. Resume (filename: Resume-YourName.pdf)
2. Highest Qualification Certificate (filename: Certificates-YourName.pdf)
3. Academic Transcripts (filename: Transcripts-YourName.pdf)
4. NS Completion Certificate, if applicable (filename: NS Certificate-YourName.pdf)
5. NRIC (colour-scanned, both sides)
Only applicants who are eligible and successfully shortlisted for the Work-Study Certificate in Hawkerpreneurship programme will be notified via email. Shortlisted applicants are required to complete an online assessment form to assess their suitability to go through all stages of the programme against a set of critical success factors. These include physical and mental stamina, competitive ability to hone culinary skills for a business outfit, financial readiness supported by passion and an innovative mindset to adapt to challenges in a fast changing environment. Thereafter, NEA and TP may arrange and conduct an interview with the shortlisted applicants before actual confirmation of enrolment.
Course fees will be payable by the participants for this programme.
Fees Type
Course Fees
(w GST)
Full Course Fee
S$11,664.00
Singapore Citizens / Singapore Permanent Residents*
S$3,499.20
Participants may tap on their Post-Secondary Education Account (PSEA) to offset the course fees payable.

* recent graduates of less than 3 years from Polytechnics or ITE, or from the Operationally Ready Date (ORD) for National Servicemen
Ms Bernice Wilson
Bernice has had business exposure in various service-oriented industries. She has worked in the hospitality, retail management and food and beverage sectors covering a wide range of responsibilities. Beginning with Scotts Group of Companies, Bernice was involved in cost control management which included activities in streamlining systems, improving customer experience, business development and operations management.

A mid-career change saw her pursue culinary training at The California Culinary Academy, San Francisco. Subsequently she gained food and beverage experience at Campton Place Restaurant (San Francisco) and at Coriander Leaf (Singapore), Her passion prompted her partner, her brother to set up Straits Bistro, a 40-seat restaurant in Bournemouth, UK.
Since her return from the UK in 2005, Bernice has turned her focus to sharing her business and culinary knowledge together with her entrepreneurial experience as a culinary educator at Temasek Polytechnic. Presently she specialises in Food & Beverage business subjects, namely Food & Beverage Cost Management. Bernice has also delivered several Customer Service, Food & Beverage and Hospitality & Tourism lectures externally at the University of Nevada, Las Vegas and for the Ministry of Foreign Affairs-IAI in Country Training Program (Cambodia & Myanmar). She is also currently an adjunct professor at the Culinary Institute of America, Singapore.

Ms Chan Phui Yoke
Phui Yoke has over 22 years of industry experience under her belt, with much of her career spent in 5-star hotels. During her tenure with the hotels, she developed her professional skills in the areas of event catering, banqueting and patisserie. With her years with the various hotel brands, Phui Yoke took her career to greater heights and accomplished key achievements such as working under the tutelage of renowned Executive Cher Alain Herber, whose mentors included one of the world's leading pastry chefs, Pierre Hermé. She has also worked alongside Michelin-starred chefs, Régis Marcon and Heinz Beck, as well as Hal Yamashita, during his stint at the World Gourmet Summit (WGS) Gala Dinners. Phui Yoke taught Fundamentals of Baking, Principles of Baking, Elaborate Sweets and Pastries, amongst other subjects.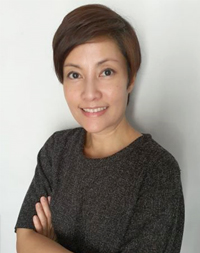 Ms Emma Choondee
Emma Choondee is a culinary trained food technologist with 12 years of work experience in the food industry. She received both undergraduate and graduate degrees in Food Technology from Chulalongkorn University, Thailand. She is also a qualified chef having taken training in Melbourne, Australia. Emma has been involved in HACCP, Food Safety Management, Quality Control (QC) & Quality Assurance (QA) in food manufacturing, Product Research & Development (R&D), International Sales & Marketing, as well as cooking at a fine dining restaurant in her work experience. She joined Temasek Polytechnic in October 2012 and has been working as a lecturer in the Diploma of Food, Nutrition and Culinary Science, School of Applied Science ever since.
Her achievements include:
Award-winning Fish Sauce, launched in 2006 and won Gold Medal at the Royal Hobart Fine Food, Australia in 2011
Award-winning Gluten-free Oyster Sauce, launched in 2008 and won Gold Medal at the Royal Hobart Fine Food, Australia in 2011
Award-winning Gluten-free Soy Sauce, launched in 2010 and won Bronze Medal at the Royal Hobart Fine Food, Australia in 2011
Award-winning Vegetarian Chilli Jam, launched in 2010 and won Silver Medal at the Royal Hobart Fine Food, Australia in 2011
The first Kosher fish sauce for Israel and US market
HACCP and ISO9000 certification of 3 fish sauce production plants
HACCP certification of 2 curry paste and 1 palm sugar production plants
Mr Ng Shin Leong
Mr Ng Shin Leong held senior management positions before embarking on being a Senior Lecturer at Innovation & Entrepreneurship Department, Temasek Polytechnic. He was the Managing Director of Owl International Pte Ltd to spearhead for the Export and Business Excellence initiatives.
He worked closely with Enterprise Singapore (formerly known as SPRING Singapore) for funding and developing export capability from zero base to key countries, namely Russia, Mongolia, Maldives, Hong Kong, Taiwan, Myanmar and Vietnam.
Shin Leong was also appointed as Lead Assessor by SPRING Singapore for Singapore Quality Class, People Excellence and Innovation Award. He is currently the subject leader for "Executive Entrepreneurship Programme" subject in Temasek Polytechnic. He is also ACTA certified.
Graduated with a Bachelor of Science degree in Computer Science from Ohio University, USA, Shin Leong has more than ten years of teaching experience in both youths and adult learners. The subjects he has covered include Basic of Successful Entrepreneurship, Innovation & Entrepreneurship, Entrepreneurship & Business Startup as well as Executive Entrepreneurship programme.
Mr Paul Sin Fook Choy
Paul has a Master of Science degree in Food Science and Technology and is a Food Technologist by training as well as a qualified Chinese cuisine chef. He joined Temasek Polytechnic in 2000 and is currently the Course Chair for the Diploma in Baking and Culinary Science. Prior to joining TP, he had many years of experience in product development for the food manufacturing sector as well as running the operations of a well-known Chinese restaurant.
He teaches subjects related to food processing, food safety, as well as the Asian Culinary Practicum. Paul provides consultancy services to local food companies on areas such as product development, production plant set up and food safety. He also helps develop technical capabilities to meet industrial needs through conducting various technical workshops on food and culinary technology applications. He is also the trainer and assessor for the WDA food safety and hygiene competency unit.

Paul specializes in culinary and bakery technology such as frozen dough, and cook-chill technology.

He was also the Advisor to the Singapore Food Festival 2004 Organizing Committee for "Singapore Heavenly Banquet" and "Dream of the Red Chamber Banquet", where he contributed his culinary experience and expertise in these two thematic banquets to showcase Singapore's local culinary talents.

Chef Randy Chow
Chef Randy has 30 years of experience in the culinary profession of which 17 years were in the capacity of an Executive Chef and above in both local and international organisations. Prior to joining Temasek Polytechnic in February 2013, the last 3 years was focused on charting new directions in training and education in one of Singapore's top culinary academies.
He teaches subjects related to Western cuisines, and food service/ catering management. Chef Randy is also involved in various F&B-related consultancy projects such as recipe development, food styling, food safety, and the evaluation of catering production set ups for both SMEs and catering establishments.
Subject groups/ Research/Collaborator/Consultancy projects

Current - Healthier Meals for Childcare
Subjects currently teaching
Fundamental of Culinary Science
Western Culinary Practicum
Description of expertise
• Acquired international level A judging status with the World Association of Chefs for both Pastry and Culinary sections, and actively serving as a member of judging panels at local, regional and global culinary competitions.
• Achieved overall World Champion status at IGEHO Culinary World Championship 2005, Culinary World Champion at Expogast Culinary World Cup 2014 and Culinary Olympic 2016 while serving as National Team Mentor/Coach.
Patents/Publications / Achievements
• Certified Master Chefs by The World Association of Chefs 2016
• Commended by Prime Minister Lee Hsien Loong at the Singapore National Day Rally 2006 for establishing our country as a world class culinary force.
Mr Vincent Tan
Vincent Tan is a Lecturer at the Temasek Culinary Academy in the School of Business at Temasek Polytechnic.
Vincent holds a Master of Training and Development from Griffith University and Bachelor of Science in International Tourism and Hospitality Management. He is also DACE and ACTA certified and throughout his teaching profession, he has delivered CET courses in the fields of Food and Beverage Management, Cost Control and Food and Beverage Promotion, not just in Singapore but also in ASEAN countries and in Nepal and Mauritius.

Vincent's professional educational began in Switzerland where he obtained his Higher Swiss Diploma in Hotel Management with Honours and a Certificate of Specialisation with Distinction in Sales and Marketing form Hotel Insititute Montreux. Upon his return to Singapore, he joined The Mandarin Oriental, Singapore, where he spent 8 years, and held management positions in both Food and Beverage and Rooms Division. In 2000, Vincent gave up the position of Food and Beverage Manager and joined the education industry.
At Temasek Polytechnic, Vincent is educator for the Diploma in Culinary and Catering Management and specializes in subjects such as Service Skills Methodology and Marketing for Restaurant and Catering.
Course Contact
Monday - Thursday: 8:30am - 6:00pm
Friday: 8:30am - 5:30pm

Closed during lunchtime, 12:00pm - 1:00pm
and on weekends and public holidays.

Temasek SkillsFuture Academy (TSA)
Temasek Polytechnic
East Wing, Block 1A, Level 3, Unit 4
21 Tampines Ave 1
Singapore 529757