By Daanysh Habiel & Syabil Rizqin
Most of us dream of retiring rich and traveling the world in our golden years. However, the harsh reality for many Singaporeans is that we will be ageing in place.
According to the Department of Statistics, 1 in 5 people in Singapore will be over 60 by 2025. With 20% of our population being retired by then, we have to understand the reality of retirement and try our best to push for the necessary changes for those going through this phase in their lives.
To further understand retiring in Singapore, we have to understand what ageing in place is all about. Ageing in place is essentially a concept where older people are enabled to maintain independence, autonomy, and connection to social support, including friends and family while living in the same place. Today, 86% of our elderly intend on living in their existing flats due to the emotional attachment they have with their estate as well as having achieved their ideal living arrangement.
Neighbourhoods with the highest population of elderly include Bedok, Bukit Merah and Ang Mo Kio. These places have provided numerous amenities that cater to the needs of our elderly such as nearby markets, coffee shops, and recreational places where the elderly can socialise with one another.
With the majority of our elderly "ageing in place", it begs the question on whether Singapore has done enough for our elderly and if more could be done to improve their living situation.
SINGAPORE'S EFFORT TO ASSIST THE ELDERLY IN AGEING IN PLACE
Over the past few years, Singapore has sustained efforts into allowing our eldery to age in place. From building infrastructure that would aid the elderly in their everyday lives to establishing Senior Activity Centers in selected neighbourhoods that require as much help as they can get, Singapore is taking its first steps towards becoming a more inclusive nation.
Efforts to ensure the safety and care of the elderly as they age in place can be seen in the physical aspects of neighbourhoods. Amenities and infrastructure such as ramps, railings, extended green man timings at traffic junctions, and barrier-free walkways in HDB flats have been installed. These have been put in place to allow the elderly to have ease of movement and make the neighbourhood a more accessible place.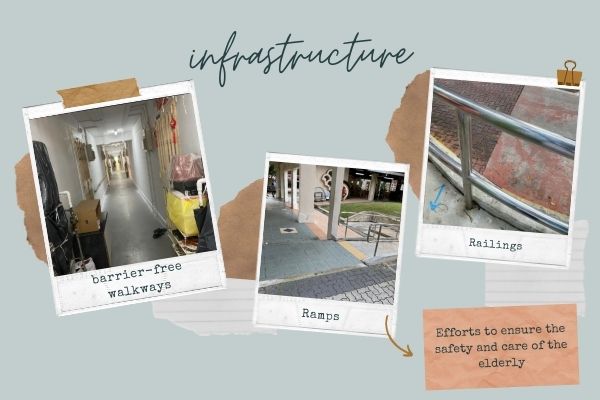 (PHOTO: Emily Cheng)
An elderly resident of Kembangan Chai Chee shares his concerns: "Wherever you live, there are bound to be problems all the time. Sometimes, we even endanger ourselves because we are always alone but thankfully, there are people who help us."
In these neighbourhoods especially where the elderly population is much higher than an average neighbourhood, Singapore has made efforts into establishing Senior Activity Centers (SAC) whose main goal is to support and aid the elderly within the vicinity of their neighbourhoods. The current SACs that are supporting the residents of Kembangan Chai Chee are Sunlove SAC and Kembangan Chai Chee SAC. Filos Community Services also helps and supports the elderly but they handle the volunteering aspect for the elderly.
"There are many people who donate to us and volunteer to help us out so it isn't that difficult. There are also many activities that the Senior Activity Centres host everyday so we do not feel bored." he added.
The Senior Activity Centers host a variety of different activities on a daily basis. The activities include exercise, cooking programmes, arts & crafts, volunteer-run events, knowledge or skills based workshops. They also have nurses coming in to check on the seniors' health so there is a balance of social, physical and mental health.
Recently in March of 2021, Temasek Polytechnic LEAD organised an event, "Aging in Place", which was aimed at bringing light to the elderly who are going through this phase in their lives and how we might better help them.
Chan Shu Ting Carol, 23, a Year 3 student in Psychological Studies and the current President of TP LEAD Ambassadors said: "I think that Singapore has done a lot, but I also believe that there is always more that we can do, and in this case, for our elders to age in place. Through the event, I had the privilege to work with three community partners who were serving the elderly residents in Kembangan Chai Chee."
Singapore has done a lot over the past few years and more can definitely be done to allow the elderly to age in place. However, with every movement there are always bound to be issues.
ISSUES WITH AGEING IN PLACE


As these are rental flats, many of our elderly prefer to live here due to it's affordable cost; however, the cheaper price point does come with its set of challenges. An observation made by Carol during her visit to the area was that these elderlies are not just facing uncomfortable living conditions, these conditions could pose a threat to their health and safety as well.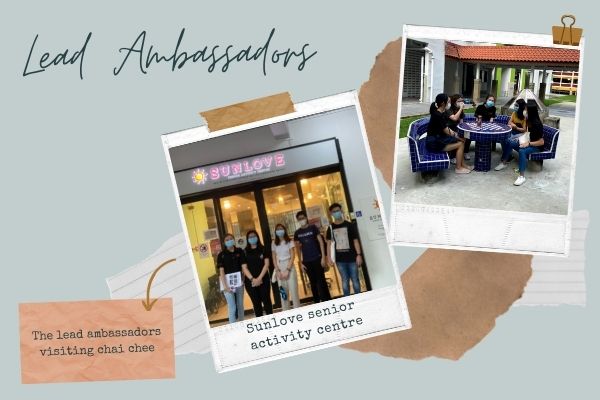 (PHOTO: LEAD AMBASSADORS)
Carol stated: "There are long-standing and prevalent issues of cluttering along the corridors, which could pose as fire hazards, railings are often obstructed and used as extra storage spaces (eg. to hang clothes, park bicycles, etc.) and hence are unable to serve its intended function, which is to provide physical mobility support for seniors, to increase their ease of navigating around the area."
These safety concerns are not the only area that requires more attention. The lack of companionship and loneliness the elderly living here face is another.
The elderly who are ageing in place are mostly people who live alone. Within the rental flats, Kingsley, a Senior Activity Centre staff also shared: "There are many elderly residents who live alone and unfortunately, seniors who pass on alone within their units happen more often than we expect."
Due to loneliness and a lack of interaction with others, some residents suffer from mental health problems on top of the disabilities that they might already be facing. Hence, it is crucial that we as a community step up and take action to support the elderly in any way that we can.
WHAT CAN YOUTHS DO TO HELP
With all the struggles they have to face on a daily basis, any help provided would be much appreciated. Looking at the various activities that are hosted by these senior activity centres, one may wonder how they manage to handle all the work with minimal manpower. This is where the act of volunteering can go a long way.
These activity centres rely heavily on the donations from the public as well as help from volunteers. Volunteers can help in a variety of ways such as hosting an event, teaching a skill or even playing a few games with the elderly. With an abundance of opportunities for volunteering present, they welcome volunteers of all ages. In fact, the elderly may have a preference for youth volunteers.
Kingsley, a member of the Sunlove Senior Activity Centre said: "If you talk about youths helping out, seniors do enjoy engaging with youths. It's something like a lady to a baby. What they like is for youths to hold games for them because you guys have the energy so the atmosphere is very different which is why they enjoy it."
With there being a demand for youth volunteers, there is an abundance of opportunities for youths to volunteer if they wish to do so. The easiest way is to call the various centres directly or enroll yourselves into a volunteering committee such as Filos where activities and locations are set for you by the organisation.
However, most students do have tight schedules and may not have the time to volunteer in person. Fortunately there are various ways for one to contribute without taking time out of their busy schedule.
As Carol shared: "​​If time is not something that you feel you are able to contribute, you can always contribute in other ways, such as spreading the awareness to your friends and family members, some of whom might be more able to volunteer their time and/or resources."