Staying sane during Quarantine Order
by Valerie Koh & Shanmuga Prathaa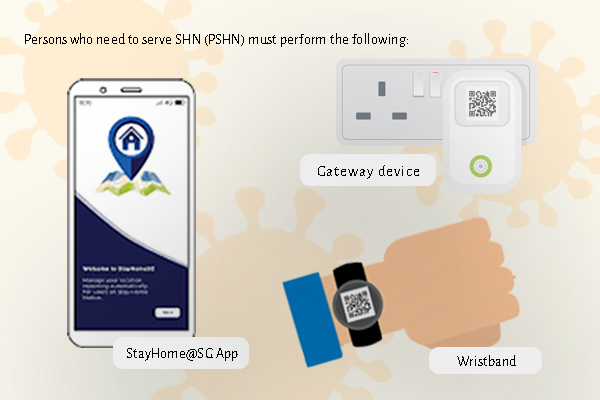 (PHOTO: Chang Zheng Shun Amos) Steps PSHN should take to assist in the facilitation of their quarantine order
Over the past year, thousands of Quarantine Orders (QO) and Stay-Home Notices (SHN) have been issued to individuals daily. As such, these have become common news. As the government tries to ease COVID-19 guidelines, QO and SHN are handed to people who have come into close contact with positive COVID-19 cases. However, what is it like to serve QO in a hotel? Is it really a free staycation?
Raudha Insyirah, 18, had to be placed on QO at a hotel after a close contact with a patient who had contracted the Covid-19 virus. She served her 14-day Quarantine Order at The Parc Sovereign Hotel at Tyrwhitt Road.
"The environment was mellow and quiet," said Raudha, noting that she had stayed in a room all by herself.
Raudha did activities like video calling her friends, studying, sleeping in, as well as attending online lessons in an effort to pass the time. However, she started getting bored of the repetitive routine as time went by.
To counter this, she decided to learn a new language, Korean.
"I felt that since I had a lot of free time, I should go learn a language which I had always been interested in but did not have the time to pick up," Raudha said.
With the end of semester examinations drawing near, the switch back to full home-based learning has caused Raudha significant stress. Hence, she took full advantage of the two weeks she had, in quarantine, to focus on her mental wellbeing and stability - an essential during such trying times. Nevertheless, although the quarantine order has led to many inconveniences, Raudha was actually grateful for that period of time that was given to her.
"I felt that I could finally have some time off with myself amidst my hectic schedule," she said.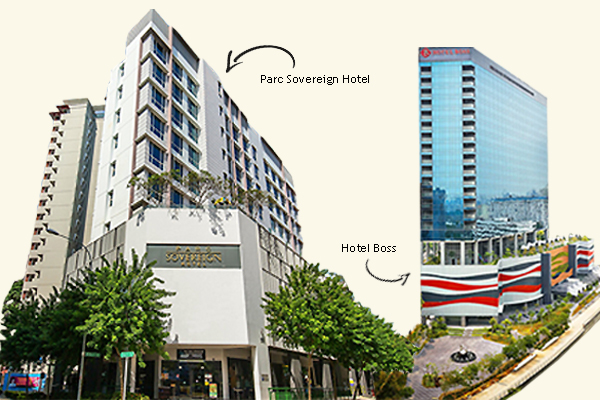 (PHOTO: Chang Zheng Shun Amos) Two hotels serving as holding venues for quarantine orders
Student Hym Yien, 23, also went through QO at Hotel Boss. Similar to Raudha, Hym Yien had come into contact with someone who was infected with the coronavirus and thus, she had to serve a 14-day QO.
When asked about what she did to pass time, Hym Yien said: "I watched movies, did Tabata workouts and also managed to complete all of my schoolwork. To be honest, the 14 days felt pretty long to me."
However, she felt that quarantining in a hotel was a good idea because it could keep her family safe from her and the experience at Hotel Boss was also a pleasant one.
While both of these individuals had a positive experience, Mark Young, 48, did not.
Young went through his 14-day QO at Park Hotel.
"​​I felt isolated from the family, kids, friends and community in a confined hotel room alone," he said. "Sometimes (it) makes me wonder how others also can cope with the stress, anxiety and worries for the family, children to ensure their daily needs as well as not knowing what to do next."
Young was very concerned about the safety and wellbeing of his two children, whose care had been left under his mother-in-law, after both him and his wife were put on QO. Young realised that, although he was stressed, there was not much he could do.
Said Young: "I just prayed. I read the Bible, fast & pray, worked from (my) hotel room, watched TV, (and attended) joint group prayers via Zoom, Whatsapp Call or Zoom meeting with people."
He added that he had faith that he and his family could overcome the difficult time, though he definitely missed his family and the freedom to move around.
"I still feel lucky and grateful that I'm quarantined in Singapore and at least the government (has) been trying their best to isolate and control the pandemic from spreading further in (the) local community," Young said.
It seems that staying isolated in a room for 14 days is not as easy as people think. Although there are positive QO experiences, it does not apply to everyone. Many people serving QOs still face difficulties adjusting to the repetitive routine that leaves them feeling lonely and stressed out. However these individuals did not let their hope falter, and even tried some new things during their 14-day QO. If there is anything that we can learn from this, it is that we should make the best out of any situation like these individuals.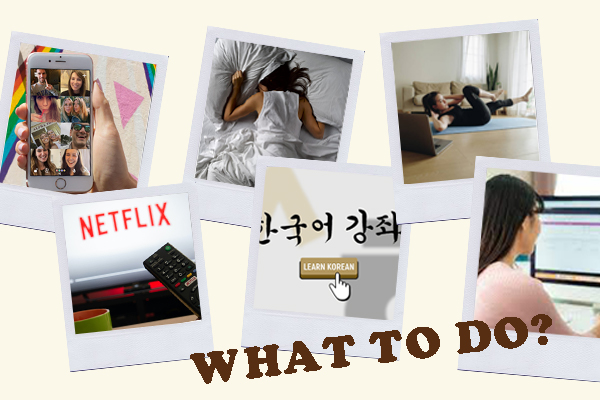 (PHOTO: Chang Zheng Shun Amos) Some tips on the various activities you can do to past the time in quarantine