Accessibility and Inclusivity in Singapore
If there is one thing that Joshua Tseng would like to tell people, it would be this: "Be kind (and) don't think of people with disabilities as lesser or pitiable. Think of them just as people. We are all normal people who want normal things in life, and so do you."
Joshua, 24, is an active advocate for accessibility and inclusivity in Singapore. He was awarded with the Goh Chok Tong Enable Awards (GCTEA): UBS Promise Award in 2020 for his bright potential and commitment in serving the disabled community. As a visually impaired person himself, Joshua passionately shares about his personal story and journey with hopes of enlightening the public on challenges that people with disabilities face in Singapore.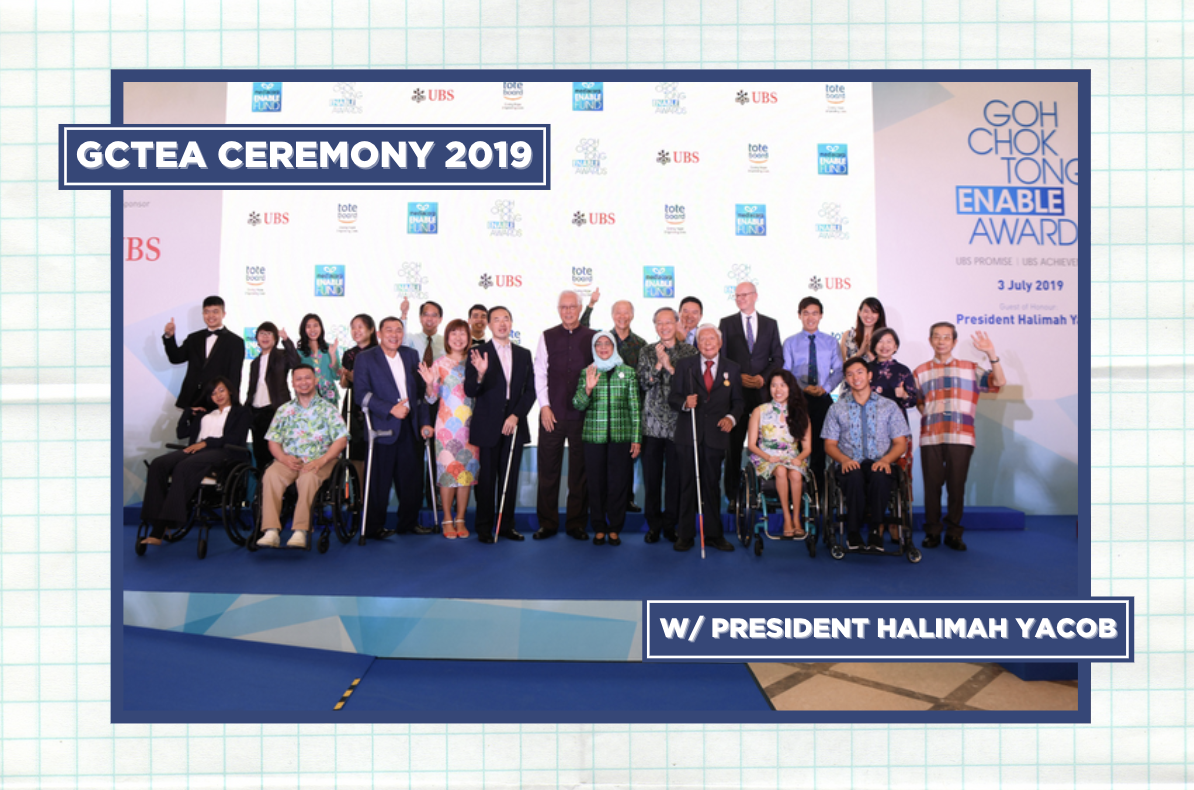 (PHOTO: Syabil Rizqin) Goh Chok Tong Enable Award Ceremony 2019
Diagnosed with congenital glaucoma at the age of seven, Joshua had been slowly losing his vision throughout his childhood. After an eye surgery at 16, he lost his remaining eyesight. This did not deter him from continuing to pursue his academics. Although he was unable to apply for his course of choice due to his visual impairment, Joshua graduated from Temasek Polytechnic's (TP) Diploma in Marketing in 2017 and is currently in his final year at Singapore Management University.
"Throughout my time at Temasek Polytechnic, I've used quite a number of assistive technologies to help me in my day to day life and also studying," Joshua said.
One of the assistive technologies that he still uses daily includes screen readers, which is a software programme that allows blind or visually impaired users to read the text that is displayed on a screen with a speech synthesizer or braille display.
"I had a lot of help. My lecturers were really there for me. There were also external organisations that intervened to help guide me along the way so there were charities like Guide Dogs Singapore, which taught me to walk around the school and iC2 Prephouse which taught me how to use assistive technology like what I showed just you," Joshua said when asked about his time at TP.
(VIDEO: Syabil Rizqin) Joshua Tseng using the screen reader feature on his mobile phone

However, even with the assistive technology, Joshua still faces challenges daily. Especially when it comes to socialising which encompasses a lot of non-verbal cues, as well as in this Covid-19 period where everything is remote and pushed online.
Said Joshua: "I think, though, despite some of the minor (challenges), thanks to the people around me and the technology that exists today and I think people are much more understanding also of people with disabilities. The world has become a much kinder place to people like me."
As a strong advocate and active public speaker for accessibility and inclusivity in Singapore, Joshua aims to help further educate the public and raise awareness.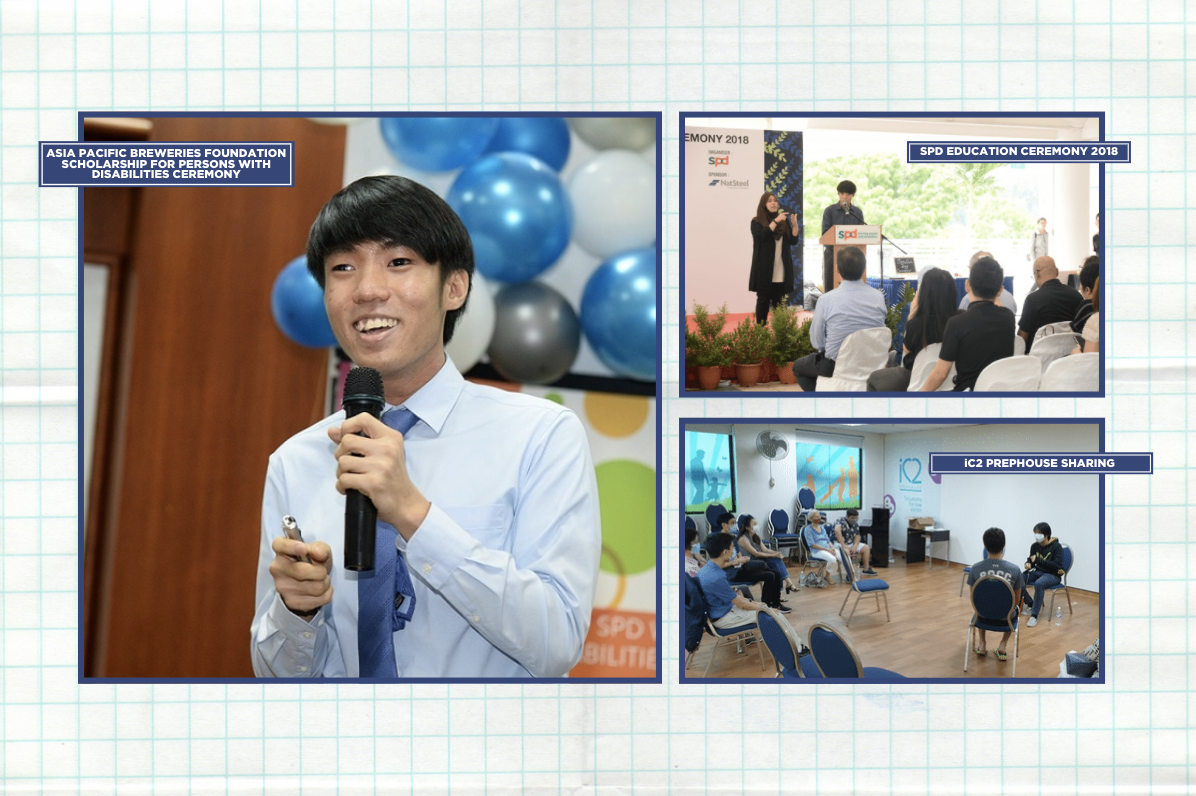 (PHOTO: Syabil Rizqin) Joshua Tseng speaking publicly in numerous events.
"For the past six to seven years that I have been functionally vision impaired, I've realised that Singaporeans have become more accepting of people with visual impairments but there's still a long way to go, still a lot of misunderstandings and I think people have really good intentions but not everyone understands the kinds of needs that people with visual impairment have so there is a huge opportunity to educate the public about people like me."
In an interview with iC2 Prephouse, Joshua shared that having friends around him who treat him as a normal person is something that he is grateful for. People who do not 'freak out' over the smallest things that come with being visually impaired, such as accidentally bumping into chairs. He was lucky enough to be surrounded with people who accept his limitations and are understanding of them without making a fuss over it, but that might not be the case for others in the disabled community in Singapore. Knowing the support that he has, Joshua wishes to educate the public on such issues that people with disabilities face.
For people living with disabilities, given the support that he was provided with, Joshua aims to inform those in similar positions as him that they can improve their life situations through the mindset and opportunities that are still available for them as they can take charge of their own successes and happiness.
"I think we've come a long way, but of course, there is still much more that can be done...In general, be kind (and) don't think of people with disabilities as lesser or pitiable. Think of them just as people. We are all normal people who want normal things in life, and so do you," he said.
He added: "If you are thinking of persons with disabilities and making them feel included (by) giving them access to things in the country, then just think of them as normal people with normal needs and I think a lot of (misunderstandings) can be bridged between the disabled community and society."
Although there is definitely a lot more that can be done to ensure an inclusive society in Singapore, it seems that we are heading in the right direction. Joshua is a firm believer that fostering a better understanding for the disabled community will help Singapore grow into a more inclusive nation. Thus, for the past 5 years, he has been actively advocating for accessibility and inclusivity in Singapore through events organised by Microsoft, TEDXYouth, TP and more.
His strong conviction in this regard, coupled with his advocacy efforts, was what led him to be one of the twelve individuals who was awarded the GCTEA in 2020. This award is aimed to "encourage persons with disabilities who have shown promise to pursue greater heights in their areas of talent and the willingness to serve the community."
In addition to being recognised for their achievements and promise, recipients also received $5,000 each. Other recipients of the award include Toh Wei Soong and Wong Zhi Wei, who have represented Singapore internationally in swimming.
This award is not the only category under the GCTEA. The GCTEA (UBS Achievement) category recognises and celebrates "persons with disabilities who have made significant achievements in their own fields and serve as an inspiration to others". Past recipients of this award include Dr William Tan, a triple-gold medalist in the Asian Para Games, and Mr Tan Guan Heng, who served as the first visually-impaired president of the Singapore Association of the Blind (now known as the Singapore Association for the Visually Handicapped).
As Singapore continues to progress as a nation, the spotlight has now turned to not just addressing the needs of persons with disabilities, but also honouring them for their accomplishments.
The GCTEA, recognising the achievements and potential of persons with disabilities, was first launched back in 2019. It has managed to honour and recognise 29 outstanding individuals over the past two years, and will continue to do so.
Nominations for the third edition of GCTEA are open until 31 August 2021. Since its launch, the Awards has recognised many extraordinary individuals who have overcome challenges to be positive drivers of change. Members of the public can find out more information and submit their nominations, should they know of someone deserving of the Awards, through this link.
Check out the full interview with Joshua Tseng!
(VIDEO: Syabil Rizqin) Interview with Joshua Tseng