Tertiary Students from Indonesia, Vietnam and Singapore Collaborate - D.I.Y. ASEAN 2021
By Ellyne Chin & Irriena Ezrynn
"Inclusion is not limited to one bowl. It has to be shared and explored. It's all up to you," said Anthony Garcia, Integration Representative of the Filipino Association of Singapore (FAS), who was a guest speaker at Diversity. Inclusion. You. (D.I.Y.) ASEAN 2021.
D.I.Y. ASEAN 2021 is a four-week long programme promoting friendship amongst three participating ASEAN countries - Indonesia, Vietnam and Singapore. This year's event started on Mar 20 and brought together 17 students from Temasek Polytechnic (TP), 15 students from Universitas Islam Indonesia (UII), Indonesia; and 6 students from FPT University, Vietnam.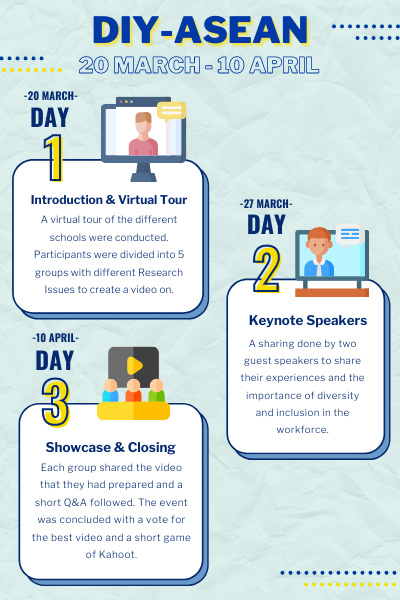 (PHOTO:)
Participants were grouped and assigned to research on gender, generation, migrant workers, local ethnicity and socio-economic differences among the three countries. Each of the five teams was required to produce an eight-minute-long video addressing issues relating to the topic they were assigned.
During the last session on April 10, attendees were given the opportunity to watch all videos created by the five teams. The videos were analysed by both tutors and participants across the three countries and the video created by group one, "Gender Differences" was selected as the video with the clearest message.
The video addressed gender inequality issues across the three participating countries: Indonesia, Vietnam and Singapore.
Group 1, consisting of three TP students, one FPT University student and three UII students, presented their research on gender inequality. The group identified and elaborated on pay inequality in Singapore, traditional gender roles in Vietnam and the lack of women in Indonesian politics. Group 1 also shared some solutions individuals can adopt in order to be more gender inclusive.
The presentation of videos helped all participants broaden their views on existing cultures and traditions of the other participating countries. This also allows them to become more aware of the problems faced by the different communities in the three countries that participated in the event.
According to TP participant, Syaqira Salim, this programme enriched her knowledge of the other participating ASEAN countries.
"I always thought Indonesia accepted Papuans as their citizens, but I read various articles on how the government took away their rights and freedom and it's really saddening. This programme really makes me more aware about what's been going around the world and the happenings of the new oncoming generation," she shared.
Salim also realised that the programme had broadened her views on her group's topic - local ethnicity. She found that certain ethnic groups from the participating countries were excluded from their respective societies while the governments supported the movement.
Said Salim: "Certain countries really don't implement inclusion and it's sad that citizens are not taking initiative to prevent the situation. I realised how powerful and important inclusion is, it allows people to be together and accept and celebrate each other's differences and maybe racism might not even exist."
She realised the extent of harm caused by ethnic stereotypes through her research topic as such ethnic groups do not receive equal treatment from the governments. Salim firmly believes that inclusion is essential as people should celebrate cultural differences, and every individual is responsible for ensuring so.
However, each project piece comes with its fair share of struggles. During the group discussions and meetings, Salim noticed that she found it challenging to understand international students on a few occasions as some of them had thick accents.
It was not just language barriers that posed as a challenge for participants. According to Edison Chan - another participant from TP, many participants had clashing schedules, important exams, or internships over the programme's span, which led to a lack of coordination amongst the groups. Hence, arranging group meetings was an arduous task.
Salim faced the same struggle: "People in my group are from different schools, different time zones. So we all have different schedules and trying to find time to meet for our project video-making discussion is a tedious process because not everyone is responsive."
However, participants succeeded in raising awareness of the three participating countries' social issues through the eight-minute-long videos despite many struggles.
The programme raised awareness of social issues that the three countries faced among the participants.
Not only through research, but also by presenting opportunities for participants to learn about the importance of diversity - specifically in the workforce. Guest speakers were brought in during the guest speaker session on March 27 to present the importance of individuals and the roles they play in ensuring integration in a diverse community.
Kathy Teoh, senior director of Diversity, Equality and Inclusion (DEI) Business Partner (Asia) at Micron Semiconductor Asia Operations Pte. Ltd., was invited as a guest speaker to share her company's efforts to strengthen diversity and inclusivity at the workplace.
Operating in 17 countries with 40,000 team members, cultivating a DEI environment would help the company attract more top talents, making it crucial to Micron. The company has enhanced creativity to be the leader in innovation by using DEI to its advantage through aggressive hiring targets and removing age, gender, nationality and racial requirements in the job hiring process.
"We want to make sure we are creating a place which welcomes a diversity of the people working and where they feel that their perspectives are being accepted and welcomed so they can try and so this is belonging," said Teoh during her speech.
Anthony Garcia, the Integration Representative of the Filipino Association of Singapore (FAS), shared ways individuals can better integrate themselves into companies like Micron, which embraces diversity.
Through FAS, Garcia has dedicated his time to building and integrating the Filipino community into the Singaporean society. Garcia used Halo-halo, a popular cold dessert in the Philippines, as a metaphor to express that something great can be made with diversity.
Recognising diversity is the first step to playing a part in a diverse environment. Individuals need to understand that everybody, or "ingredients", are special. Next, individuals have to look for inclusion opportunities; through programmes or projects, they find suitable. Garcia felt included when he joined interest groups and organised projects for the University of the Philippines Alumni Association of Singapore, which provided financial support to needy yet deserving Filipino students with like-minded individuals. Garcia ended his sharing session enforcing that every individual is unique, has the liberty to choose their "bowl", and personal hard work is key to inclusivity.
Participants gained meaningful knowledge from the guest speaker session. Salim explains how this halo-halo metaphor is applied: "Just like halo-halo you have to blend in with others and appreciate their uniqueness and ethnic background. In today's society, racial issues are really prominent so people really need to stop having ideologies and stereotypes about certain races because of the skin colour etc and just embrace them."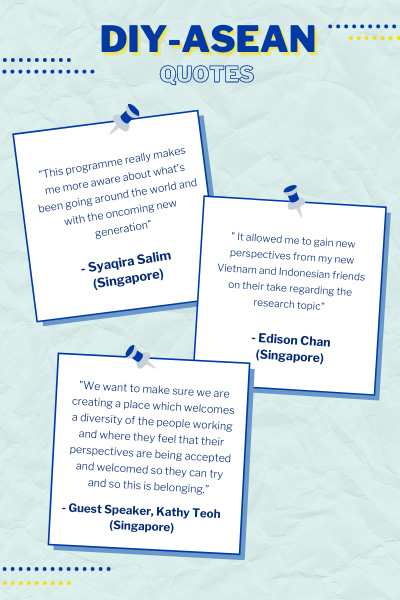 (PHOTO:)
Group 1's "Gender Differences" video: