Taking chances, no regrets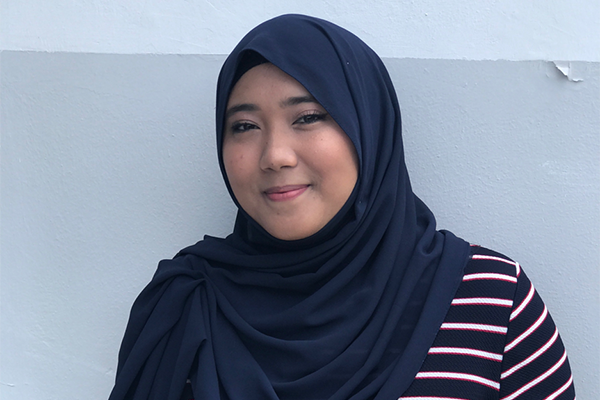 Before enrolling in Temasek Polytechnic, Nurfaiqah Binte Mohamed Noor was initially set on studying nursing. However, her results highlighted her strengths in English and the Humanities subjects, which her father told her put her in a good position to study Early Childhood Studies. Temasek Polytechnic's Diploma in Early Childhood Studies (ECS) was recently replaced by the Diploma in Early Childhood Development & Education (ECDE).



Now in her second year with ECS, Nurfaiqah has never regretted taking that chance. Friendly, sociable and bubbly, she is an avid "food hunter", going to different cafes all around Singapore with her friends. Having a sweet tooth, she usually opts for the desserts.


While her father consciously nudged Nurfaiqah towards ECS, he unknowingly played a larger role by serving as her inspiration. A loving and doting father, he is like a teacher to her. His caring personality influenced Nurfaiqah, who wants to be equally as caring towards the children she will eventually be teaching.


During her time in the Institute of Technical Education (ITE), she had to come up with lesson plans and complete assignments which were all physically and mentally draining. However, during her six months' internship she fell in love with the job. One crucial thing it taught her was that teaching kids and being friends with them are two distinctively different things. Not only that, having learnt the basic skills while in ITE, it prepared her for the more in-depth subjects at the polytechnic level.


Describing ECS as tiring, but highly interesting, Nurfaiqah also said: "You're not just teaching the kids, you are also learning from the kids, so every day is a new experience," adding that: "It makes you more open minded, because you have to deal with kids with different developments, different behaviour, so being a teacher teaches you to not judge. Instead of judging, you should help them and understand them better."


Additionally, Nurfaiqah mentioned that being part of the children's learning journeys makes the career feel worthwhile.


Asked if she had any advice for others in similar situations as her, she said: "My advice would be to think of other alternatives. So, if things don't work out, get back up and reflect about why it didn't work out and move on. Just move on, make a new decision and make the best out of it."
By Chin Zhi Hui Samuel