The perfect work-life balance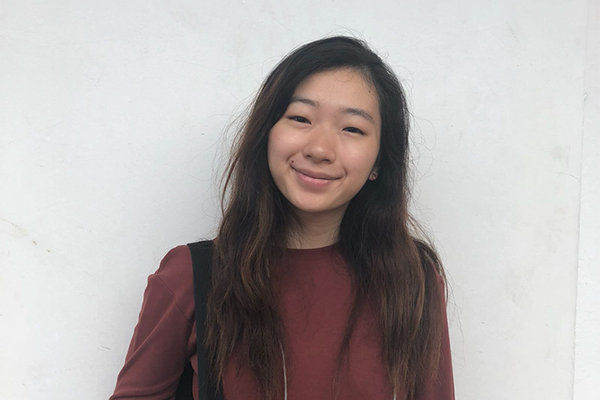 Photo: Nicole Bernadette Ong Qianling
"In school, you may be the one of the better students but when you really go out and explore, you realise that you're a small fish in a big pond and you have to really keep improving."
Nicole Bernadette Ong Qianling, 19, from the Diploma in Information and Technology, was nominated by the French Team at Temasek Polytechnic to receive the French Alumni 27th French Language Awards 2018 for her exceptional performance in the Cross Disciplinary Subject (CDS), Introduction to Language and Culture (French). This CDS was offered in the Diploma Plus Transcultural Studies cluster of subjects.
She received a certificate endorsed by the French Ambassador and the President of the French Alumni, together with book vouchers and tickets to watch French movies at Alliance Française.
Having met individuals with a common passion for the language at the award ceremony, Nicole found the entire experience humbling and exciting. "It was a very pleasant surprise [and] truly an honour to go on stage and meet people who are so proficient in French as well," commented Nicole.
Despite having a variety of languages such as Mandarin, Malay and Japanese to choose from in her cluster, Nicole selected French. When asked for the reason behind this decision, she chuckled: "I've been to France once, and I decided to explore a bit more of the culture, the food [and] the music. I just think it's a very beautiful language."
Nicole prides in maintaining a good work-life balance – Showing her proficiency in the French language as well as excelling in the modules of her course. She believes that any supposed sacrifice made for work or studies is not fully a sacrifice. She admitted: "I don't see it as a sacrifice because I actually really enjoy studying and doing well in school. I guess if I did sacrifice anything, [it would be] time with friends and family."
Her passion for the French language is strongly evident as she incorporates French wherever possible by listening to French music, buying French books and reading up on French.
Unable to actively learn French as she used to, due to the commitments her academic life demands, Nicole expressed her interest in furthering her education in French by attending formal French classes during the semester break and reach at least an intermediate level.
Speaking about the tips she can offer to fellow students on how to excel in their studies but maintain good work-life balance, Nicole said: "Try to have fun with what you're learning. Once you find something fun, it won't seem as much of a chore and you'll spend more time on it. It'll come more naturally for you."
By: L Kousalya Devi