What It's Like To Be...A Radio Presenter
By Daanysh Habiel & Liu YingTong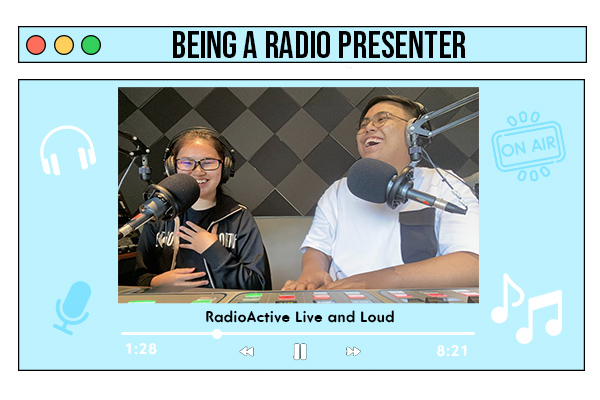 (PHOTO: Tai Hao Yue) What is it like being a radio presenter?
Ever wondered what it is like to be a radio presenter? Well, they seem to have a lot of fun - playing songs, getting their voices heard by people and talking about topics that interest them. However, there is a lot more to the job than just that. The process of learning to be a radio presenter takes time and effort - it requires knowing your audience as well as understanding the content that interests them.
While it can be tough to get started as a radio presenter, it can also be difficult to capture the attention of the audience by simply just speaking. RadioActive is a campus radio station managed by the students from Temasek Polytechnic's Diploma in Communications & Media Management. We sat down with the current Music Director of RadioActive, Muhammad Danial Bin Khalid, and asked him for an inside scoop about the life of a radio presenter.
"As a radio presenter, we have to prepare what we want to share with our audiences before all our shows! Then when we are behind the console, we ensure that all your favourite tunes are playing correctly and that we share whatever we can with everyone," said Danial.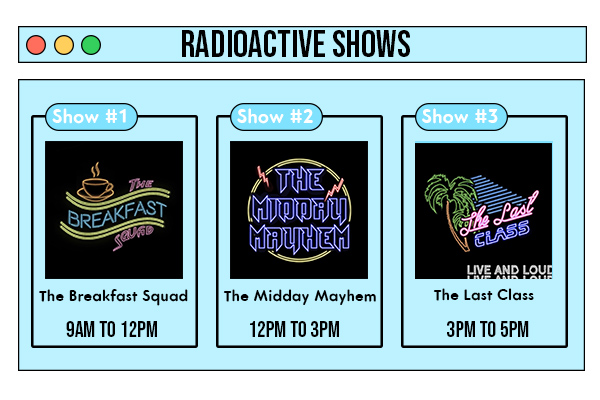 (PHOTO: Tai Hao Yue) RadioActive talk shows
RadioActive has three fixed shows scheduled throughout the school day. They are 'The Breakfast Squad' which airs from 9 a.m. to 12 p.m., followed by 'Midday Mayhem' which airs from 12 p.m. to 3 p.m. and finally, 'The Last Class' which airs from 3 p.m. to 5 p.m.
The presenters' responsibilities are to prepare for their fixed segments during their show time such as 'Oh My Goss' and 'Yum Yum in My Tum Tum'. 'Oh My Goss' is a segment where the radio presenters discuss celebrity gossip whereas 'Yum Yum in My Tum Tum' is a segment where the radio presenters share food deals that can be found within walking distance to school. The good thing about being a presenter is that they have the liberty to choose what they want to share with the audience as long as it meets the IMDA guidelines and censorships.
However, this is not all that the presenters do. Danial said: "All of our presenters will usually do their preparation for their talk breaks and even for our RadioActive Headline News beforehand. This means scrolling through the internet and news sites for interesting stories and deals to share on-air."
"Presenters who are part of the EXCO will be contributing more than just their time on-air. As the Music Director, I manage the rosters for the presenters, handle our playlists, and am responsible for what songs go on-air," he added.
Listeners of TP RadioActive shared some of their impressions of what a radio DJ would be like. Nurcyndra Maurine Hawk, 19, a Year 2 student from the Diploma in Accountancy and Finance said: "I think that the presenter needs to be outgoing, willing to go out of their comfort zone, be energetic, and know how to talk and entertain people well."
Tan Yuan Yang Richie, 18, a Year 2 student from the Diploma in Computer Engineering added: "I think they have to report news, entertain and engage with listeners while playing great songs on air."
However, Danial feels otherwise.
"Being a Radio DJ is more than just talking into a microphone. Our presenters need to learn and memorise the console and system by heart. At times, we presenters need to ensure that we adhere to the schedule and that our talk breaks abide by IMDA guidelines and censorships. Nonetheless, I am sure all of our presenters enjoy being part of RadioActive and presenting just for you!" commented Danial.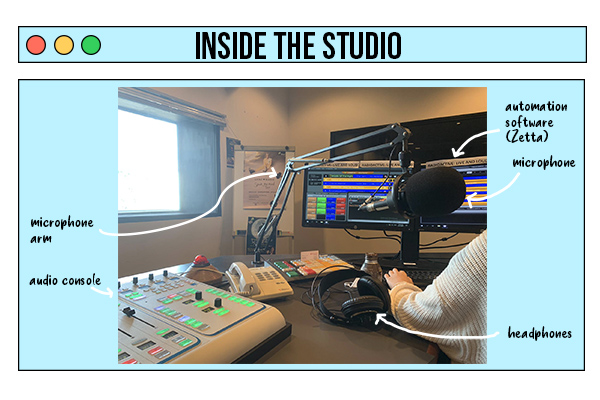 (PHOTO: Tai Hao Yue) MediaBiz Radio studio at Temasek Polytechnic
However, even audience members admit that being a radio presenter is not an easy job. Radio presenters have to give their utmost best to entertain their listeners. Moreover, there is a possibility that they will make mistakes on air, and they will have to think of ways to cover it up without the mistakes being noticeable.
Danial mentioned: "I wouldn't say being a radio presenter is easy but it is definitely fun and enjoyable! We have to prepare what we intend to share with our listeners for that day during our talk breaks before we come in for our shifts. Sometimes, it may take quite a while for us to source for good deals and stories that would appeal to our audiences. At times, we may experience something like a "writer's block" and have no idea what to share on-air."
Being a radio presenter is not as easy as it seems, as there are a lot more going on behind the scenes. Presenters not only have to go live on-air and play trendy music, but they also have to do preparations before their shows and know the radio systems by heart. All that while keeping the listeners entertained!
Catch the radio presenters in action by tuning in to 'RadioActive' on the TP Oei App while connected to the student wifi or you can just listen in while having your meals at Business Park. As mentioned by Danial, for all the K-pop fans, you can definitely expect more songs from your idols in this upcoming Academic Year 21/22!