Working part-time vs Starting your own business
By Irriena Ezrynn and Liu YingTong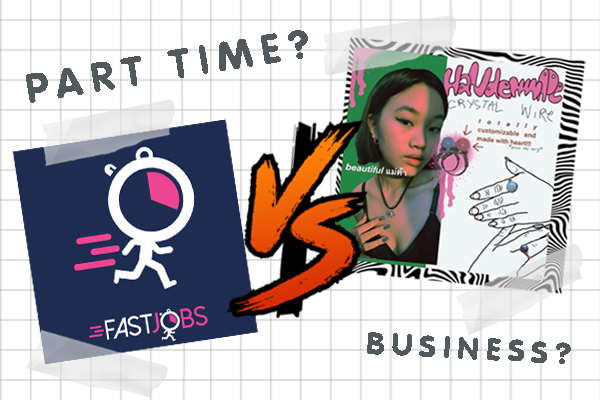 (PHOTO: Chang Zheng Shun Amos) Working part-time VS Starting your own business
If schooling in the midst of a pandemic is not daunting enough, try adding working part-time or starting a new business into the mix. But there are students who, in spite of all the challenges, are able to balance all the different roles successfully.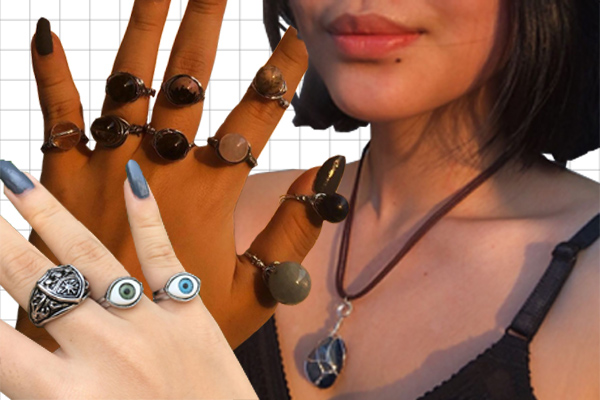 (PHOTO: Chang Zheng Shun Amos) Chelsy's business products from her Instagram
Chelsy Chawica Chua had always been attracted to unique jewellery pieces; both making and wearing them. Crafting unique jewellery pieces started off as a hobby but she was eventually persuaded to start her business by followers of her Instagram art account (@chawicart). She set her heart on it and even used her own pocket money to buy supplies.
"My family was incredibly supportive of my business, especially my mum, who even promoted it to her friends and colleagues. My friends helped promote it by posting on their IG stories and supported by buying products they liked," said Chelsy.
Being a Year 1 student in Apparel Design & Merchandising in Temasek Polytechnic (TP), her experiences managing her own business helps her prepare for her future career. She has learnt to be more creative when designing and advertising her products, and deal with stressful situations like lost mail.
Chelsy added: "These lessons will benefit me as a TP student as I get to have experience in communicating with others, creating products, and advertising them, which is a massive part of my course and my future career."
However, managing her own business is a lot of hard work.
"I tend to get many orders when I'm most busy, which is so stressful, but I usually balance it by finishing up as much as I can for that day and spending the time I typically use for my breaks to make the orders. I deliver orders whenever I finish my classes earlier than usual," commented Chelsy.
Due to the COVID-19 pandemic, many have taken their shopping needs online. This is a great opportunity for young entrepreneurs like Chelsy to gain exposure for their own brand and products. Just like Chelsy "@chawicart", many other students alike have taken advantage of the ease of social media to promote their business.

Sun Yun Han Brooklyn, a Year 2 student in Accountancy and Finance who worked part-time while schooling, felt that it was very fulfilling for him.
(PHOTO: Chang Zheng Shun Amos) Food Panda delivery packers
"I worked as a delivery packer for Food Panda and it is an eye-opener for me, especially during the pandemic, where there can be many orders coming in during peak hours and it can get very busy," said Brooklyn.
Sometimes, the school assignments and projects can get really tough for him to work during the week. So he would have to manage his own time and prioritise the things that he wants to do, such as working only on weekends and leave the weekdays for school.
Brooklyn added: "Through working, I managed to gain exposure from the working world and learn how to plan my time in order to manage school and work. It can be tough for me at first, but this helps to train me to be better prepared for the future."

Though the pandemic came, it did not affect his workplace that much as their services come mainly online, especially so during the Phase 2 Heightened Alert where people are encouraged to stay at home.

While working part-time allows many students to be more financially independent, it is also a great opportunity to attain first-hand experience in the working world. Similarly, managing and maintaining your own business is great in helping you develop an entrepreneurial mind. Learning to work for and with others can be a skill that you can apply in your future career.