Your #FutureUnlocked With Temasek Polytechnic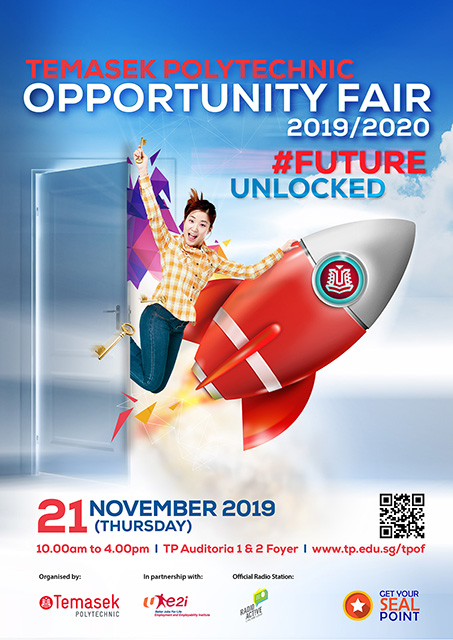 Temasek Polytechnic (TP) students looking for further education can anticipate having their #FutureUnlocked at the upcoming TP Opportunity Fair on 21st November 2019, held at TP's Auditoria 1 and 2 Foyer from 10am to 4pm.
The event comprises of talks and panel discussions by local universities, free professional photobooths, a total of 111 exhibitor booths and freebies to be won on the day itself.
Panel discussions regarding further education will be held by Nanyang Technological University (NTU), Singapore Institute of Technology (SIT), Singapore University of Technology and Design (SUTD), National University of Singapore (NUS), Singapore Management University (SMU) and Singapore University of Social Sciences (SUSS).
Moreover, industry talks on the Pharmaceutical and Biotechnology industry, careers in the VUCA (Volatile, Uncertain, Complex and Ambiguous) World as well as career opportunities and mobility in our globalized world will be conducted throughout the event at Audi 1.
Exhibitor booths will also include a range of categories and industries such as Further Education, Manufacturing, Trade and Connectivity, Built Environment and Public Service.
This event is an opportunity for students to establish network connections with top names from the industry, as well as obtain valuable insights and information from them regarding the future.
It will also serve as a platform to seek out potential employers and provide a clearer understanding of university degrees and admission criteria.
Additionally, by signing up for this event, stand a chance to win freebies such as a laptop pouch and a slushie by taking part in pre-event games.