Tokyo 2020 Olympics: The flip side to winning gold
By Liu YingTong & Harshiyne Maran
"Compared his body to the one next to him, what has he been doing for the past four years?"
Such remarks were scattered over the comments section of various news platforms that had broken the news of Joseph Schooling and his performance during the Olympics. Coming last in his 100m butterfly heat, he had failed to qualify for the semi-finals. Schooling's time placed him 44th out of 55, while only the top 16 were admitted to the semi-finals.
With such results, it was no surprise that Singapore netizens were quick to voice their harsh criticisms towards Schooling. The situation became so severe that President Halimah Yacob had to defend Schooling in a statement.
Winning Singapore's first and only gold medal in the 2016 Rio de Janeiro Olympics earned him a reputation for sporting excellence. It was a glorious moment for Singapore. And many were expecting Schooling to win a medal for the country again. However, things did not turn out in his favour.
Over the two weeks of the Tokyo Olympics, athletes like Schooling from all over the globe gathered to compete in their respective sports and take home glory for their motherland. Many have trained hard, waiting for this day in anticipation.
However, with the competition came much expectations from the public, pinning their hopes on these athletes to make their country proud.
Have we perhaps been too quick to judge our athletes and pile high expectations on them? Do we care about their stories and the sacrifices they have made, or simply keep our eyes on the prize?

Why have Singaporeans taken to being keyboard warriors against our athletes? Does it stem from a lack of empathy? Or perhaps we overestimated them?
Well, these might be some of the questions that many of us have in our minds after watching the Tokyo 2020 Olympics.

It has been a trying time for athletes during the pandemic. In a promotional video done by Singtel, our #TeamSG athletes detail how restrictions due to the pandemic put a halt to training sessions and left them with much uncertainty on how they would perform. "It's going to take a while before I can hit my personal best,'' says sprinter Shanti Pereira. With such hurdles in their path, it's safe to say that they are the champions of perseverance and tenacity no matter what the scores have turned out to be.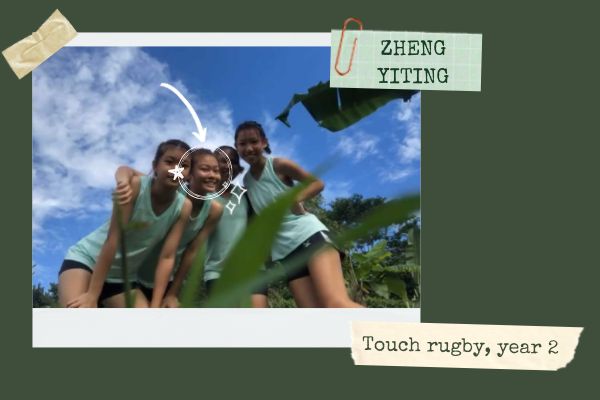 (PHOTO: Joelle Tan Min Hui) Zheng Yiting together with her Touch Rugby CCA mates
"Many have forgotten that Joseph Schooling had played a big part in bringing the world's attention to the little red dot. Furthermore, they do not understand the amount of stress that a world champion could have," said Zheng Yiting, a second-year student from the Diploma in Marketing.

Being a member of Temasek Polytechnic's Touch Rugby CCA, Yiting knows the struggles and stress that an athlete would have to deal with while everyone's looking at your performance.
Yiting added: "They are not allowed to lose, and they are given high expectations to secure the name and glory for the country."

Nonetheless, Yiting felt that some Singaporeans are quite understanding towards the Singapore athletes performance in the Tokyo 2020 Olympics despite some hate comments spreading all over the internet.
"I think most Singaporeans are still quite understanding towards the athletes because they do stand up against the hate comments," commented Yiting.

Furthermore, the amount of training and coaching needed to be an athlete is not easy. This shows the number of struggles an athlete will have to go through while participating in a competition representing their country.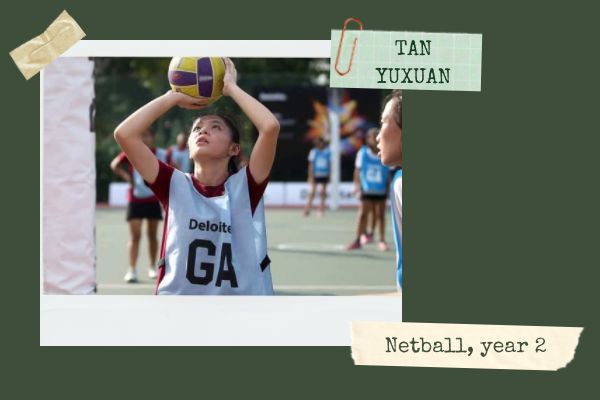 (PHOTO: Joelle Tan Min Hui) Yuxuan practising Netball during her CCA training session
"I sacrificed a lot of family time during holidays and weekends to attend training or competitions. Since I prioritise my training, I often plan my schedule around those timings, which also means cancelling other plans (other than school) that are "unimportant", says Tan Yu Xuan, a Year 2 student from the Diploma in Early Childhood Development & Education.
Having to give up time with friends and family is a sacrifice she makes to attain excellence in her sport. However, Yu Xuan's passion for Netball shadows the trials and tribulations that she goes through in her journey as an athlete.
A member of TP's Netball CCA, Yu Xuan knows all too well about the immense pressure that athletes undergo, especially during a competition.
"I think people gave negative comments about the Singaporean athletes due to their high expectations of them to do well. They compare the performance between the Rio 2016 and Tokyo 2020 Olympics and set their expectations of the athletes," Yu Xuan said.
Although it is not wrong to draw comparisons to past performances, she felt that Singaporeans have portrayed negative attitudes towards our athletes.
She adds: "Singaporeans' responses towards the Olympics results portrayed a negative side of us and showed that we lack compassion and appreciation for our athletes."
With that being said, Singaporeans can do better as a nation to develop sensitivity and acceptance of our athletes. While the results might not always be satisfactory, it's about the journey rather than the destination.
Although the Tokyo 2020 Olympics is the first time since 2004 that Singapore did not clinch any medals, we believe that the Singaporean athletes have put in their utmost best in the Olympics amid the COVID-19 pandemic disruptions. We believe that they will come back more robust in the next Olympics!
Furthermore, Yiting's parting words for the athletes are particularly heartwarming. She exclaims, "You guys are the champions in our heart!"