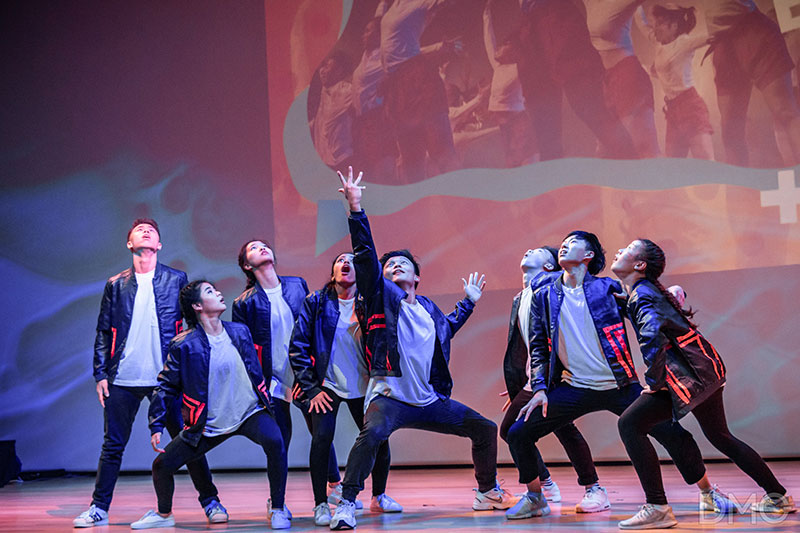 (Photo Credit: Digital Media & Production Crew)
We honour the Temasek Polytechnic Dance Ensemble (TPDE) for their excellent artistic conduct and outstanding contributions to the vibrancy of our campus!
In AY2019/2020, TPDE clinched championship titles in various high-profile competitions, such as "TRDO Duet" (Modern Dance), "Super 24" (Modern Dance), "South Park Jam (Inter-School Showcase)" (Hip Hop) and "Conquer It Under 21" (BBoys). Besides participating in external competitions, they also organised contests such as "WatchaGot Vol. 9" (a dance battle for all educational institutions in Singapore), and "OOMPH! Vol. 6" (an internal event to develop freshmen dancers). Both events were well received by the dance community.
On and off campus, TPDE was featured extensively in events such as "DREAMS XI: Game On", "TP Sunset Showcase: Move It @ Plaza", "TP National Day Celebration 2019", "Esplanade's In Youthful Company", and "GSS: Experience Singapore Fashion Scramble". Of noteworthy mention was the hugely successful "DREAMS XI" concert, where the group performed six energetic dance items, as well as choreographed the mass curtain call finale item involving over 200 performers.
The past year has also been a year of exploration for TPDE, elevating the group into new heights as they experimented with fresh and innovative approaches to dance. Their first site-specific performance, "TP Sunset Showcase: Rush...", brought audiences on a journey through the School of Design to watch dance pieces from different views. This novel experience was refreshing and broke new ground in dance, receiving widespread acclaim from the audience.
Overall, TPDE is an arts group that has demonstrated, once again, the highest performance standards, impeccable showmanship, absolute passion, and an astonishing hunger for continuously improving themselves.
We could not have done it any better, TPDE! Thank you for all contributions to TP!
---
[Representative: Tian Soon Wei Alton, President of TPDE (AY2019/2020)]
1. How would you describe TPDE's journey in the past academic year?
Our journey has been nothing short of amazing! Besides the achievements won and the new events that we ventured into, we thoroughly enjoyed the process. Working hard with our members, and fighting, laughing and celebrating together, were things that made our run in the main committee fruitful and worthwhile.
2. How has your experience impacted your lives positively as a team, both in TP and beyond?
TPDE has had a profound impact on all of us. As a team, we always strive to provide engaging, bold and high-quality artistic shows for the TP community and beyond. In the process, we learnt that hard work, humility and good time management are what bring us far – not just in dance, but in our studies and work too.
3. What was the most memorable takeaway of your team's CCA/artistic journey?
Our biggest milestone was staging our first site-specific show, "TP Sunset Showcase: Rush...". Organising this event was a huge challenge as we had no experience from previous years. From artistic flow to logistical management, we learnt and grew the most through this project. It was also a success, with all three shows selling out!

4. What has inspired your team to keep going during tough times? Any words of encouragement/advice for your TP juniors too?
As always, our dancers are our biggest motivation. As our tenure in the main committee would only stretch for an academic year, we constantly remind ourselves to give our best for our dancers, and to provide them with enriching experiences that they can grow from.