Engineering excellence @TP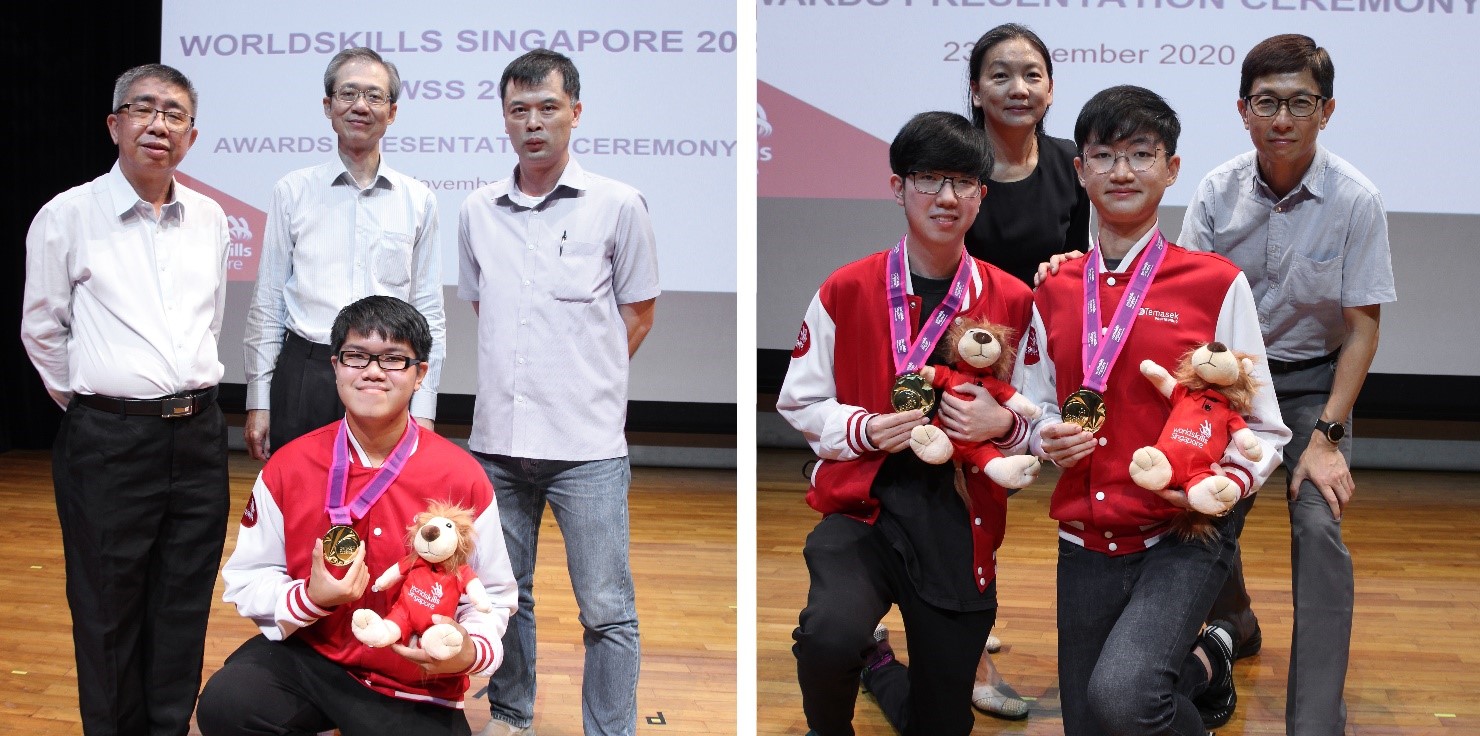 Golden boys: Ler Woon Seah (left photo), and Zacharius with Yong Jie (right photo), with their coaches in 2020
The technical excellence of our Engineering students is demonstrated in their consistently fine performance in the prestigious WorldSkills Singapore (WSS) competition, as well as the international Shell Eco Marathon Race, over the years.
In 2020, our School won 2 Gold, 2 Silver, 2 Bronze, and 1 Medallion of Excellence in the WorldSkills Singapore competition 2020 – contributing to the biggest-ever haul of medals by Temasek Polytechnic (TP) in the 62-year history of the competition. The following year (2021), they chalked up 3 Silver and 3 Medallions for Excellence.
Meanwhile, our students have also clinched top spot in the Shell Eco Marathon Race (hydrogen fuel cell category) for 3 consecutive years, in 2018, 2019 and 2022 (there was no physical race in 2020 and 2021 due to Covid-19). The wholly original car which our students designed using patented fuel cell technology, has repeatedly proven to be the most efficient on the race track, beating those designed by top notch universities from around the world.
The results are testimony to our students' technical expertise and superior practical skills, and reflect the high level of training that they receive in the School of Engineering, especially supported by our Centres of Excellence.
The WorldSkills Singapore competition, held biennially, symbolises the pinnacle of vocational excellence in skills trades and technologies training. Gold and Silver medallists may go on to represent Singapore at the WorldSkills ASEAN and WorldSkills International.
RESULTS
WorldSkills Singapore 2020
Student
Diploma
Category
Award won
Zacharius Liew Zhe & Ng Yong Jie
Aerospace Engineering
Mobile Robotics
Gold
Ler Woon Seah
Electronics
Electronics
Gold
Lin Shao Wen Darius
Mechatronics
Mobile Robotics
Silver
Tham Josiah
Electronics
Lee Lin Yang Glenn
Computer Engineering
Electronics
Silver
Tan Xue Jian
Aerospace Engineering
Aircraft Maintenance
Bronze
Lennard Ng Weijie
Mechatronics
Mechatronics
Bronze
Joshua Loon Cheng Le
Zheng Changsong
Aerospace Engineering
Aircraft Maintenance
Medallion for Excellence
RESULTS
WorldSkills Singapore 2021
Student

Diploma

Category

Award won

Muhammad Hasnaat Islam

Electronics

Electronics

Silver

Lim Ryan Ryutaro

Electronics

Silver

Sasikumar Rohith

Computer Engineering

Mobile Robotics

Medallion for Excellence

Wong You Xin

Computer Engineering

Koh Wei Jie

Integrated Facility Management

Digital Construction

Silver

Tan Chia Wen

Green Building & Sustainability

Medallion for Excellence

Chng Sheng Jie

Green Building & Sustainability

Medallion for Excellence