Engineering excellence @TP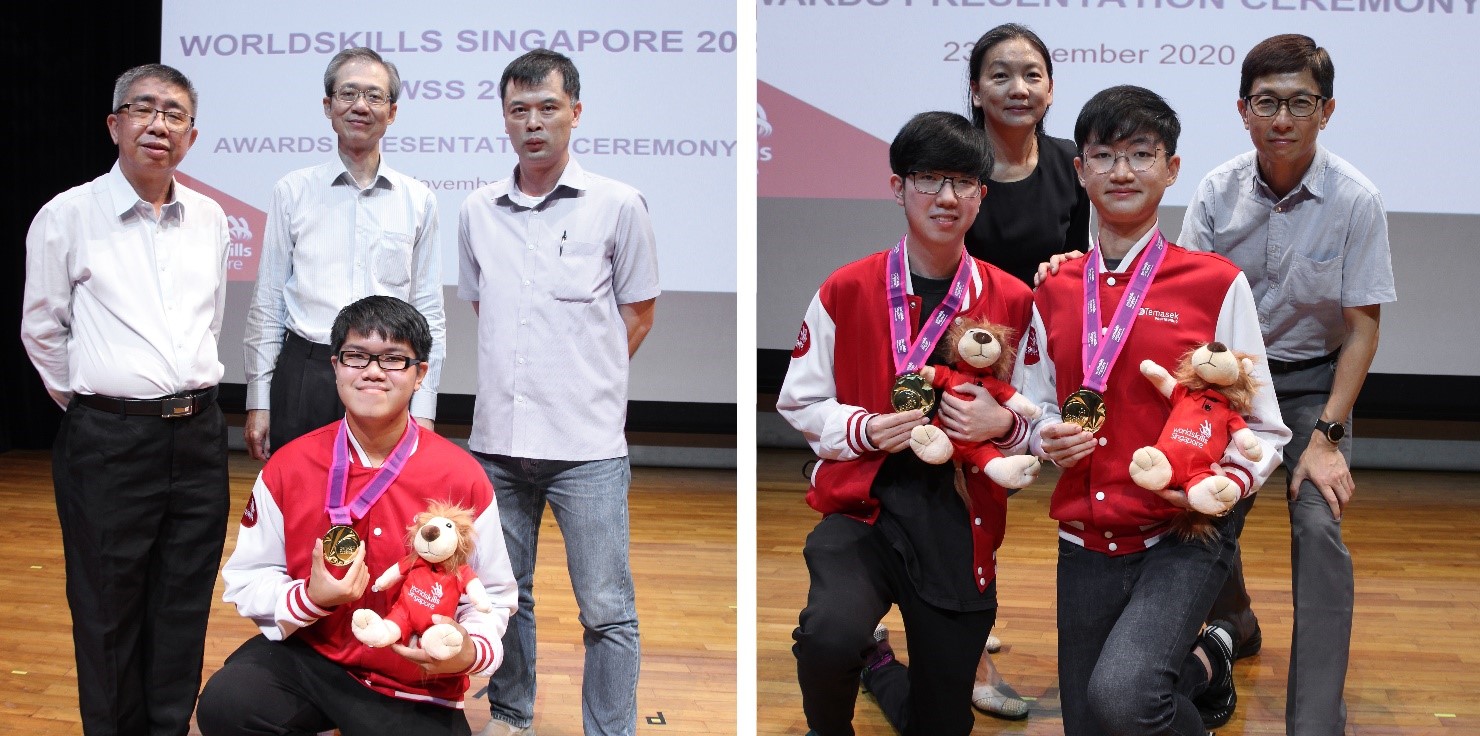 Golden boys: Ler Woon Seah (left photo), and Zacharius with Yong Jie (right photo), with their coaches
Students from the School of Engineering won 2 Gold, 2 Silver, 2 Bronze, and 1 Medallion of Excellence in the WorldSkills Singapore competition 2020 – contributing to the biggest-ever haul of medals by Temasek Polytechnic (TP) in the 62-year history of the competition.
The results are testimony to their technical expertise and superior practical skills, and reflect the high level of training that students receive in the School of Engineering.
The WorldSkills Singapore competition, held biennially, has come to symbolise the pinnacle of vocational excellence in skills trades and technologies training. Gold and Silver medallists may go on to represent Singapore at the WorldSkills ASEAN 2020 and WorldSkills International (Shanghai) in 2021.
Here are the full results of TP Engineering students who took part in the competition:
Student
Diploma
Category
Award won
Zacharius Liew Zhe & Ng Yong Jie
Aerospace Engineering
Mobile Robotics
Gold
Ler Woon Seah
Electronics
Electronics
Gold
Lin Shao Wen Darius
Mechatronics
Mobile Robotics
Silver
Tham Josiah
Electronics
Lee Lin Yang Glenn
Computer Engineering
Electronics
Silver
Tan Xue Jian
Aerospace Engineering
Aircraft Maintenance
Bronze
Lennard Ng Weijie
Mechatronics
Mechatronics
Bronze
Joshua Loon Cheng Le
Zheng Changsong
Aerospace Engineering
Aircraft Maintenance
Medallion for Excellence