127-year-old Swiss Manufacturer, BERNINA sets up their First Creative Studio in Temasek Polytechnic
Singapore, 3 November 2020 - Temasek Polytechnic (TP) School of Design has partnered with BERNINA Singapore, a Swiss international manufacturer of sewing and embroidery systems to launch the TP-BERNINA Creative Studio, a collaborative workspace at TP's School of Design (DES), fitted with Bernina's sewing machines, embroidery machines, overlockers and embroidery software, worth S$80,000.
This partnership was cemented with the signing of an MOU between TP and BERNINA by Mr Lim Chong Jin, Director, TP's School of Design and Ms Katharina Ueltschi, Director, BERNINA Singapore, on Friday, 30 October 2020. The signing was witnessed by Guest-of-Honour, His Excellency Fabrice Filliez, Swiss Ambassador to Singapore and Ms Anita Kuan, Deputy Principal, TP.
"This is the first time in our 127-year history that we are partnering with a School of Design and setting up a Creative Studio, in Singapore. We are proud to partner with Temasek Polytechnic, who set up Singapore's first design school in a polytechnic.
Our shared pioneering spirit and our passion towards design education will definitely benefit every TP Design student," said Ms Katharina Ueltschi, Director, BERNINA Singapore.
Opportunities for DES Staff & Students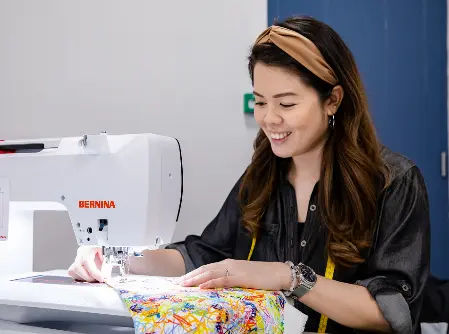 The partnership will see Bernina training staff from DES in the use of the machines and co-create training programmes for the students. This will also include a range of short courses as part of continuing education for members of the general public or specific groups of people such as fashion entrepreneurs.
Full-time Design students from the Diplomas in Communication Design, Product & Industrial Design and Apparel Design & Merchandising can also look forward to internship opportunities with BERNINA and visiting its studios within the BERNINA Singapore's network. At the same time, students will be able to explore the development of innovative products for sectors like retail, healthcare and hospitality, using the facilities in the TP-BERNINA Creative Studio.
Design students and staff will also benefit from talks by BERNINA on current trends in fashion and related industries. The TP- Bernina collaboration will definitely drive creativity in design, not just for TP students, but for the community as well.
"As design educators, we believe in creating an environment where students can constantly explore new ideas. Through this partnership with Bernina Singapore, students can experiment with the most advanced Swiss technology in sewing to break new ground in design. The BERNINA-TP Creative Studio, an all-in-one facility, with customised programs and online learning platforms, will offer a unique learning experience for both young and old," said Mr Lim Chong Jin, Director, TP's School of Design.
Community Project Collaboration
TP and BERNINA have successfully worked on their first community project – a community quilt which comprises some 360 individual designs contributed by TP staff, alumni, students, secondary school students, as well as the Swiss community. These carry messages of appreciation and encouragement to our frontline healthcare workers who have worked so hard to keep the community safe in this time of the COVID pandemic. The designs were embroidered into fabric squares, then stitched together using the BERNINA machines.
This quilt will be presented to the National Centre for Infectious Diseases, later this year.