Course Fee
Please refer to individual course pages for course fee information. Student Group Personal Accident (GPA) Insurance is applicable to selected courses.

Student GPA Insurance is compulsory and non-refundable

SkillsFuture Credits cannot be utilised to pay for Student GPA insurance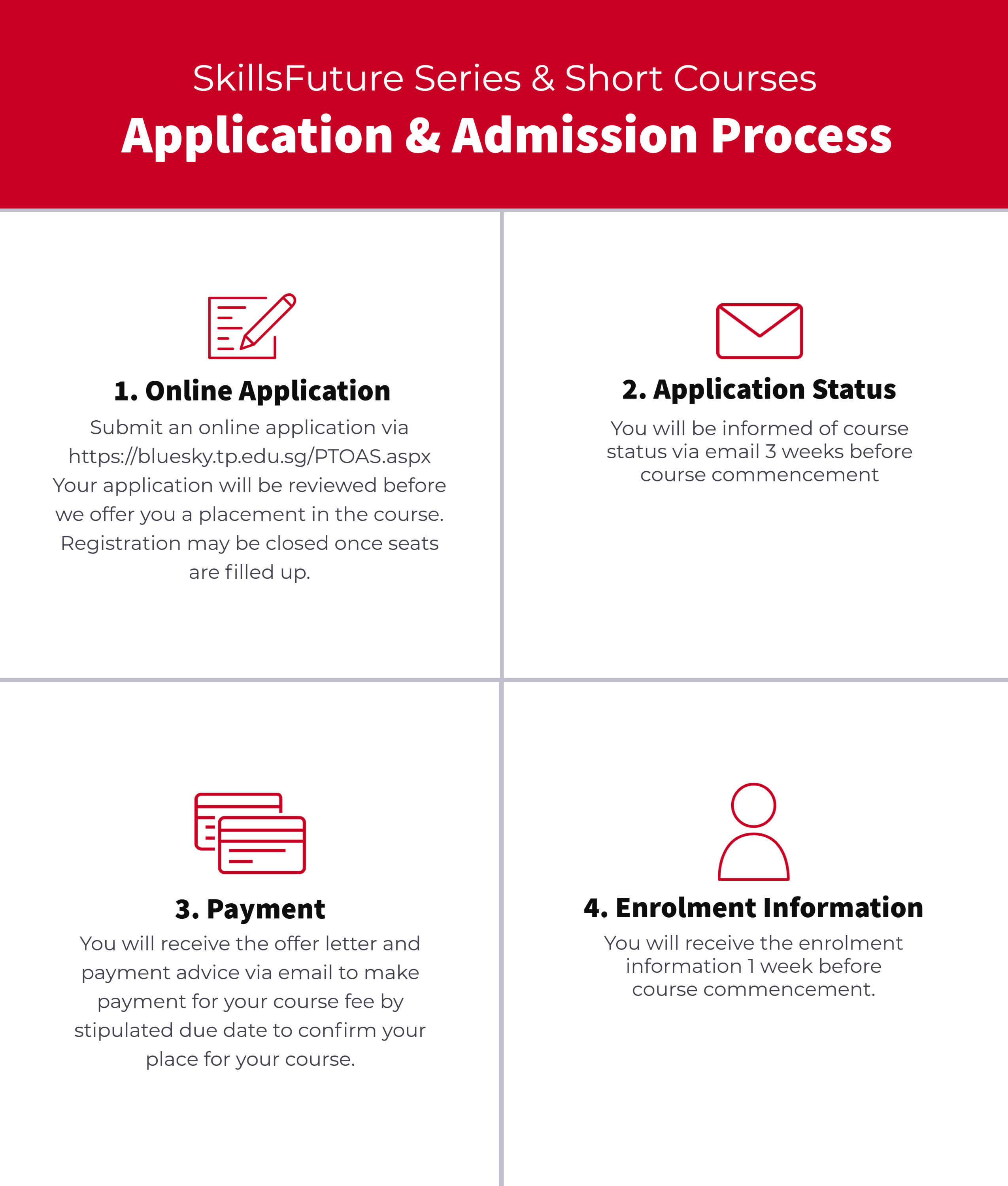 Payment Methods
You are required to make full course fee payment by the payment deadline when you are offered admission to the course. This is to enable us to confirm your place in the course. Payment of course fee is taken as acceptance into the course.
Paying via AXS (applicable to Self-paying individuals only)
Receipt issued by AXS serves as the official receipt.
Paying by Electronic Payment

applicable to Companies only
Paying by SkillsFuture Credit (SFC)
Refer to below user guide on how to use your SFC to pay for or offset the course fees: http://www.skillsfuture.sg/credit/help#whoisitfor
Please deduct the GPA insurance fee of $1.61 from the total course fee as SFC cannot be utilised for insurance fee. GPA insurance fee of $1.61 has to be paid via AXS.
Claims can be made before the start of the course till the day of course commencement.
After the SFC claim is approved, please email your programme officer with the following information:



Full Name
Admission number
Screenshot of the approved claim – the following information should be visible: Claim ID, Course Title, Training Provider, Claim Amount
Contact Details
8.30am – 6.00pm (Mon – Thu)

8.30am – 5.30pm (Fri)

Closed on Sat, Sun & Public Holidays

Due to Safe Management Measures, our office is currently closed.

Please call or email us your enquiry.

Thank you for your patience and understanding.

Temasek SkillsFuture Academy (TSA)
Temasek Polytechnic
East Wing, Block 1A, Level 3, Unit 81
21 Tampines Ave 1
Singapore 529757