Course Overview
This WSQ Advanced Certificate in Aerospace is an 18-month full qualification programme aligned with CAAS SAR-66 Aircraft Maintenance Licensing requirements that provides the essential basic knowledge necessary for Cat B1 (Mechanical) trainee aircraft engineers to obtain his or her licenses.
This course will benefit both the local civil aviation and general aviation aircraft maintenance, repair and overhaul (MRO) organisations to attract talented new entrants into the aerospace industry and establish a career as Licenced Aircraft Engineers (LAE).
Entry Requirements
Eligibility Criteria
Full-time polytechnic graduates from aerospace and/or engineering-related diploma disciplines who are Singaporeans or Singapore Permanent Residents within three years of either graduation OR the Operationally Ready Date (ORD) for National Servicemen. The Sign-on Incentive is only applicable for Singapore Citizens.

Existing employees who have graduated or ORD for more than 3 years but within the 5 years from the date of graduation or ORD may be considered for the programme on a case-by-case basis but will not be eligible for any sign-on incentives.
What You'll Learn
M01: Mathematics Workshop Practices Application
M02: Physics
M03: Apply Principles of Electrical Fundamentals (Advanced)
M04: Apply Principles of Electronic Fundamentals (Advanced) - B1
M05: Apply Principles of Digital Techniques (Advanced) - B1
M06: Select Aerospace Materials and Hardware (Advanced) - B1
M07: Perform Aerospace Maintenance Practices (Advanced) - B1
M08: Apply Principles of Aerodynamics (Advanced)
M09: Apply Human Factors Principles
M10: Apply Principles of Aviation Legislation
M11a: Apply Principles Of Turbine Aeroplane Aerodynamics, Structures And Systems (Advanced)
M15: Apply Principles of Gas Turbine Engine (Advanced)
M17: Propeller
Please submit the following documents during your submission. Kindly name the files according to the guidelines below.

1. Resume (filename: Resume-YourName.pdf)
2. Highest Qualification Certificate (filename: Certificates-YourName.pdf)
3. Academic Transcripts (filename: Transcripts-YourName.pdf)
4. NS Completion Certificate, if applicable (filename: NS Certificate-YourName.pdf)
Please note that relevant documents will be forwarded to all participating companies for their selection.
Selection of applicants is at the discretion of the participating companies and participating companies will contact their shortlisted applicants for interview. Applicants have the right to reject the interview if they do not wish to be employed by the company who contacted them.
Only applicants who are successfully hired and placed on the Work-Study Certificate programme by the participating companies will be invited to submit an online application for the courses.
Fees Type
Course Fees
(w GST)
Singapore Citizens
Aged below 40
S$18,987.15
SME-sponsored aged below 40
S$7,157.15
Non-Singapore Citizens
Singapore Permanent Residents
S$19,164.60
SME-sponsored (Singapore Permanent Residents)
S$7,334.60
Foreigners
S$63,882.00
SkillsFuture Credit Approved. For more details, please click here.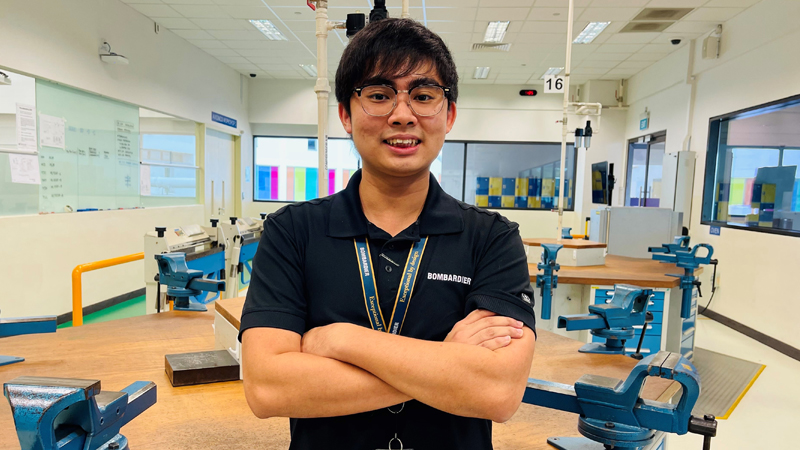 "With TP's 18-month programme - Workforce Skills Qualifications (WSQ) Advanced Certificate in Aerospace, which is part of its Work Study Programme (WSP), I am able to fast-track my dream of becoming a licensed aircraft engineer. I haven't looked back since. I'm not missing out on a university experience. Actually, I am gaining more from TP's WSP because I can get my qualifications and on-job experience much faster."
Conan Chua
Read...
Gain new skills, qualifications and on-the-job experience – all at the same time (The Straits Times)
Course Contact
Monday - Thursday: 8:30am - 6:00pm
Friday: 8:30am - 5:30pm

Closed during lunchtime, 12:00pm - 1:00pm
and on weekends and public holidays.

Temasek SkillsFuture Academy (TSA)
Temasek Polytechnic
East Wing, Block 1A, Level 3, Unit 4
21 Tampines Ave 1
Singapore 529757