engAGE Ageing Symposium 2021 - Reshaping Lifelong Learning: Silver Linings from COVID-19
"Lifelong learning is more than learning for life, but also learning from life."

- Dr Maliki Osman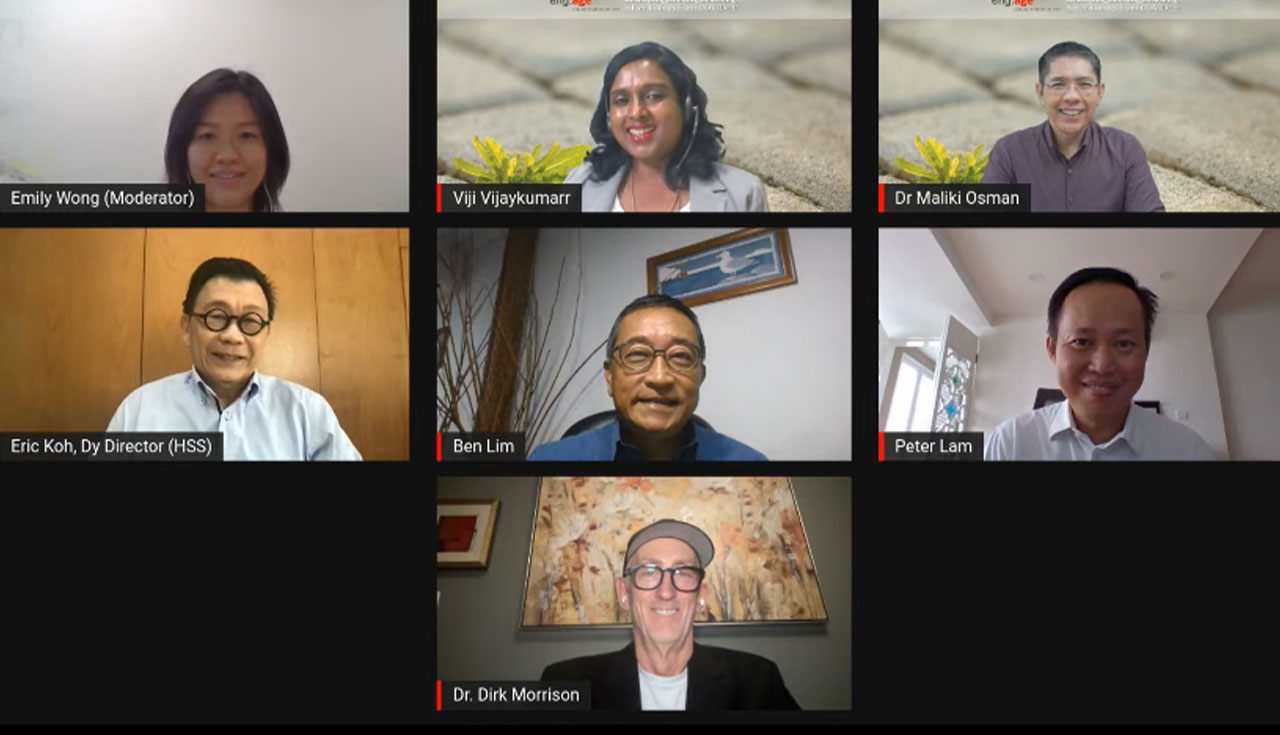 Say "Cheese!"
Those were the words of advice shared by Guest of Honour Dr Maliki Osman, Minister in the Prime Minister's Office and Second Minister for the Ministry of Education (MOE) and Ministry of Foreign Affairs (MFA), as 2021's edition of the engAGE Ageing Symposium kicked off on the morning of Friday, 12th November 2021.This biennial symposium which was organized by Diploma in Social Sciences in Gerontology, School of Humanities & Social Sciences attracted a total of 351 sign-ups.
The theme of the symposium for this year was "Reshaping Lifelong Learning: Silver Linings from COVID-19", an apt reminder not just for how far we have come since the early days of COVID-19, but a testament to the adaptability of lifelong learners, and their learning providers.
To share the experiences of lifelong learners were an esteemed array of speakers from a plethora of backgrounds, all sharing a common goal in studying or serving lifelong learners.
The first speaker to take the stage was Associate Professor Dirk Morrison of the University of Saskatchewan, opening with his keynote presentation on the "Invisible University" regarding the shaping of the digital learning landscape to engage older adults' informal learning. With the accessibility, range and interconnectivity of learning opportunities around us, never has the world been better equipped to facilitate a collaborative learning environment for lifelong learners from all walks of life.
Next was Mr Tan Hsien Wei, from Temasek SkillsFuture Academy (TSA), and his plenary speech on TP's support of micro-learning during the pandemic. Micro-learning has shot up in prominence with COVID-19, with its cost-effectiveness and increasing accessibility making it an appealing learning outlet for lifelong learners. With its focused learning experience, it has helped many to upskill and improve their versatility in the workforce.

This was followed by a speech on "The Working Learner" by Ms Chelvin Loh, Director of the Job-Skills Insights Division of SkillsFuture Singapore. Emphasis was placed on a rotational model for adult learners, where work and education should cross paths throughout one's career. To learn, relearn and reskill is a necessity in the workforce, and a benefit for both the individual and their working environment.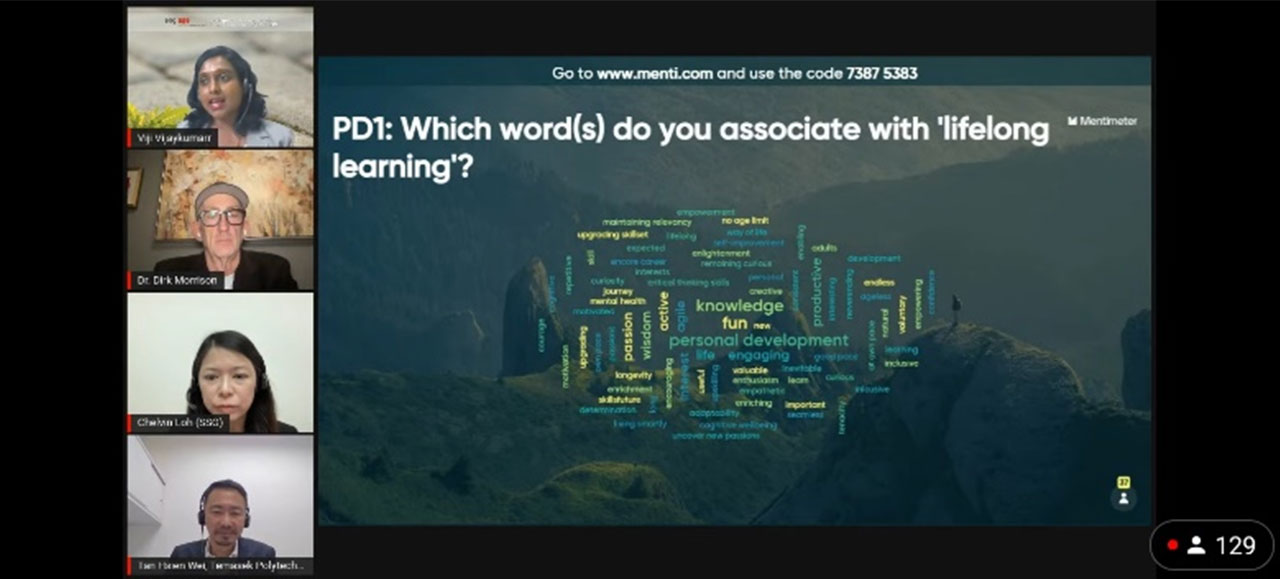 Panel Discussion 1
The three speakers wrapped up the morning session with a panel discussion titled the "Tri-Sector Collaboration in Lifelong Learning". Questions were directed at panellists on the topics discussed, and views were shared on the current trends on lifelong learning in the modern day.
After the lunchtime break, participants were treated to a performance by the seniors of En Community Services Society, after which viewers were invited to join one of two seminars running concurrently.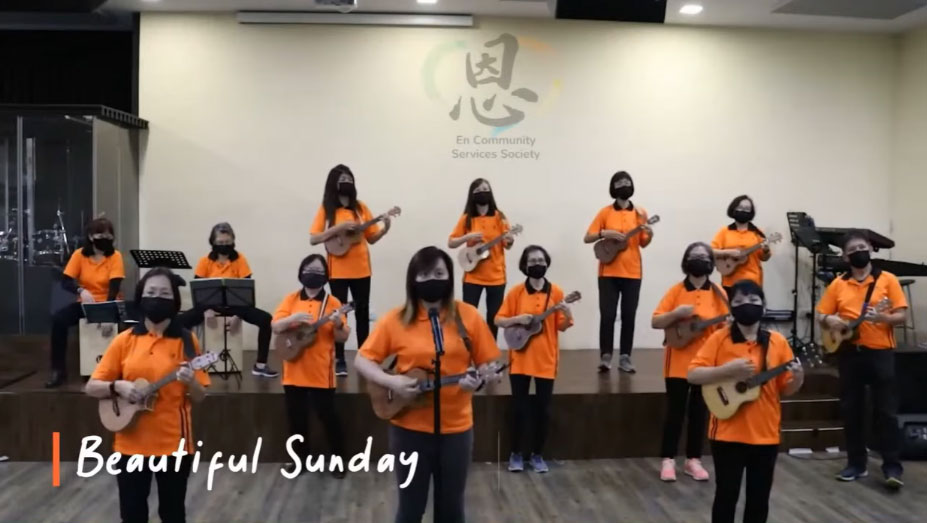 Ukelele performance by En Community Services Society
Seminar A opened with the introduction of Dr Florence Mwagwabi and Dr Tania Lim of Murdoch University, and their talk on the importance of creating a supportive online learning environment for older learners. Their data showed how adaptable older adults were in this increasingly technologically advanced society, and importantly, what more can be done to enhance their online learning experience in the future.
"Education is not over when people say it's over. It's over when you want it to."

- Dr Tania Lim
This was followed by Montfort Care's Ms Han Yah Yee and Ms Lu Anqi presenting "Project E-Seniors". The programme was a response to the poor digital literacy amongst seniors. Montfort Care equipped them with the necessary digital skills and knowledge to ensure they stayed connected and were able to continue participating in their online activities. The programme's success highlighted the adaptability and willingness of older adults to continue to learn in spite of the barriers of online interactions.
Meanwhile, Seminar B introduced Dr Jagriti Gangopadhyay, an Assistant Professor and Faculty Coordinator at Manipal Academy of Higher Education (MAHE). Dr Jagriti shed light on the current social situation facing the older adults of India and presented her research findings on what can be done to improve their quality of life.
She was proceeded by Mr Sheng Yee Zher and Ms Chia Ying of Singapore's Institute for Adult Learning (IAL). The researchers presented the findings from two surveys by IAL on the preferred skills and working conditions for productive longevity, and the methods to meet the learning and training needs of older workers. Their research showed that older adults' continued desire for work was beyond economic stability; there is a desire to achieve sustainable employment through upskilling. Furthermore, to accommodate older workers, workforces need to adapt to their needs to yield the best productivity and rewards.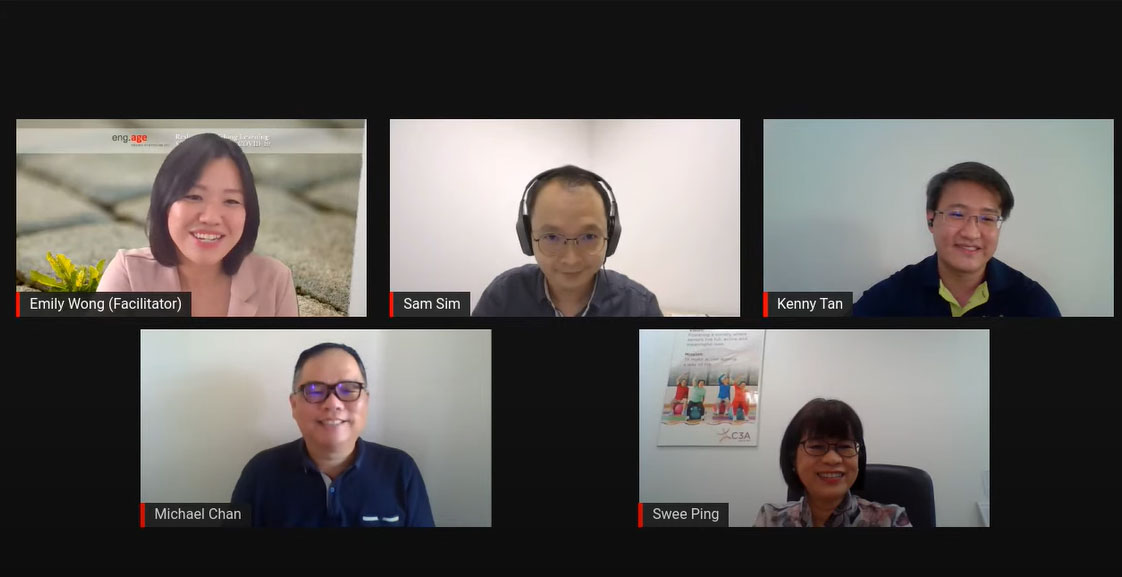 Panel Discussion 2
The symposium wrapped up with a second panel discussion featuring Assistant Professor Kenny Tan (CEO of St Luke's ElderCare), Ms Soh Swee Ping (CEO of Council for Third Age), Mr Michael Chan, an adult learner from TP's Specialist Diploma in Gerontology (Optimal Ageing Practice), and Mr Sam Sim from TP's very own Diploma in Social Sciences in Gerontology, with Ms Emily Wong, Course Chair of the Diploma in Social Sciences in Gerontology facilitating the discussion. The vibrant panel discussion highlighted the disruptions to traditional models of care triggered by the pandemic, and the ingredients that helped St Luke's ElderCare and C3A successfully pivot their activities and services to continue serving seniors. Rather than being divisive, technology can be a glue that brings different generations together, and prompts us to rethink the quality of traditional centre-based care. The innovations that have sprouted due to the pandemic, need to be harnessed, and more public-private partnerships can accelerate the growth of community care agencies' digital capabilities. 2021's engAGE Ageing Symposium was an all-round success. With an interesting line-up of speakers who shared passionately and generously about topics related to lifelong learning and the pandemic, participants were treated to a thoroughly enriching and engaging symposium.