GEM-IG X LEAD Ambassadors Collaborate with RSVP to celebrate International Day of Older Persons 2021
Celebrating with the community has been significantly hindered since the COVID-19 pandemic hit us. Nevertheless, the restrictions and physical limitations did not stop the Diploma in Social Sciences in Gerontology Interest Group (GEM-IG) and the Temasek LEAD Ambassadors from holding a grand and fulfilling celebration to mark this year's International Day of Older Persons (IDOP) on Friday, 1st October 2021. Collaborating with RSVP Singapore, the 580 attendees for the day were not disappointed as they were treated to an intergenerational and multicultural celebration for the seniors who have shaped our nation and us as individuals.
IDOP celebrates our seniors and raises awareness about the care and attention seniors require as they age, and this celebration excelled in both. The event began with opening addresses by Ms Genevieve Chua, 1st Vice Chairman of RSVP, and Mr Eric Koh, Deputy Director of TP's School of Humanities & Social Sciences. Audiences were treated with performances from the artistic talents of Temasek Polytechnic's very own Indian Dance and Malay Dance CCA, as well as Punggol Shore resident singer Mr Willy, and the Punggol Shores' People's Association Active Ageing Committee's Dance team.
Peppered in between these performances were video compilations of both students and their grandparents, as well as a couple of RSVP's senior volunteers expressing their gratitude and love for each other.
The event concluded with Ms Genevieve leading a live online drumming performance using a pail and two utensils. The performance engaged audiences both "young, and young at heart", as stated by Ms Genevieve.

The celebration was not limited to the arts, however. A HAPPY Exercising segment was held following the opening addresses, with Mr Lai Chong Kian of RSVP leading the exercise. This provided attendees with the opportunity to stretch their legs after the formalities prior, as well as setting the interactive and engaging tone of the event that was to follow.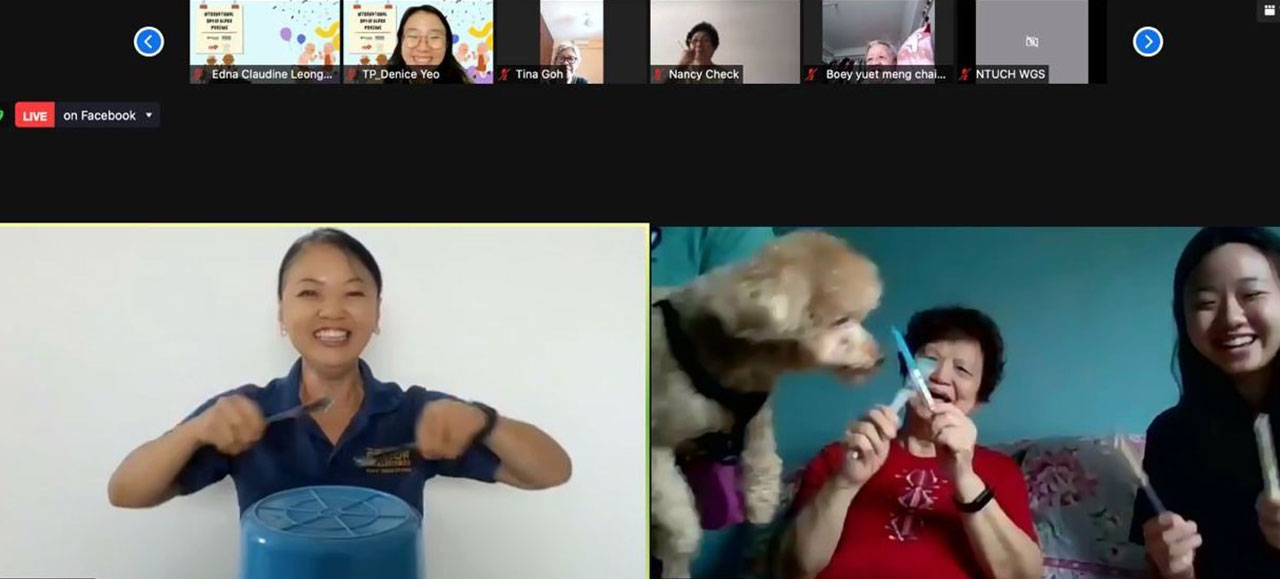 "The interactions of students and their grandmothers are so heart-warming. I love it! And also, the gratitude sharing by RSVP volunteers. The programme is nicely curated with great performances. I love the interactive HAPPY exercise and drumming finale! Well done!"
"A celebration with very fun-filled programmes. It gave us high spirit for the day and days ahead."
Overall, this year's IDOP celebration was a heart-warming experience for everyone. The event has helped audiences understand the importance of intergenerational bonds across ages and share the essence of what IDOP is all about. A big congratulations to the GEM-IG and LEAD Ambassadors team for their efforts for a fulfilling and rewarding event!