Spotlight on our vet Dr Neo Peici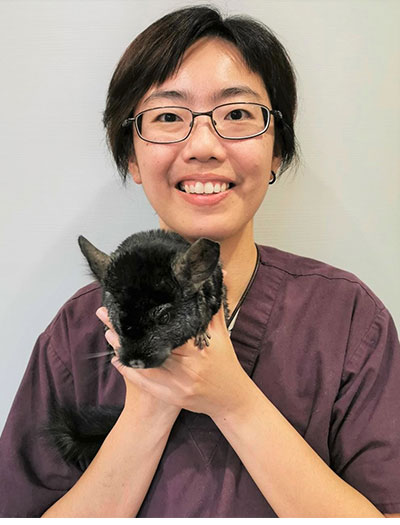 Dr Neo Peici graduated from the University of Melbourne in 2012. She had worked in the Jurong Bird Park previously before joining Temasek Polytechnic. Her interest in birds started in 2010 when she had her first pet bird, a cockatiel. The intelligence and interesting antics of the little being wowed her so much that she wanted to learn more about all of them. The passing of her rainbow lorikeet, Fearless, just before her final vet examinations further strengthened her determination to do avian medicine as she did not want to feel absolutely helpless when it comes to birds again. She was thrilled to get the Bird Park job where she spent her next 6 years looking after the health of birds, from parrots to penguins to flamingos. She obtained her Memberships in Avian Health in 2019 and her special interest lies with neonatal birds, she is only 1 of 2 vets in Singapore to hold this qualification.
Dr Neo lives with her two dogs, a rabbit and three birds. At the tender age of 4 months, her border collie, Kyoi, was diagnosed with hip dysplasia hence driving her to further her studies in canine rehabilitation, to help care better for Kyoi. She obtained her Certificate in Canine Rehabilitation Therapy from the Canine Rehabilitation Institue, Colarado in 2019. She also competes occasionally in dog agility trials with her maltipoo, Aki.  Her special interest is in sports dog therapy, where she aims to improve dogs performance through rehabiliation techniques. Dr Neo understands the bond the owners have with their pets and always emphasizes on a stress free approach when treating them.