Local Startup Life3 Biotech Partners Temasek Polytechnic to Optimize First Large-Scale Microalgae Production in Southeast Asia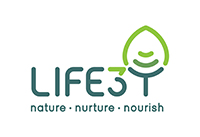 Singapore, 6 June 2019 – Singapore's homegrown research and development agritech food company, Life3 Biotech, is partnering Temasek Polytechnic's Centre for Urban Sustainability (CUS) to further its joint research and application in developing a special cultivation medium that uses food by-products to enhance the growth as well as nutritional profile of its microalgae variety as food ingredients. This will mark the first of such controlled environment agricultural production in Southeast Asia.
Achieving A National Goal Together
Lacking in food production capabilities, Singapore is susceptible to climate and natural resource risks, especially to potential supply disruptions and fluctuating food prices due to its heavy reliance on food imports.
To boost Singapore's food and nutrition security, microalgae can hold the key to becoming the future's alternative protein in a sustainable and productive way.
Following the success of Life3 Biotech's scale-up production of microalgae both in the indoor as well as outdoor bioreactor in its initial research collaboration with Temasek Polytechnic at its Project Cube/Roots' agritech facility, the next step will be to optimize the cultivation process of various microalgae strains to achieve higher yield and nutritional profile.
Said Life3 Biotech's founder, Ricky Lin, "Given the land constraint in Singapore, it is very challenging to grow protein crops extensively as compared to other countries. However, this can be made possible with Singapore's first large-scale vertical bioreactor tanks. Life3 is cultivating its own food-grade microalgae to harvest its high protein content as well as functional compounds such as Omega 3 Fatty Acids that is instrumental to human health. Our partnership with Temasek Polytechnic will further enhance and optimise the production of high-growth microalgae variety in a shorter harvesting period. This will certainly contribute towards achieving the national goal of producing 30 percent of Singapore's nutritional needs locally by 2030 – we are indeed excited to spearhead this alternative plant-based protein sources in addition to our portfolio of innovations for the human diet."
"TP has been working on microalgae projects such as developing a vehicle for fish oral vaccine delivery", said Dr Goh Lay Beng, Director at the Temasek Polytechnic School of Applied Science. "The cross-disciplinary team of biologists and chemical engineers are proud to collaborate with Life3 in a different use case for microalgae. Not only does this partnership broaden the area of training for our students, it is also aligned with TP's ongoing work at another centre, our Centre for Research and Opportunities in Plant Science (CROPS), which focuses on plant science translation for food security and business viability. It is exciting to add the microalgae project to our portfolio of high value crop ventures."
Microalgae: Tiny in Size, Mighty In Nutrients
Life3 Biotech is upscaling the proprietary technology of growing microalgae, a type of mono-cellular aquatic photosynthetic plant as a high throughput source of protein in Singapore. Highly versatile, it can be incorporated directly into the current plant-based food production or formulated to create other functional food products.
Microalgae can grow up to 20 times faster than vegetative crop and require very little water and space to produce. On top of being protein-rich, it also contains important nutrients such as omega fatty acids, commonly found in fish which is currently endangered by overfishing. It comprises other nutrients such as calcium, potassium, beta carotene, chlorophyll as well as essential amino acids.
(Refer to Annex for more information on benefits of microalgae production)
- END -
About Life3 Biotech
Life3 Biotech (Life3) is a homegrown company that conducts R&D in foodconomics, to develop and manufacture innovative and sustainable functional food and beverage. Founded in 2015, our flagship product is a proprietary plant-based protein (Veego) that aims to meet a rising demand for sustainable and healthy alternatives to meat. Life3's work on plants has bagged numerous awards in food innovation competitions as well as recognition from the international food technology and media publications.
By initiating Project Cube/Roots with selected partners, Life3 strives to develop and deepen our agritech capabilities in crop productions. Our mission is to promote health & wellness, and reduce the occurrence of chronic diseases such as cardiovascular disease, diabetes, osteoporosis and intestinal diseases.
Ultimately, Life3's vision is to achieve a Farm-to-Table system that supports a sustainable future; one where our health and our earth's health can co-exist synergistically.
For more information, please visit www.facebook.com/Life3Biotech
About Temasek Polytechnic
Established in 1990, TP is one of the leading institutions of higher learning in Singapore. Currently, it offers 37 full-time diploma courses in the areas of applied science, business, design, engineering, humanities & social sciences and informatics & IT. It also offers over 40 part-time courses, up to the advanced diploma level. TP students undergo a holistic learning system that combines hands-on experience, character education and relevant life skills, in an enriching learning environment. The polytechnic has also infused global realities into its programmes and developed a mindset on campus that embraces socio-cultural diversity. These ensure that TP graduates are ready for work or further studies, and to contribute meaningfully to the community.
For more information, please visit www.tp.edu.sg.
For media queries regarding Life3 Biotech, please contact:
For media queries regarding Temasek Polytechnic, please contact:
ANNEX
Algae has existed almost since the beginning of life on Earth more than 1.8 billion years ago. It was the original source of food for all animals, and it produces most of the oxygen in the air we breathe today.
Most people know microalgae as a potential biofuel source, the most active field of algae research.
Microalgae are mono-cellular organisms living in water which are able to photosynthesize like land plants. They are like tiny photosynthetic plants, which can turn energy from the sun into sugars and proteins, absorbing and converting carbon dioxide in the process and producing oxygen.
Produces 8x-10x more protein per hectare than typical vegetative crops
Compared to land plants used in agriculture, microalgae have the potential to grow faster for a quicker harvest
Microalgae-based proteins have low land requirements compared to animal-based proteins: <2.5 m2 per kg of protein compared to 47–64 m2 for pork, 42–52 m2 for chicken, and 144–258 m2 for beef production
Only a tenth of the space is needed to produce an equivalent amount of biomass. It does not require much water, fertile land and can avoid intensive usage of water, wasteful fertiliser runoff, and downstream eutrophication associated with modern agriculture.