Aquaculture Innovation Centre, Blue Aqua and SAS to develop Smart Aquaculture Solution for Fish and Shrimp Farming in Singapore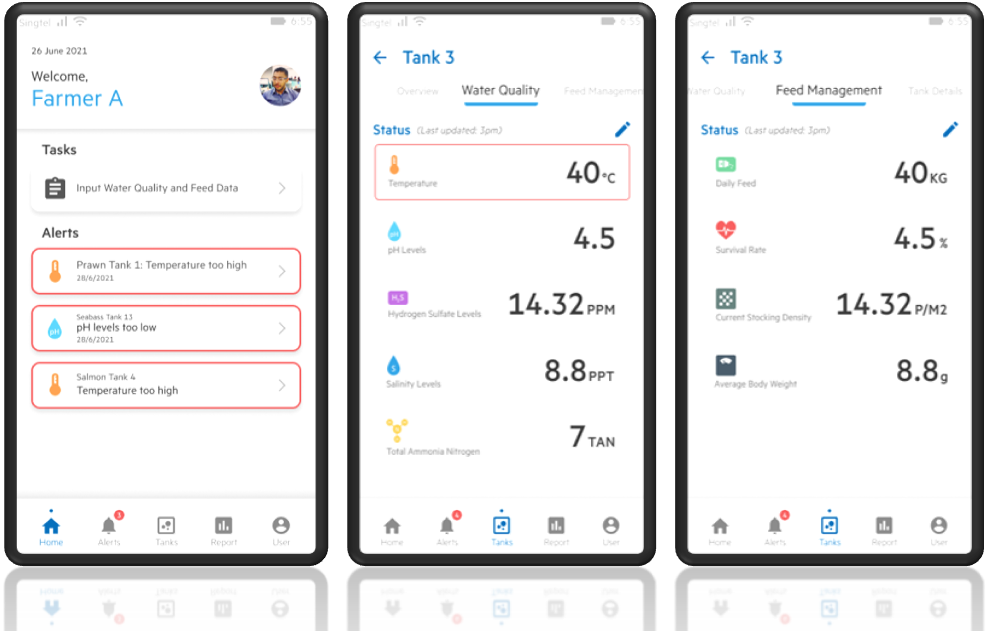 SAS, a leader in analytics, announced its partnership with Aquaculture Innovation Centre (AIC) and international aquaculture consultancy and farmer, Blue Aqua International to develop a Smart Aquaculture Solution to boost local production of fish and shrimp.
The partnership will create a collaborative ecosystem among the three parties to support the local aquaculture industry in Singapore through the development of a smart aquaculture solution for farmers. The AI-driven solution will include a mobile app that is powered by the SAS Viya platform. This will enable farmers to gain insights on critical parameters in aquaculture such as water quality, feed management and animal health through real-time data analytics technology.
Farmers will also be able to receive alerts on the app informing them of any potential issues and the appropriate remedies needed. The constant collection of data can also help generate dashboards to provide users with analytical insights on the quality of their farms.
The masterplan published by the Ministry of Sustainability and the Environment outlines a clear goal and vision for Singapore to produce 30 percent of its nutritional needs by 2030. Known as the "30 by 30" masterplan, it calls for the development in Singapore of urban farming or smart farms, deploying the latest AI data-driven technologies and robotics. This collaboration is aligned with the national agenda and encourages a vibrant aquaculture R&D ecosystem that includes local polytechnics, research institutes and universities.
"The collaboration with technology partners like SAS helps us in our quest to develop smarter solutions such as apps with AI and data analytics capabilities to support the local farming industry. Through the use of analytics, we aim to enable sustainable and intensive aquaculture production to improve the productivity of fish farming in Singapore," said Dr Lee Chee Wee, Centre Director/Aquaculture Innovation Centre.
"The solution will help in monitoring the culture environment and provide the insights that will support our productivity and yield goals for our smart aquaculture farms. With our extensive network and expertise, we are also able to bring this solution to the aquaculture sector in Singapore. Partnering with leading technology innovators like SAS and AIC to help the local fish and shrimp farming industry get smart is a great move forward. With food security a key priority, analytics can help in providing the critical insights that bring us to the next level in sustainable and efficient farm production to meet local demand," said Dr Farshad Shishehchian, Group President, CEO & Founder/Blue Aqua International.
"Developing AI capabilities is critical to the long-term success of the country's smart farming programme," said Remco den Heijer, ASEAN Vice President at SAS. "Farmers have an amazing opportunity to evolve their methods and adapt to technology solutions that can help them be more efficient and achieve higher yields through smart farming. We are proud to be collaborating with the AIC and Blue Aqua in this," he added.
The app is available for download on the app stores by August 2021.
Source: News Release by SAS on 6 July 2021
For media coverage, please visit The Business Times, Disruptive Tech Asean and Hatchery Feed & Management.
Contact Details
AIC Management
General Enquiries
Susila Krishnasamy

8.30 am to 6.00 pm (Mon to Fri) Closed on Sat, Sun & Public Holidays

Aquaculture Innovation Centre (AIC)

Temasek Polytechnic

Block 8A, Level 1, Unit 4,

21 Tampines Ave 1

Singapore 529757