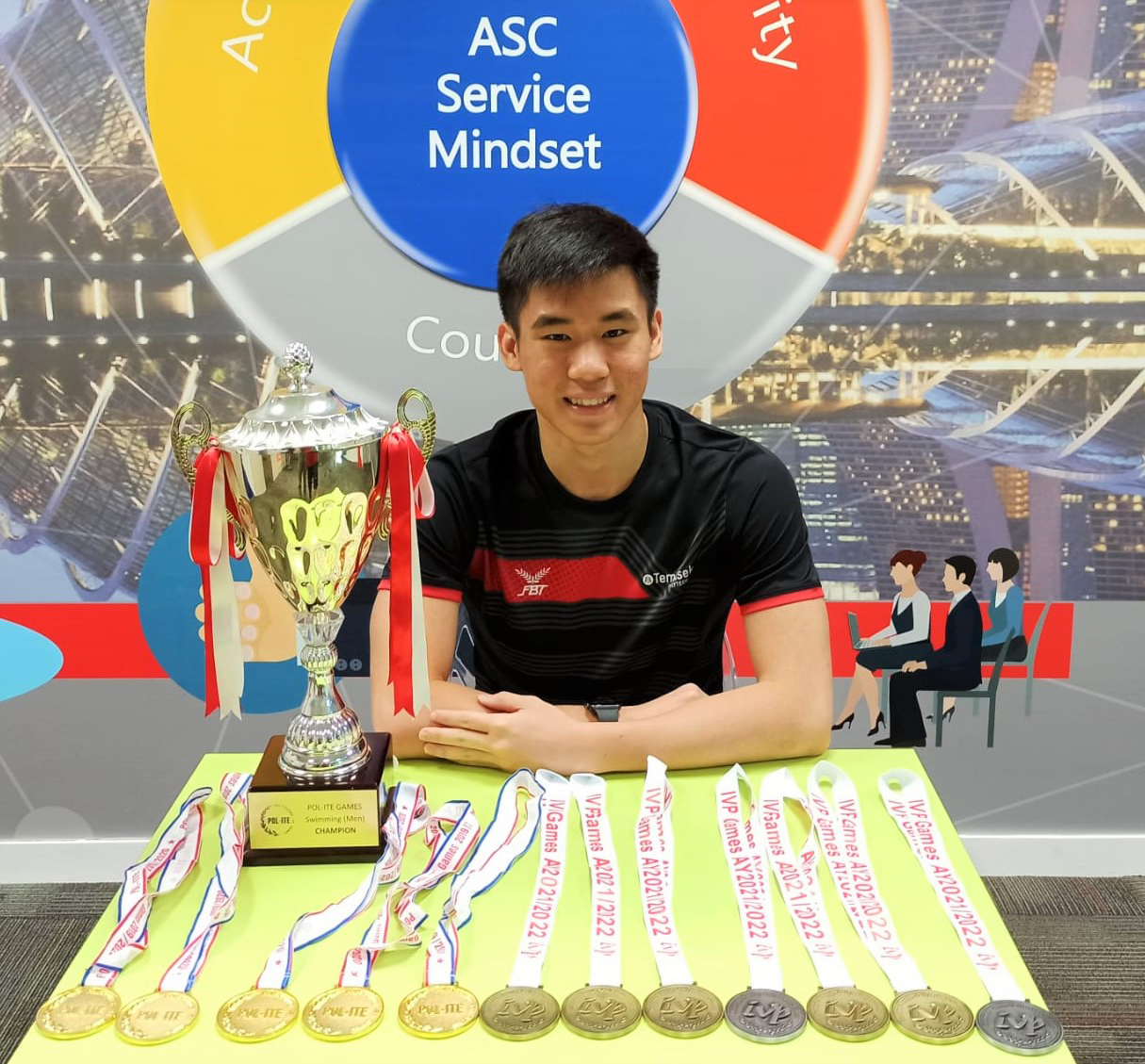 Glen Lim Jun Wei, Diploma in Veterinary Technology won an amazing record of 10 Gold Medals and 2 Silver Medals for TP in March! His outstanding achievements also contributed to TP clinching the overall champion in this competition. Glen is a national swimmer and currently holds the national record in 400m free style. He enrolled into ASC in 2020 through the Direct Polytechnic Admission, as his fellow national swimmers told him about the flexible curriculum arrangements that TP/ASC provides for Sports talents. Glen will be representing Team Singapore at the 2022 SEA Games in Vietnam. He is also aiming to qualify for World Swimming Championships and Asian Games later this year. His greatest dream is to qualify for Paris Olympics in 2024. After his swimming career, Glen aspires to become a Marine Biologist.
Raphael Souw Han Jie, an alumni of the Diploma in Biomedical Science (class of 2019) was honoured this prestigious award for being an outstanding full-time National Servicemen who demonstrated professionalism, leadership and exemplary conduct during their National Service (NS). His thoughts on winning this award were that "as a platoon medic, my primary role is to provide care to wounded soldiers under any conditions. To be able to think on your feet and provide the necessary care under stressful situations, while disseminating proper information to others is crucial. In my time as a student in ASC, I was able to develop these skills through different opportunities provided, such as from the 'Leadership: Essential Attributes & Practice' modules, and being a student leader in the Biomedical Outreach To Society (BOTS) Interest Group".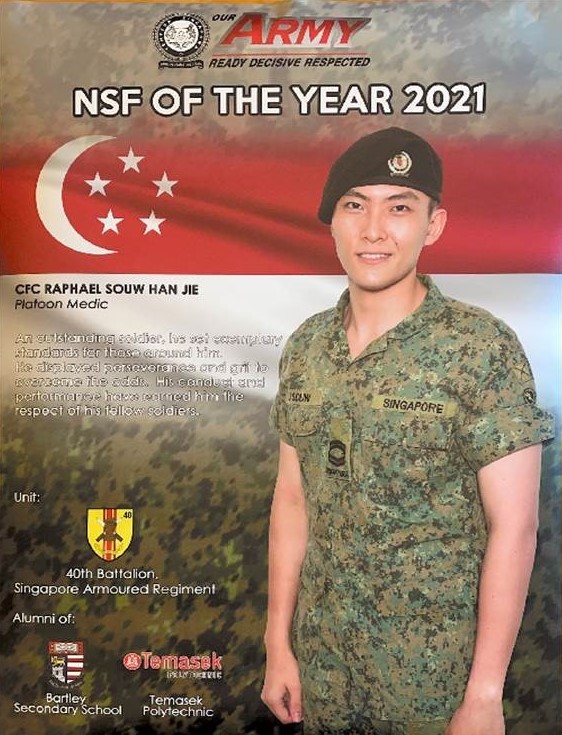 A team of students (Darrien Png Kai Xiang, Ernest Ng Chen Yi, Muhammad Shahiran Bin Muhammad Nur and Zhang Ci Fang) from the Diploma in Chemical Engineering won the Gold Award for their project presentation on "Evaluation of Sustainable Concrete Composite Incorporated with Mixed Plastic Aggregates as Natural Fine Aggregate Replacement". This is ASC's third consecutive year of winning the Gold Award. Participants of this annual competition are those involved in the area of composite materials testing and technology. Shortlisted candidates would undergo a presentation interview by reviewers and judges who are independent professionals and experts from both academics and industries.

Two Year 3 students (Sim Rui En Ryan and Lee Jia Ying) from the Diploma in Pharmaceutical Science were awarded the Merit Award (Non-Building Project) and Best Social Media Engagement Award for their project entitled, WAH! Wellness and Health. With the objective of the challenge to empower the community in creating friendly and lively neighbourhoods, they creatively planned and organised a virtual community project to spread awareness on healthcare related topics such as chronic disease management, antibiotic resistance, medication management and mental health to residents in Sengkang and Punggol. They leverage on the social media platform and conducted two live webinars that reached out to at least 300 participants.


Team Electriplets (Nigel Arthur Chandrahason, Chang Jing Wen Carmellia and Joy Lim Jun Xin) from the Diploma in Veterinary Technology garnered the Champion (for the Tertiary/ Open Category) at the annual competition organised by the Agency for Science, Technology and Research (A*STAR) and Science Centre Singapore (SCS). This event encompasses the idea of developing an individual's communication skills through expressions of science in creative manners. With Team Electriplets creative storyline and showmanship, they clinched two additional awards in the voters choice categories for the Best On-Camera Performance and Most Creative Video awards.

Fifteen students from the Diploma in Veterinary Technology were each awarded a $3,000 scholarship that is pledged by philanthropist Mr Peter Lim to the National Parks Board (NParks). This is in support of helping deserving youths to pursue their interest in the landscaping, horticulture, ecology, veterinary and animal science sectors. This also provides the recipients the opportunity to build up their practical and relevant experience through outreach programmes and internships organised by NParks.