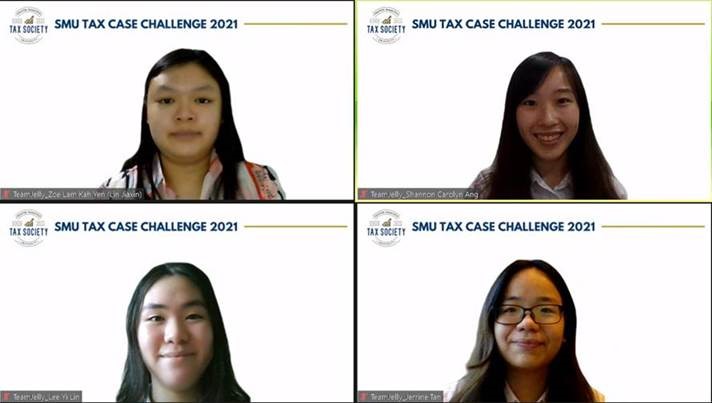 Students from the Diploma in Accountancy & Finance (A&F) took the 2nd Runner Up position after SMU and NTU for the SMU Tax Case Challenge 2021. 35 university teams and 43 polytechnic teams participated in the full-day virtual competition on 28 Aug 2021. After going through various rounds, the top 4 teams from SMU, NTU, Temasek Polytechnic and Singapore Polytechnic analysed the case on tax incentives granted to a start-up firm that produces sustainable meat using the latest technology. They also discussed the overseas and Singapore tax implications of the proposed mode of operations and the implications of the recent agreement by the G20 countries on the adoption of a global minimum tax of 15%.

Team Jelly, which comprised Zoe Lam, Shannon Carolyn Ang, Jerrine Tan and Lee Yi Lin, impressed the judges when they answered the questions with confidence.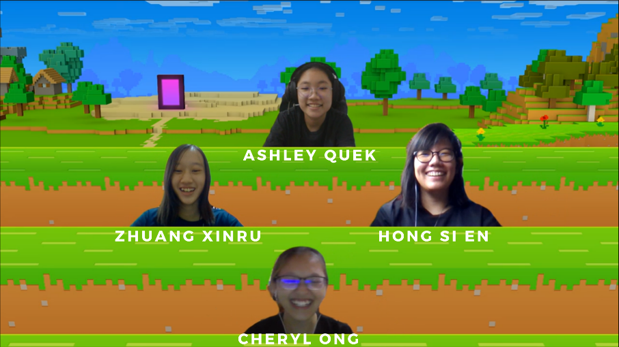 The School of Business winning team comprised Quek Yanwen Ashley, Zhuang Xinru, Cheryl Ong and the team leader — Hong Si En.
48 university teams and 33 polytechnic teams participated in this virtual competition. Only the top 6 teams made it to the final round after the preliminary rounds where teams were required to analyse the Wirecard scandal. In the final round, the teams were tasked to identify management assertions and propose audit procedures for the Luckin Coffee case. They also had to analyse financial statements and compare Luckin's business model with that of Starbucks Coffee.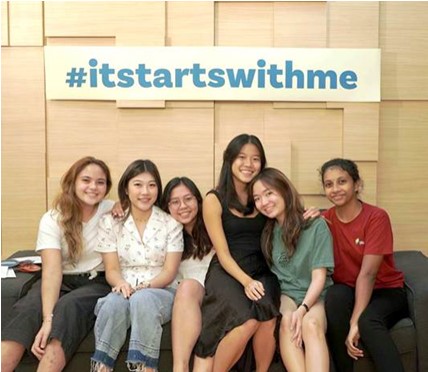 Jointly organized by Tribal Worldwide and Public Utilities Board (PUB), the PUB Splash Lab competition was open for students to apply between October 2020 to March 2021. The competition assessed students on the effectiveness of their campaign to raise awareness and encourage conversation on how climate change is impacting Singapore's water sustainability.
The CMM Senior team, comprising Wee Tong Lin Eva, Wong Kar Wai Naomi Abigail, Kandakumar Harshitha Smruthi L, Rachel Rui-Qi Castaneda, Sim Theen Yen and Teng Yu Xuan Fiora, impressed the judges with their effective storytelling, creativity and visual appeal of their campaign!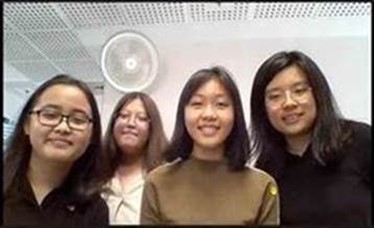 Students from the Diploma in Accountancy & Finance (A&F) took home the 1st Runner-Up position for the SMU Accounting Challenge 2021 held on 6 Mar 2021. 28 teams participated in the virtual competition, where they were assessed on various accounting questions. The finalists proceeded to an audit case study which requires them to justify the key audit risks and propose suitable audit procedures to a company that installs and operates charging points for electric vehicles. The team won praises from the judges from SMU as well as the Institute of Singapore Chartered Accountant (ISCA) for their presentation and analysis of the case.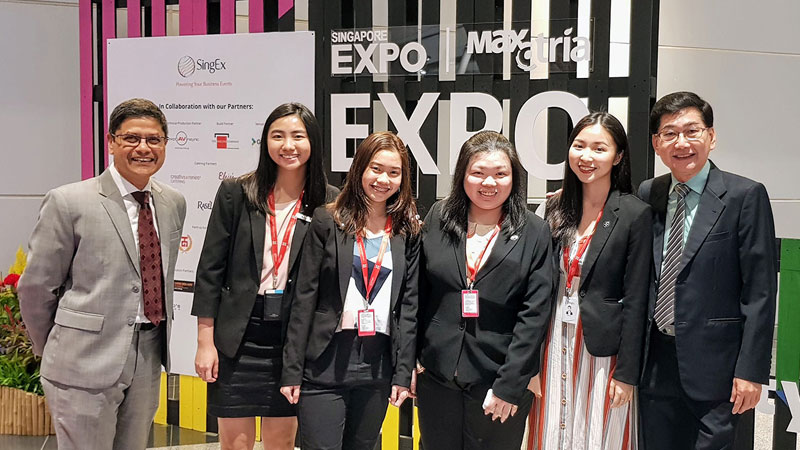 TP was awarded and recognised as a SACEOS (Singapore Association of Convention and Exhibition Organisers and Suppliers) Pioneering Member at the SACEOS 40th Anniversary dinner in January 2020.
At the event, Diploma in Hospitality & Tourism Management students Lau Ying Ying, Amy Kow and Niki Go won the Rookie Award, which is given to outstanding interns in the MICE industry. The 3 students had served their internship at SingEx. 
We are also incredibly proud of our Diploma in Leisure & Events Management alumni, Yeoh Mon Han who won the Rockstar Award. This award is conferred to outstanding individuals in the MICE industry. Mon Han graduated in 2018.
The awards and recognition are testament of the impact our students and alumni continue to create in the vibrant MICE industry.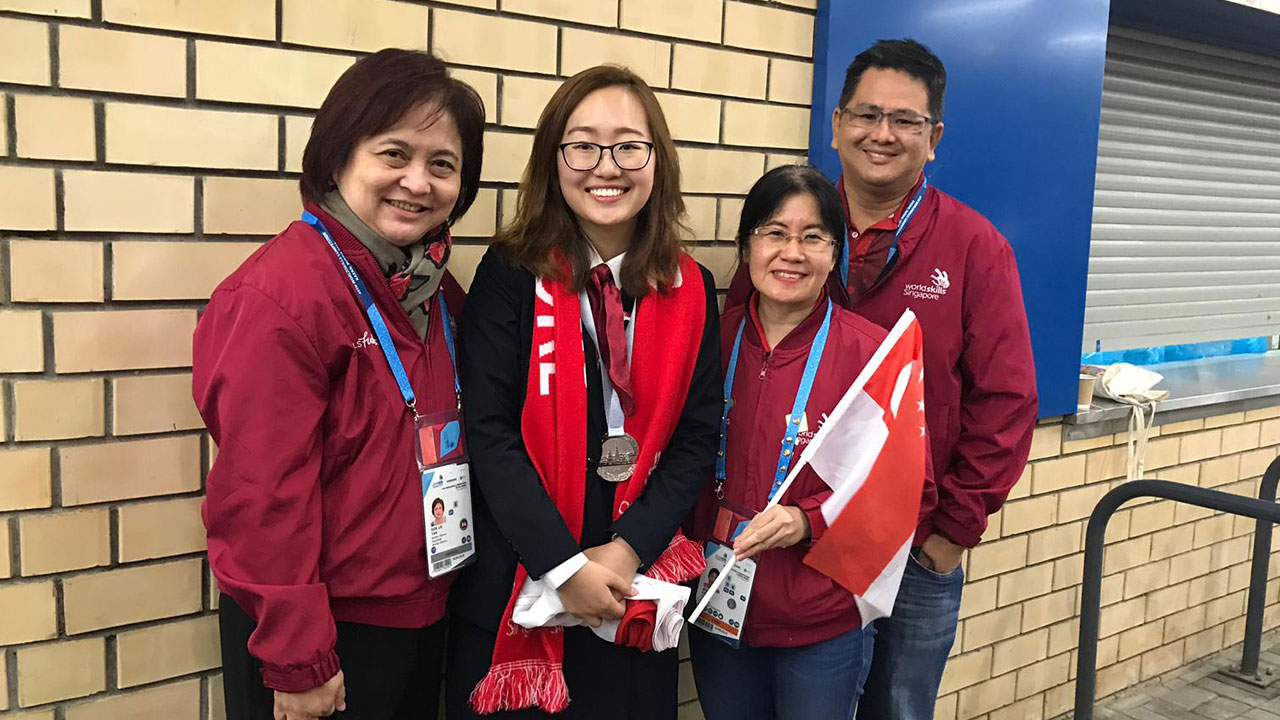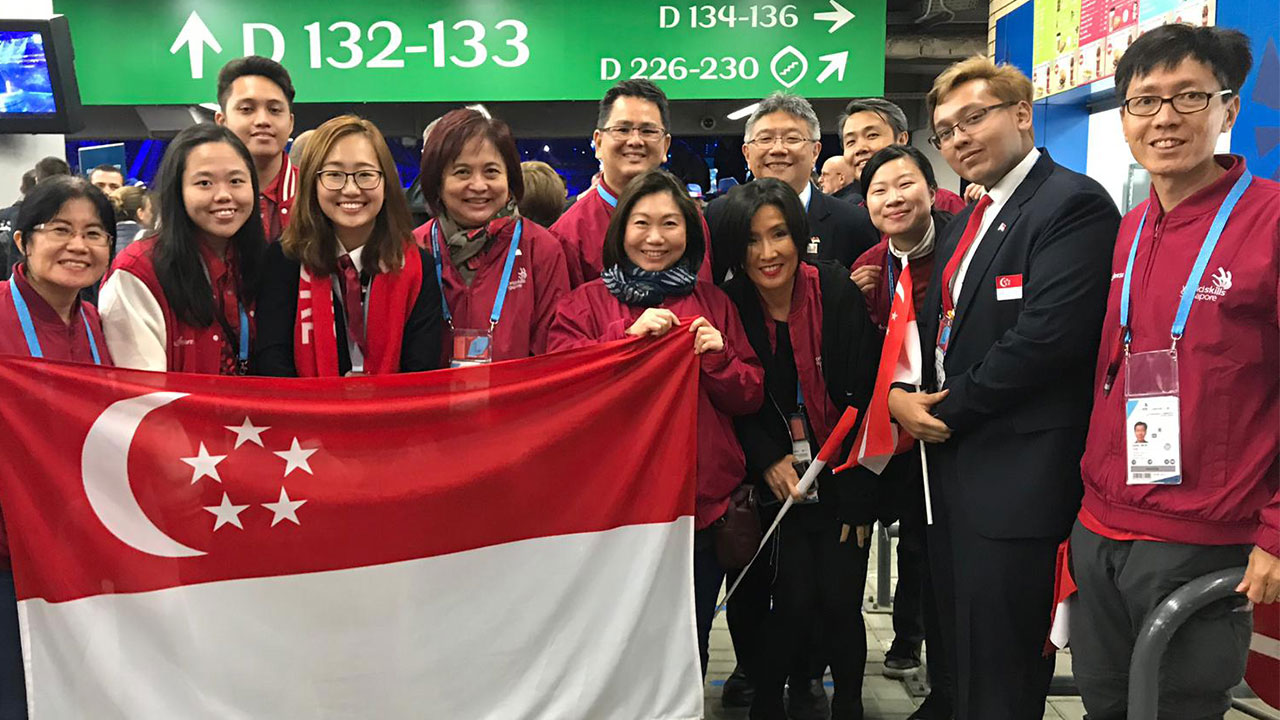 Rebecca Sim (pictured second from left), a graduate from the Diploma in Logistics & Operations Management, has emerged as the Silver Medallist in the Freight Forwarding Category at WorldSkills Kazan 2019.
The 45th WorldSkills concluded on 27 Aug 19 after four days of intensive competition. A total of 1,354 young competitors from 63 countries pitted their skills across 56 skills competitions.
Team Singapore has achieved commendable results, with 2 Gold, 1 Silver, 2 Bronze and 17 medallions, with a record 9th placing!
Rebecca did School of Business proud with a silver medal in Freight Forwarding against other skills and vocational training powerhouses including China, Germany and Russia! Teaching staff Jenny Leong and Benson Tan, the technical expert and coach respectively, were also at the site to guide Rebecca behind the scenes.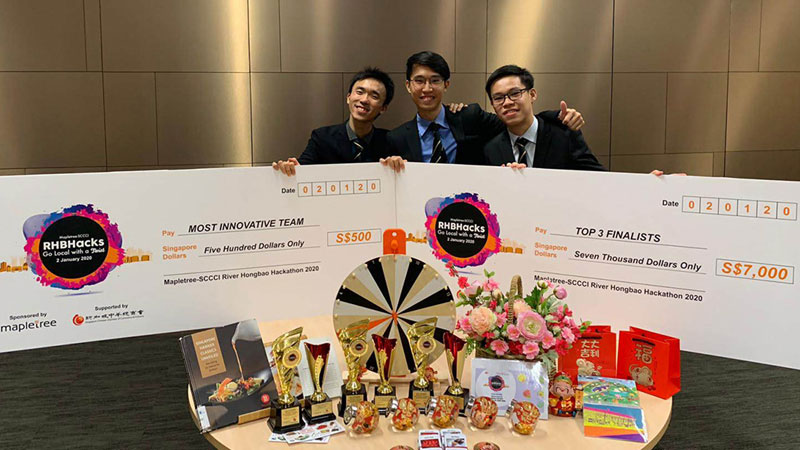 A School of Business team comprising Diploma in Hospitality & Tourism Management alumni Tan Wei Jie and Li Wen Quan Winson, and Diploma in Leisure and Events Management student Wayne Ang clinched the Most Innovative Award and Top 3 Finalists award in the River Hongbao Hackathon (RHBHacks) 2020.
Jointly organised by Singapore Chinese Chamber of Commerce & Industry and Mapletree Investments Pte Ltd, RHBHacks is a business challenge to foster youth entrepreneurship. Students from tertiary institutions were required to present business proposals to a panel of judges.
Our innovative and collaborative team of alumni and a third-year student spent two months exploring hawker centres in order to develop food-themed games as their business proposal, showcasing the spirit, culture and values that are symbolic of Singapore. The winning team walked away with a cash prize totalling $7, 500 and also had an opportunity to set up a stall at River Hongbao 2020 earlier this year.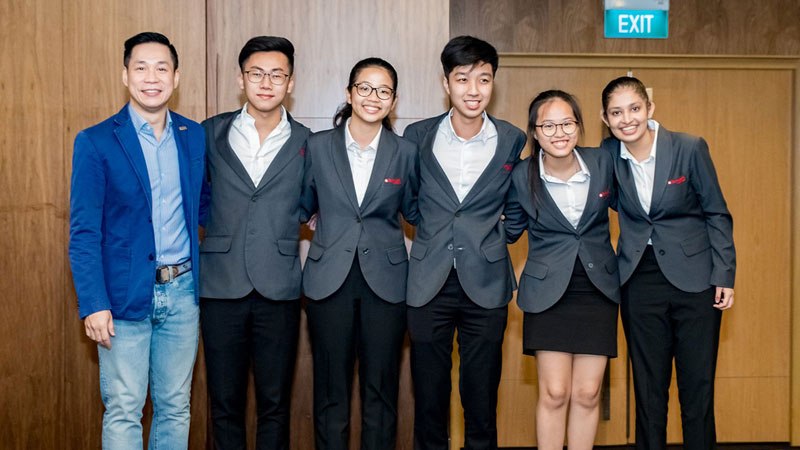 A Human Resource Management & Development elective group of students from the Diploma in Business emerged as the winning team at the Singapore Human Resource Institute (SHRI) HR Hackathon 2019. Andre Ang, Lim Ru Xuan, Austin Chan Jin Wei, Pavanpreet Kaur and Sheryl Chang Jia Yuan edged out 16 other teams from the various institutions of higher learning to come out on top.
Organised by SHRI, the HR Hackathon offers students a platform to develop an interest in HR and implement HR solutions to issues encountered within the HR industry. It required the competing teams to propose ideas and solutions to engage the future workforce meaningfully.
The winning team developed and presented a digital solution which won the judges over — a prototype HR onboarding app with features including employee handbook, SOP, Forum, Trivia, Poll, Points system for rewards.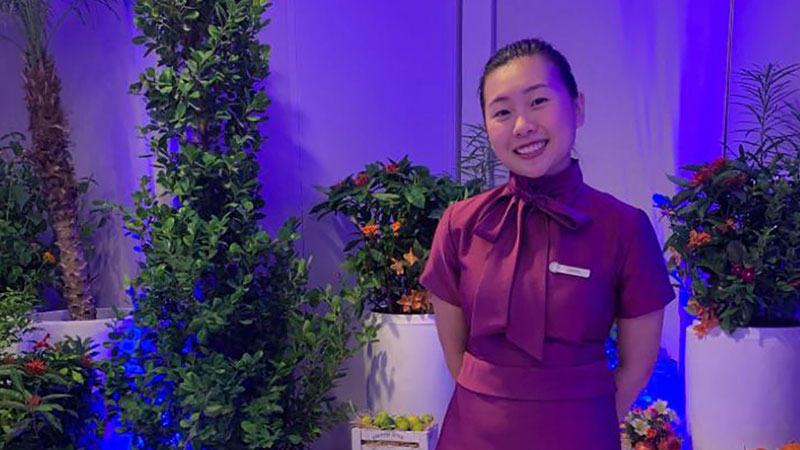 Jannis Lim, a recent graduate from the Diploma in Hospitality & Tourism Management, walked away with a $1,000 cash prize when she was declared the winner of the AsiaHospitalityCareers (AHC) Overseas Internship Video Contest 2020. Jannis' winning entry showcased her Overseas Student Internship Programme at the Four Seasons Al Maryah Island, Abu Dhabi. Her deft video-editing skills and quality content curation suitably impressed the panel of judges.
Launched in 2017, the contest encourages students in various hospitality schools to share their overseas internship experience by submitting a series of 3 videos during their internship. Students from Temasek Polytechnic, Nanyang Polytechnic and Republic Polytechnic participated in the contest this year; they were required to share 3 videos on AHC's Facebook page and post 1 summary video on Instagram. Winners were selected by an AHC panel and also determined by the number of likes and shares their video posts garnered on AHC's Facebook page.