Singapore Food Festival in Oman
An Overseas Special Programme (OSP) with the Singapore Embassy in Oman
The Singapore Food Festival in Oman, themed "Singapore Indian food" was organized jointly by the Consulate General of Singapore (CG) and Crowne Plaza Hotel Oman. The School of Applied Science (ASC) has been very fortunate to have this collaboration with the Singapore Embassy in Oman and be part of this food festival since 2018.
The event was a good opportunity for TP to involve our students and staff to have first-hand experience in working with an Overseas Mission, facing the media, and interacting with diplomats from all over the world.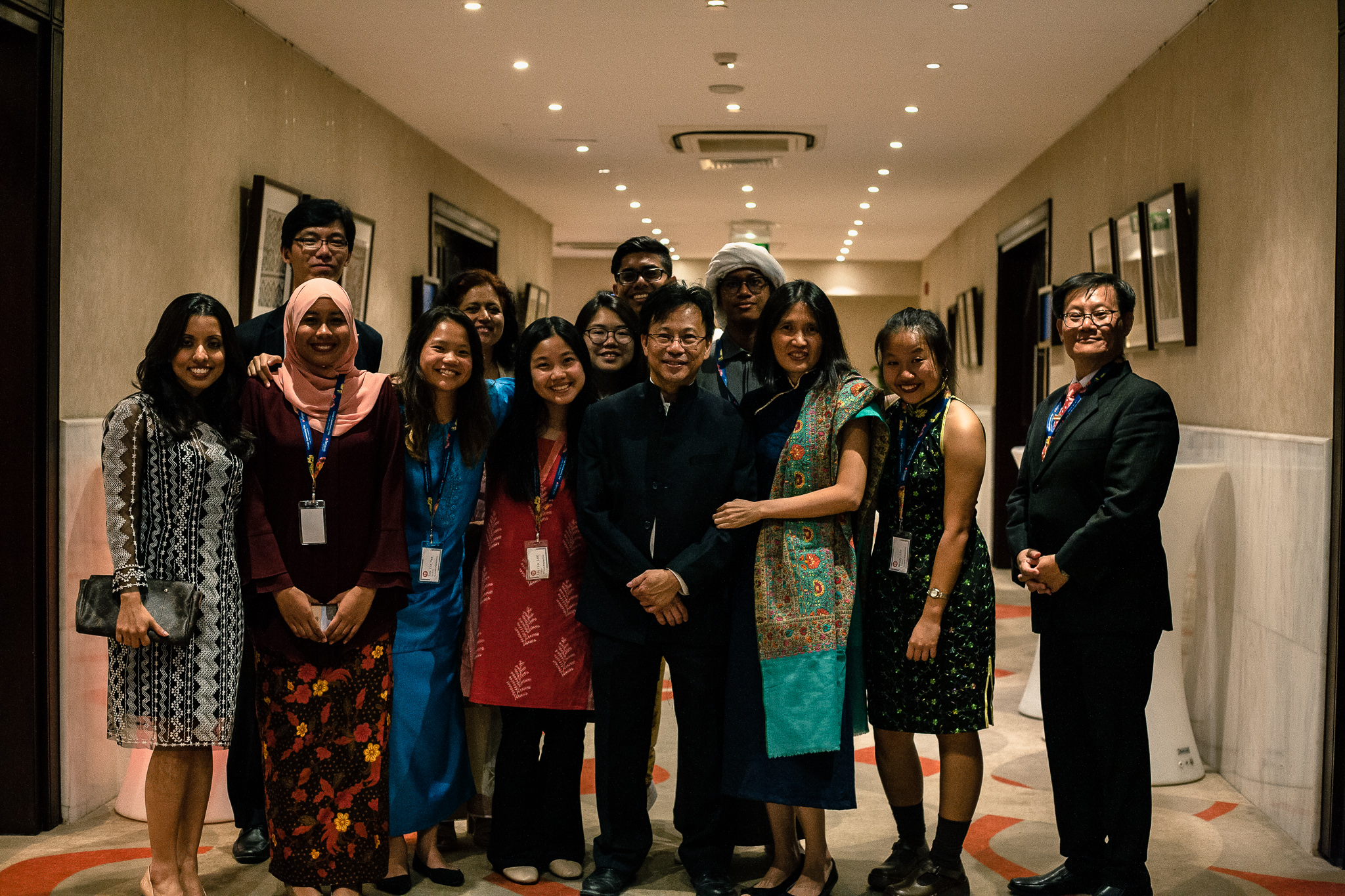 Staff and students with the Overseas Mission dressed in our cultural outfits before the Singapore Food Festival. Another colourful sight!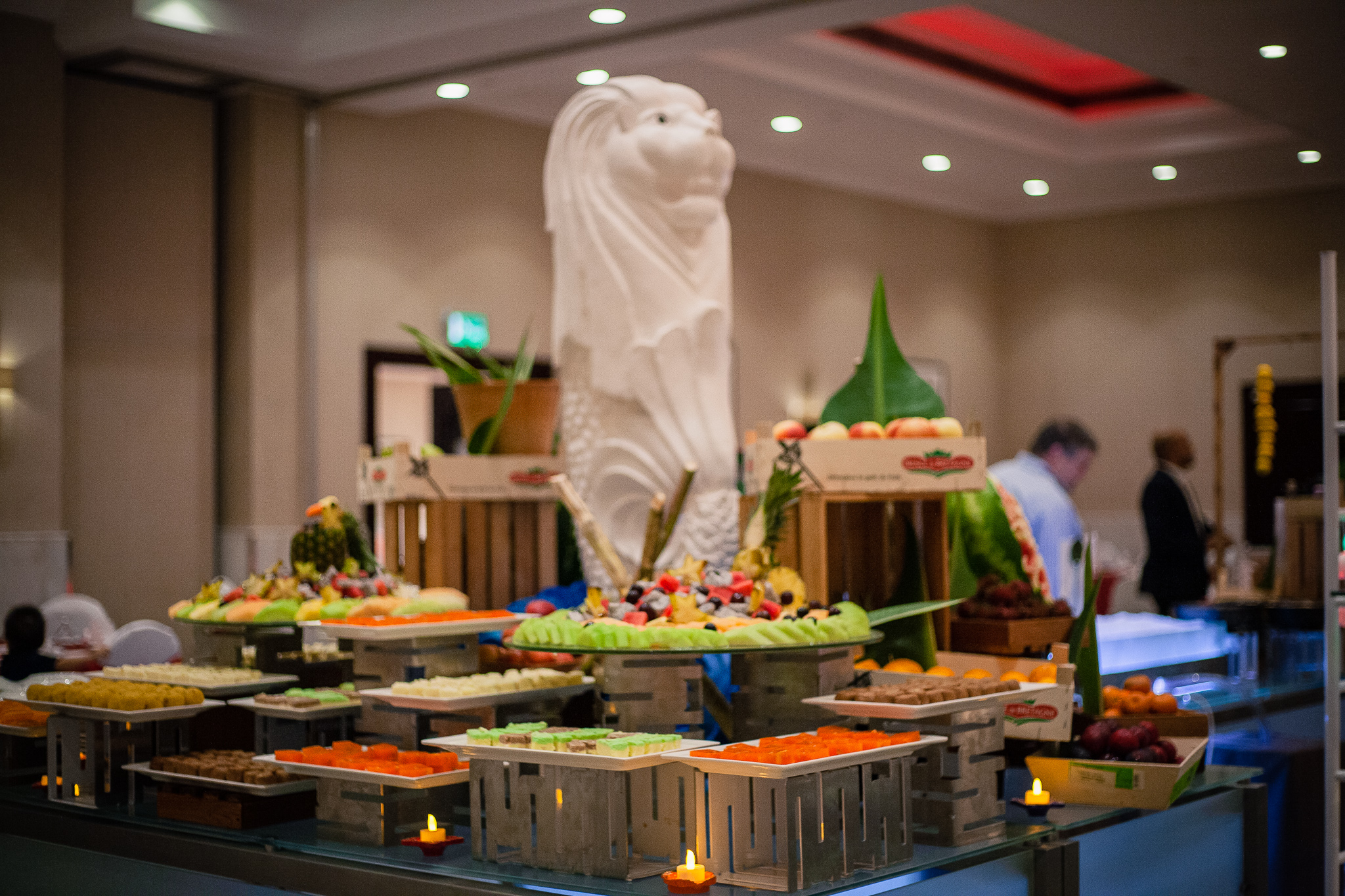 Our Merlion standing tall in the midst of the colourful display of Indian sweets from Singapore. Recipes were developed by staff and students who guided the hotel chefs in the final preparation for the guests.
Students from the previously known food courses, Diploma in Applied Food Science and Nutrition, and Diploma in Baking and Culinary Science, had a very rich cultural experience interacting with local Omanis, and visiting some of the beautiful iconic landmarks in Oman. Apart from the festival itself, the students also conducted some Singapore cooking sessions through cooking demonstrations at various locations in the city.
The local authorities of Oman were well impressed with the students' ability to plan the set-up of the food festival, decide the theme, design food posters and recipe cards, as well as assist in the overall arrangement of the event. Well done to the team for promoting Singapore!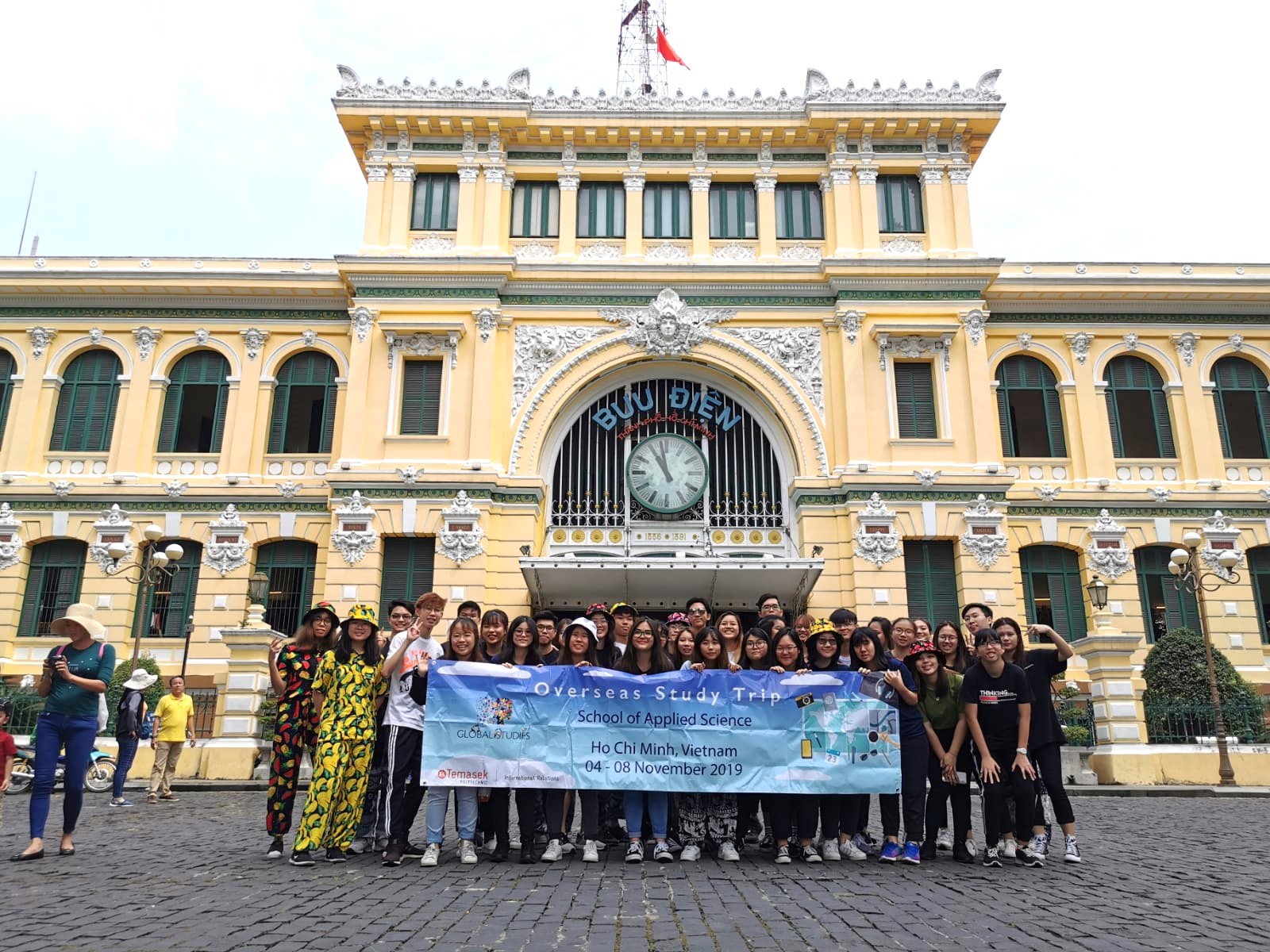 We disembarked from the bus, groggy and a little disoriented – it'd been a long day. We needed to get to the other side of the road to the restaurant for dinner. "Watch out for the …" and before our tour leader, Mr Mojo could finish his warning, "BEEP! BEEP! BEEP!" We were greeted by an army of mopeds. They're like a relentless mob, disorganized yet driven by the same goal – to move ahead, determined and undeterred. They navigated around us like we're just some obstacles in their way. Some of us were intimidated, some were confused, but ultimately we got across safely. No student and no rider were hurt in any way.
"Welcome to Vietnam!" Mr Mojo said with a big grin across his face. Someone in Singapore had told us to watch out for traffic in HCM. Well, you've got to see it to believe it. We arrived earlier in the afternoon, and visited the War Remnant Museum. Most of us had read about the Vietnam War, but mostly from the American side of the story. Many of us were intrigued by the war machines on display, but none were prepared for the stories to be told within the museum – of the brutality, the devastation, the aftermath, the victims, the children, and of the terrible Agent Orange.
We visited many places over the next few days.
We went to the Cu Chi Tunnels – we were reminded of the war again.  But this time we had a different feeling, not of sadness and solemnness, but we were fascinated and thrilled!  The Vietnamese soldiers dug the tunnels, hid in them and fought the war. They didn't have sufficient weapons and ammunitions, but they salvaged what they could from their American enemies. We were inspired by their resilience, perseverance and ingenuity to resist the American efforts to decimate them.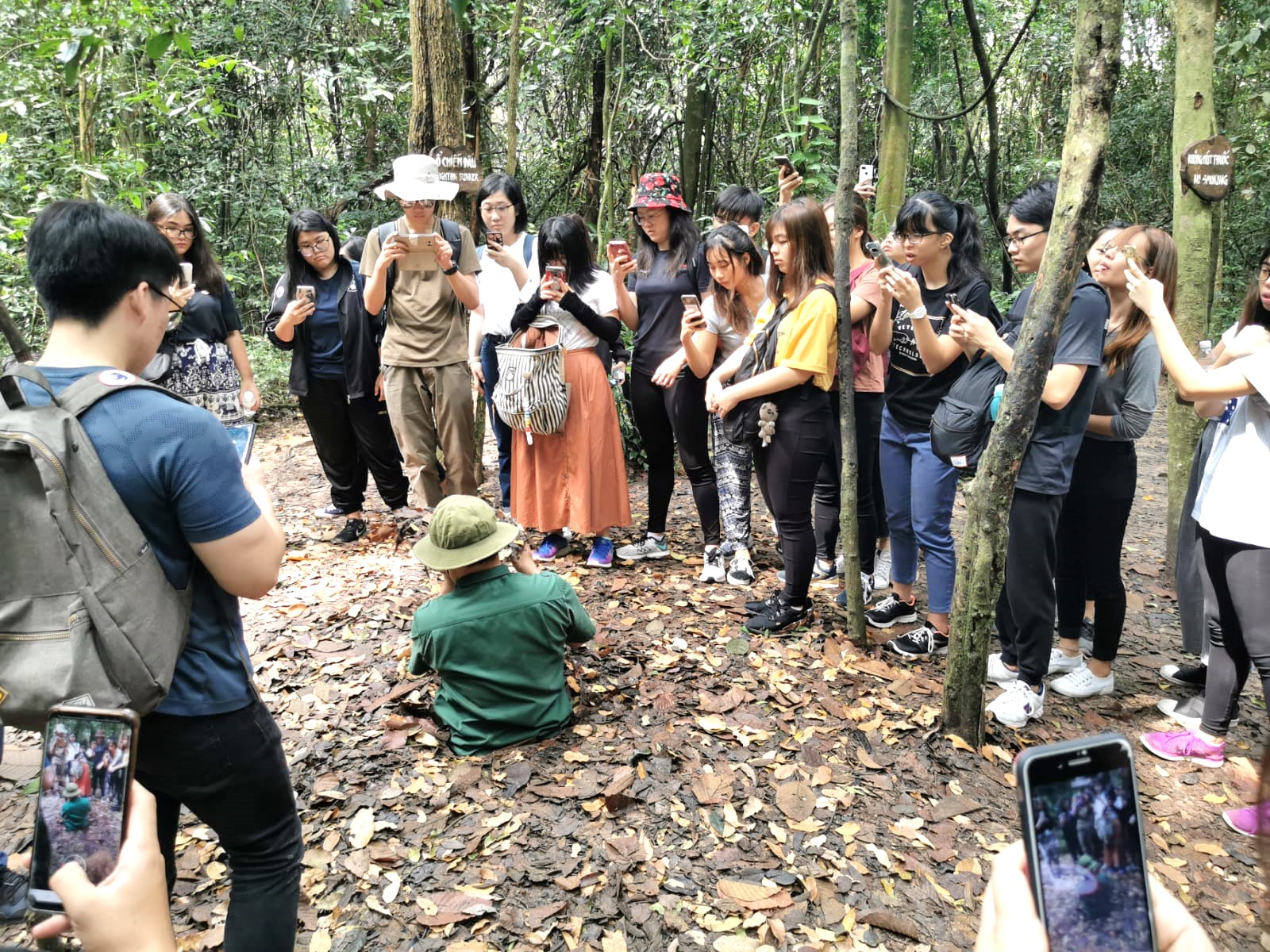 We also visited Thien Duyen Orphanage. This orphanage houses many abandoned children who suffered the deleterious effects of Agent Orange. We had visited many children's' homes in Singapore, but none had prepared us for this. One of the students, Morgan shared quietly when we stepped into the orphanage, "Cher, I'm scared…" The war had been over for so long, yet the aftermath is still plaguing the generations to come. Another student asked, "Why must there be war?" We played and interacted with the children, then left with a heavy heart, though.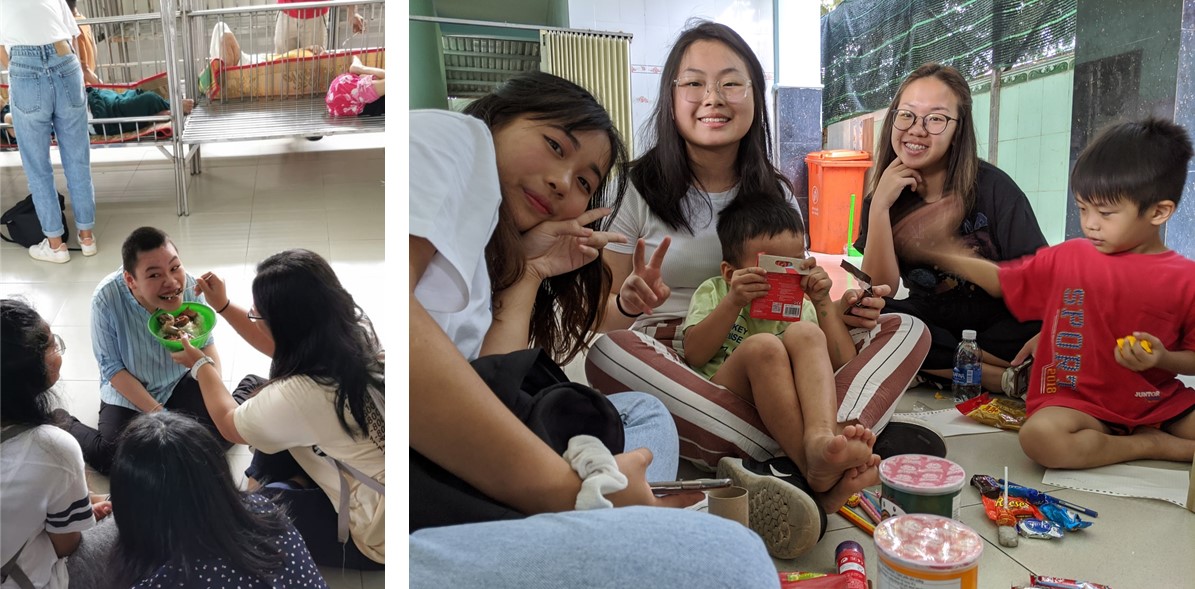 The next visit was to the Faculty of Animal Science and Veterinary Medicine at the Nong Lam University. We had a wonderful morning of games and performances where students from both institutions interacted and exchanged experiences. This was followed by a tour through their facilities. "Don't have air con, ah?" exclaimed one of ours. It was 35oC, thereabouts, typical of Vietnamese weather. The labs and classrooms were small and crammed with students sitting shoulder to shoulder. None were complaining or distracted. Everyone was attentively listening to the lesson conducted by the perspiring tutor. I supposed their desire to learn and achieve academically took precedence over everything else.
Today, Vietnam is a very different place. The country is investing heavily on industrial developments, such as its basic infrastructure, particularly in communications and transport. Big companies with an international presence are popping up across the country. We visited Bibica factory which manufactures confectionery and distributes worldwide. The scale of production, automation and quality control were nothing short of being world class. We also visited Trung Nyugen G7 Coffee Factory, again internationally famed for its quality coffee.
The country has come a long way. Her people have come a long way. They'd walked away from the war, but they hadn't left it behind. It's always a staunch reminder to the people that they have to be resilient, they have to be innovative, and they have to do all that they can to win, in order to survive. And they are very good at doing that.
Perhaps, this is exactly what our strawberry generation has to learn to do. I believe this overseas experience resonated strongly within the hearts of our students. I hope they're inspired by the Vietnamese, and start preparing for the chaotic, disruptive, and ever-changing post-poly world, and like the moped riders, they will push forward, determined and undeterred.
VET Overseas Student Internship Programme (OSIP) experience at Universiti Putra Malaysia
The purpose of the Student Internship Programme at Universiti Putra Malaysia (UPM) was to provide an exposure and experience in the field of aquaculture research. As this is a very niche and unexplored area in Singapore, the experience in Malaysia had helped broaden my career options, as well as given me a taste of a researcher's life.
Whilst at UPM and in conjunction with my internship programme, I completed my Major Project (MP) titled, Development of Bacteria Consortium as Potential Probiotics against Vibriosis in Preliminary in-vivo Study in Artemia Culture. This study aimed to develop and evaluate a multi-strain probiotic mix as potential probiotics against vibriosis. Artemia (also known as brine shrimp) were treated with 108 CFU mL-1 probiotic mix (76.67 ± 1.67%) and challenged with 106 CFUmL-1 V. alginolyticus. This demonstrated the highest survival and had significantly higher survival when compared to Artemia treated with 106 CFUmL-1 probiotic mix (65.00 ± 0.00%) and challenged with 106 CFUmL-1 V. alginolyticus. The results from the present study suggested that the developed probiotic mix had substantial potential as probiotics and conferred protection effects for Artemia against V. alginolyticus infection at a higher concentration. These findings could contribute to the limited studies on the probiotic.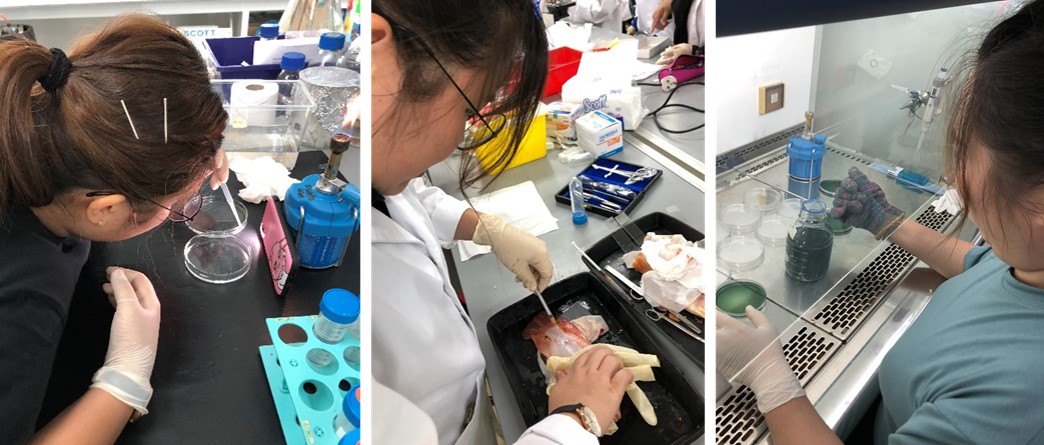 During my MP, most of the techniques I had applied were taught during the Basic Microbiology subject at Temasek Polytechnic. Furthermore, these skills and knowledge were strengthened during the Elective Cluster project that I have undertaken prior to embarking on this OSIP at UPM. Both this OSIP and MP have reinforced my knowledge on fish health and diseases that I was exposed to in the subject, Aquatic Care Health and Diseases. Thus it is apparent that additional knowledge gained from this OSIP is relevant to my course of study in the aquaculture elective.
Apart from completing my major project, I was given numerous opportunities to better myself and broaden my horizons. I assisted in practical sessions and went on farm visits at various parts of Malaysia. These field trips allowed me to learn and see how farms were managed in other countries. These farms occupied a large area of land and used limited technology which was a stark contrast to farms in Singapore that employed high-tech equipment to manage theirs due to land scarcity. I was also given the opportunity to take part in the ASEAN-FEN 9th International Fisheries Symposium (IFS) which kept me updated on the current issues in aquaculture and the solutions proposed by various scientists and researchers in this field.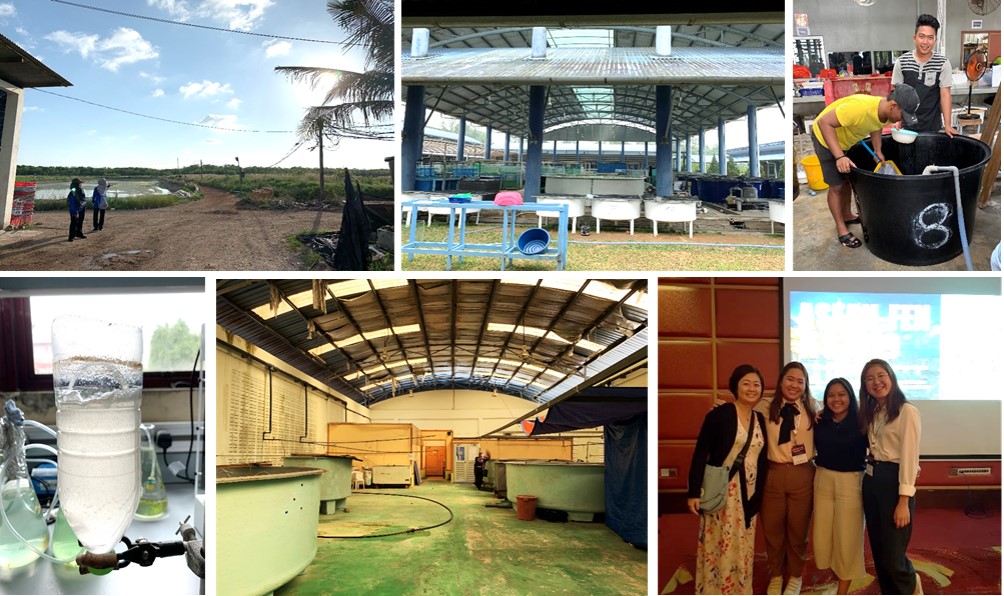 Through this overseas opportunity, I was given the exposure and experience in the field of aquaculture research. It has helped broaden my career options, as well as given me a taste of life as a researcher. I have learnt to be a more independent learner, to be more tolerant and understanding of our differences as everyone has different learning abilities. Importantly, I have grown to become a more mature scientist, student and person overall.
By Beryl Chean
Year 3
Diploma in Veterinary Technology
PHS goes down-under! An overseas study trip to Sydney, Brisbane and Gold Coast
Recently, some year 2 students from the Diploma in Pharmaceutical Science (PHS) along with their lecturers made a study trip to Sydney, Brisbane and Gold Coast, Australia. The annual study trip was to provide students the opportunity to visit educational institutions, research facilities and hospitals and learn more about the pharmaceutical landscape in Australia.
Our adventure began in Sydney with the visit to the University of Technology Sydney (UTS). It was our first time visiting their Science Super Lab and it was definitely an eye-opener! The first of its kind in Australia that features modern equipment and technology to conduct different practical sessions to over 200 students all at the same time. Another interesting stop was the visit to their Crime Scene Simulation Lab that gives students the practical experience in crime scene investigations as part of their Forensic Science programme. There PHS students got to participate in a Forensic Workshop to perform some fingerprinting experiments!

In and around Sydney and our visit to the University of Technology Sydney
Travelling up to Brisbane, we stopped by the University of Queensland (UQ). There we visited the Pharmacy Australia Centre of Excellence (PACE), the primary teaching location that conducts most lessons for the pharmacy degree programme. The mock pharmacy, counselling rooms, huge comfortable library and research laboratories were some of the main highlights in PACE. Another highlight of this visit was definitely the meeting of our PHS alumni. Currently pursuing their pharmacy degree in UQ, they shared insights on their university life. Students also had the opportunity to visit the pharmacy facilities at the Princess Alexandra Hospital, located adjacent to PACE, where pharmacy students carried out their clinical attachment.

Visit to the Pharmacy Australia Centre of Excellence (PACE), University of Queensland and at the end of our Compounding and Aseptic Dispensing Workshop while at Griffith University
Our last stop was the Gold Coast, where we were welcomed by nice weather and sandy beaches! There we visited Griffith University (GU), Gold Coast Campus and students got to prepare their own specialized dosage forms at a Compounding and Aseptic Dispensing Workshop. GU also showcased their E-learning Lab that allowed students to work a virtual learning environment of different settings such as the hospital and community pharmacy whilst still being in the classroom! We also visited Griffith Institute for Drug Discovery (GRIDD), a GU research institute dedicated to studies on early stage and pre-clinical drug discovery. This gave students the opportunity to tour a research facility and interact with research staff, graduates, and post-graduate students to understand more the field of research. Students also had the chance to visit the warehouse of a major pharmacy chain in Gold Coast to see the warehouse operations.
This study trip was not all learning and no play, but there was also a chance to visit some cultural and tourist attractions such as the famous Sydney Opera House, Sydney Harbour Bridge, and the Currcumbin Wildlife Sanctuary in Gold Coast. Amazing to be up close and personal with the koalas and kangaroos! This trip had certainly provided great insights of Australia's pharmaceutical industry and study opportunities offered by the various universities. Most importantly, it allowed the PHS students to network with the university staff and their students, forging new friendships and memories!