School of Applied Science Student Projects
During her Student Internship Programme (SIP) at the Marine Aquaculture Centre (MAC), Goh Si Ying, a final year student from the Diploma in Veterinary Technology performed feeding as part of the general fish husbandry of Tilapias, along with her Major Project to develop cost-effective pelleted feeds to replace the use of expired confectionery products at West Johor Strait Farms. General husbandry skills and concepts are taught in Temasek Polytechnic and these include proper feeding techniques and management, water parameters testing, and behaviour monitoring that are readily applied in the workforce.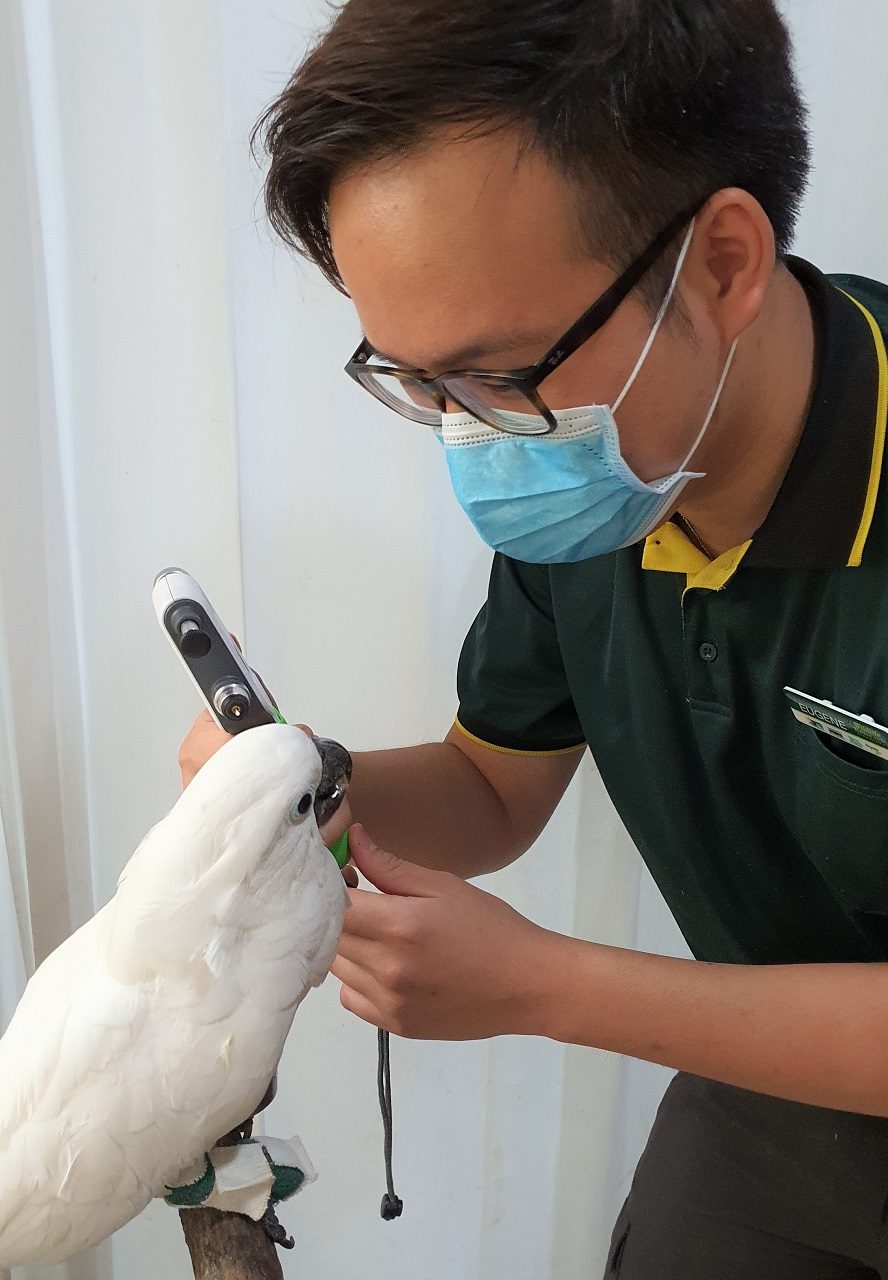 Final year student, Eugene Ong Jia Jun from the Diploma in Veterinary Technology worked on a research project focused on avian ophthalmology during his Student Internship Programme (SIP) at Jurong Bird Park. He also investigated on the diagnostic use of intraocular pressure measurement in sedated birds as part of his Major Project. Eugene also practised essential clinical skills and gained new knowledge on providing care for avian patients. This SIP along with MP opportunities certainly boosted his passion for veterinary medicine.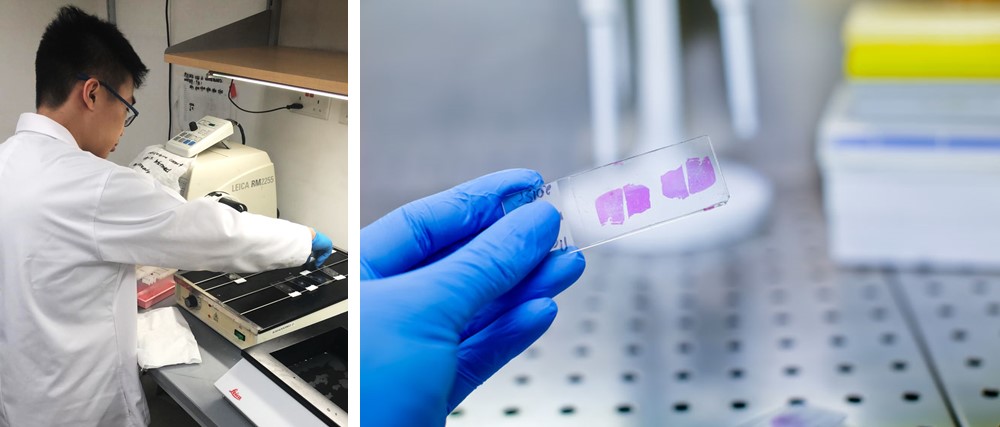 Liver cancer is the second leading cause of cancer-related death globally and hepatocellular carcinoma (HCC) accounts for 90% of all primary liver cancers in humans. Currently, drugs approved for the treatment of HCC have limited effectiveness and poor survival benefits in patients.  Hence there is a need to develop alternative therapies with better clinical outcomes.  However, to do so, it is important to first understand the disease mechanism in order to develop better treatment options for HCC. 
Justin Tang Jit Hin, a Diploma in Pharmaceutical Science graduate from the class of 2020, completed his 26-week Student Internship Programme (SIP) at The N.1 Institute for Health (N.1), National University of Singapore.  Being in this final year, he also worked on his Major Project there at N.1, studying the role of STAT3, a protein that is involved in many types of cancers such as in HCC.  During his internship, Justin wrote a review paper on "JAK/STAT Signaling in Hepatocellular Carcinoma" that was subsequently published in the reputed scientific journal, Hepatic Oncology in March 2020.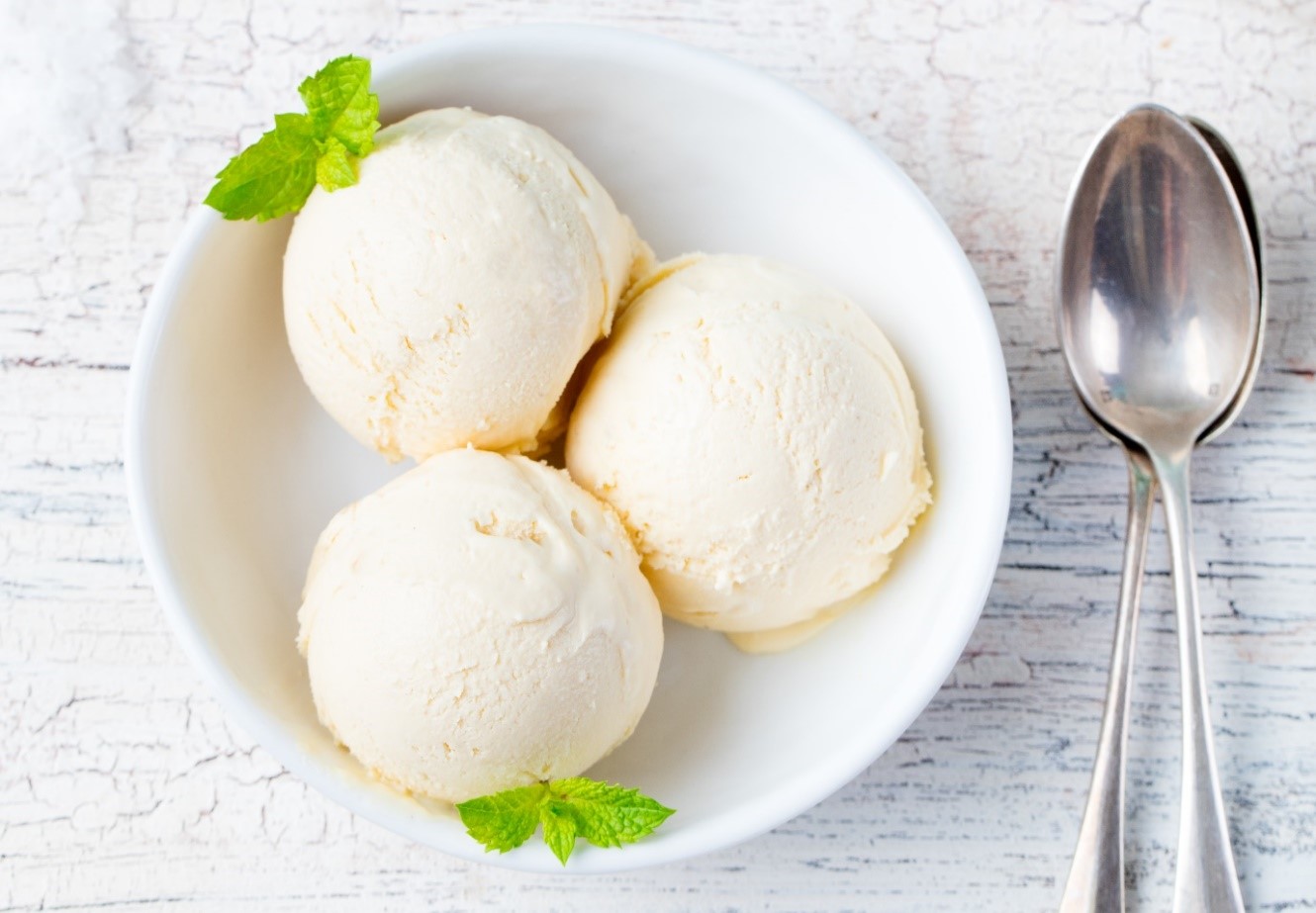 Frozen yoghurt has been gaining popularity in Singapore with stores serving artisanal soft serve frozen yoghurts. Though still at the infancy stage in the Asian market, frozen yoghurts are also packed in tubs and sold in supermarkets but with limited variety. Most brands claim health benefits stating that they contain live cultures or probiotics, but in reality some are high in sugar though lower in fat. Thus they lack the health benefits other than the presence of probiotics. In fact the survival of probiotics in frozen yoghurts is important to support the therapeutic image of the product since they need to impart the health benefits such as the regulation of intestinal flora and improvement of the immune system.
Students from the Diploma in Applied Food Science and Nutrition did their Major Project on developing a novel soy-based frozen yoghurt using a symbiotic approach (that is using probiotic culture and prebiotics).   Ensuring that a minimum viable microbe count was met in the frozen yoghurt, this allowed their product to substantiate the benefits of probiotics to human health when consumed.  The project also reviewed the synergistic effects of the different food additives used in the formulation, as well as effects of other factors, including fermentation time, post acidification, and microbial count.  Various tests were also performed such as pH, viscosity, overrun, meltdown and sensory evaluation.  The survivability of probiotics in frozen yoghurt was also evaluated and tested via microbial testing.  During which, it was discovered that inulin was able to increase the survivability of the probiotics in the dairy frozen yoghurt at freezing temperature.  It was also able to impart a satisfactory mouthfeel and texture that mimics the bulking property of sugar.  This was confirmed through a sensory evaluation by a set of panellists that commented on the soy frozen yoghurt flavour resembling that of soy ice cream with a beany flavour.   
The formulation also included alternative sweeteners such as sugar alcohols and stevia to achieve a 'Low in Sugar' claim.  It also achieved other claims such as being 'Low in Fat' and 'High in Fiber'.   A first of such in our local market!
Recycling food waste into useful products
According to Singapore's National Environment Agency (NEA), the amount of food waste generated in Singapore has increased by about 20 per cent over the past 10 years and is expected to increase with our growing population and economic activity. This is not only happening locally but regionally too.
The current approach of disposing food waste is via incineration which is both wasteful and not sustainable. Various types of food waste have their unique properties and hence can be transformed to make a variety of useful products.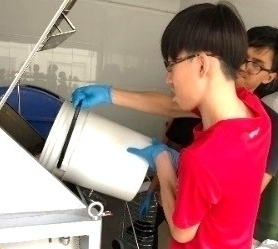 Making compost from food waste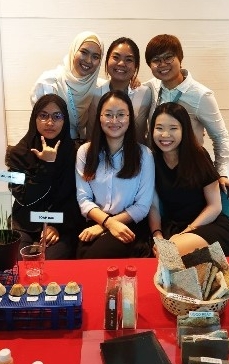 Sustainable building materials from food waste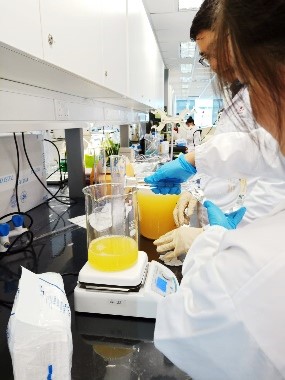 Extraction of healthy compounds from fruit peels
Together with our research team from the Centre for Urban Sustainability (CUS), our students from the Diploma in Chemical Engineering did just that! Through their involvement in various projects and adopting chemical and biological approaches, they learnt to turn post-consumption food waste from our canteens to compost. They also used food by-products as part of making sustainable building materials, as well as used utilized fruit peels to develop some health products too!
In Year 3, students undertake the module, Major Project (MP) to analyse current issues and provide innovative solutions to the industry. Students are also given the opportunity to be cross-trained by taking on projects offered by other diplomas and their corresponding centres of excellence/ innovation.
Have a glance at the hundreds of project titles that our students complete each academic year.
| | |
| --- | --- |
| No. | Major Project Titles |
| 1 | 3D vascular spheroids as in-vitro tools to study the influence of indoxyl sulfate on vascular endothelium |
| 2 | 3D vascular spheroids as in-vitro tools to study the influence of trimethylamine N-oxide on vascular endothelium |
| 3 | A comparison study on the evaluation of histopathology based on tissues associated to type 2 diabetic (T2D) rat model. |
| 4 | A convenient method for green water management |
| 5 | A handy guide to Alzheimer's disease |
| 6 | A potential alternative to non-contact membrane striping system: contact membrane stripping system |
| 7 | A retrospective study of the prevalence and treatment of chronic kidney disease in canine and feline at the animal clinic |
| 8 | A retrospective study on the management of diabetic ketoacidosis in a 24-hour veterinary emergency hospital |
| 9 | A study on the effectiveness of skin and food sensitive diets on dogs with atopic dermatitis |
| 10 | A study on the prevalence and degree of compassion fatigue among veterinary technicians in Singapore |
| 11 | A study to determine the sampling efficiency for a new air sampler |
| 12 | A study to determine which part of the grooming session is the most stressful for dogs |
| 13 | All about DIY slimming |
| 14 | Alternate method to membrane striping for rapid test production |
| 15 | An investigation to compare protein lengths and amino acid composition between aerobes and anaerobes |
| 16 | Analysis and evaluation on the use of natural anti-inflammatory compounds in treatment of allergic contact dermatitis |
| 17 | Analysis of esterification process' effluent COD |
| 18 | Analysis of span esters heating profile at esterification loop reactor |
| 19 | Analysis of the expression of alkane 1-monooxygenase 1, alkane 1-monooxygenase 2 and phenylacetaldehyde dehydrogenase from P. aeruginosa on the degradation of plastic |
| 20 | Analysis of the virulence characteristics of four soil bacterial isolates |
| 21 | Analysis of thermal stress on coral reefs: case study in Singapore and Southeast Asia region |
| 22 | Analytical accuracy of cellular identification in synovial fluid samples |
| 23 | Analytical method validation for carbimazole assay test using High-Performance Liquid Chromatography (HPLC) |
| 24 | Analytical method validation on carbimazole by UV-Vis |
| 25 | Anti-cancer activity of copper complexes |
| 26 | Application of fluidic and microfluidic in-vitro models to study bacterial migration in urinary catheters |
| 27 | Aquaponics - application assessment in water treatment |
| 28 | Assessment of anti-inflammatory and antioxidant properties of green mussels and coenzyme Q10 in laboratory rats |
| 29 | Assessment of the effects of stressful conditions on the carotenogenic activity of algae |
| 30 | Augmenting general public's knowledge and compliance towards antibiotics in Singapore |
| 31 | Automation of Masson's trichrome stain |
| 32 | Biodegradable polymers for medical applications |
| 33 | Buffer stock for aluminium cans and amber bottles and barcode scanning for stock withdrawal |
| 34 | Can the mouse grimace scale contribute to refinement of bleomycin-induced lung injury model? |
| 35 | Carbohydrate research and resistant starch analysis |
| 36 | Carbon absorption using microalgae |
| 37 | Characterisation and qualification of Lithospermum erythrohizon using LC-QTQF-MS |
| 38 | Characterisation of different water-based food gels using instrumental analysis and sensory evaluation |
| 39 | Characterisation of antibody-antigen interactions and interface profiling |
| 40 | Characterisation of protein-ligand interaction and interface profiling |
| 41 | Characterising the functional capacity of human Vδ2+ T cells in young and old |
| 42 | Characterising the functional capacity of Vδ1 & Vδ3 human T cells in young and old populations |
| 43 | Comparing the anti-bacterial properties of poly-imidazolium salts and iron core-shell materials |
| 44 | Comparison of different mating combinations and their effect on C57BL/6NTAC reproductive performance and pair mating as an alternative |
| 45 | Comparison of the concentration efficiency between PEG 8000 extraction and centrifugal filtration via qPCR analysis for virus in water |
| 46 | Comparison study of SBBR and MBBR – effects on nitrification and removal of micro-pollutants from water in a RAS |
| 47 | Correlating villus morphology to predict karyotype outcomes |
| 48 | Create a Patient Information Leaflet (PIL) to guide customers on the treatment options of constipation |
| 49 | Creating a GUT-SY online cooking series portfolio for the healthy gut and overall wellness |
| 50 | Design and construction of flavivirus infectious clones |
| 51 | Detection of living micro-invertebrates in water samples |
| 52 | Develop reference materials for PAs on nutritional feeds for specific types of patients |
| 53 | Developing a Patient Information Leaflet (PIL) on osteoarthritis treatment |
| 54 | Developing an education leaflet for public regarding supplements for osteoporosis and osteoarthritis |
| 55 | Developing educating materials regarding benefits of common TCM products for public |
| 56 | Developing Quality Manual following ISO13485:2016 for medical device distribution organisation |
| 57 | Developing training materials on osteoporosis treatment for patients |
| 58 | Development and optimisation of topical semi-solid preparation containing natural extract |
| 59 | Development and shelf-life study of jams |
| 60 | Development of a leaflet to educate public about glucosamine use in osteoarthritis |
| 61 | Development of a leaflet: choosing joint pain supplements |
| 62 | Development of a patient information leaflet to educate the public about osteoarthritis and rheumatoid arthritis |
| 63 | Development of a video to educate the public on SARS |
| 64 | Development of an efficient online file and folder management system with QR code capabilities to enable seamless document access for a pharmaceutical manufacturer. |
| 65 | Development of ant kit and sea monkey kit |
| 66 | Development of Asian recipes using local underutilised plant species |
| 67 | Development of chromatographic purification process of protein from harvested cells |
| 68 | Development of educational and recipes videos on texture-modified meals |
| 69 | Development of fluorescent paper-based assay |
| 70 | Development of freeze-thaw stable savoury baked products for tea refreshment catering |
| 71 | Development of healthier noodles/pasta recipes for Bistro Lab |
| 72 | Development of healthier one-pot meals for Bistro Lab |
| 73 | Development of healthier recipes for primary school children |
| 74 | Development of healthier rice/grains recipes for Bistro Lab |
| 75 | Development of high resolution melting assay for the detection of Vibrio parahaemolyticus strains |
| 76 | Development of Infoweb for the management of hypertension |
| 77 | Development of interactive nutrition/ health promoting games for a learning app |
| 78 | Development of low Glycaemic Index (GI) pao |
| 79 | Development of materials to educate the public on COVID-19 |
| 80 | Development of materials to educate the public on dengue |
| 81 | Development of materials to educate the public on haze |
| 82 | Development of materials to educate the public on malaria |
| 83 | Development of patient education videos for major depressive disorder |
| 84 | Development of Patient Information Leaflet (PIL) to raise awareness on irritable bowel syndrome |
| 85 | Development of plant-based products |
| 86 | Development of post-op recipes (different stages) for bariatric surgery patients in a local hospital |
| 87 | Development of PPE communication tool |
| 88 | Development of recipes using sea grapes (Caulerpa lentillifera) as an ingredient |
| 89 | Development of South Asian street food recipes for the street food vendors |
| 90 | Development of TP low Glycaemic Index (GI) recipe book |
| 91 | Development of training materials for pharmacy assistants (PAs) on travel related medicines |
| 92 | Development of vegan cheese |
| 93 | Development of vegan recipes for Bistro Lab |
| 94 | Development of videos and e-booklet on food safety practices for food vendors |
| 95 | Differences in the rate of learning between different canine training techniques |
| 96 | Earthworms as alternative source of protein for fish feed |
| 97 | Educating newly diagnosed breast, prostate, colorectal and lung cancer patients on the management of side effects associated with chemotherapy |
| 98 | Educating pharmacist assistants (PAs) on OTC medication |
| 99 | Educating public on preparation of MERS outbreak in Singapore |
| 100 | Educating the public on management of eczema |
| 101 | Educating the public on the treatment of common skin conditions: acne |
| 102 | Educating women on oral contraceptives |
| 103 | Effect of carotenoid diet in the sexual selection of cherry shrimp |
| 104 | Effect of husbandry and experimental procedures on incidences of male mouse aggression in the bleomycin-induced lung injury model |
| 105 | Effect of novel ingredients at different concentrations on quality and shelf-life of cupcakes |
| 106 | Effect of PGR application on physiological characteristics of a plant |
| 107 | Effect of probiotic enrichments on the density and growth rate of live feed |
| 108 | Effectiveness of nano-bubbles in the removal of aquaculture sludge |
| 109 | Effects of Chenopodium quinoa extracts on human skin homeostasis and aging |
| 110 | Effects of different media and temperature on microgreen growth and nutritional value |
| 111 | Effects of different types of medium on in-vitro asymbiotic seed germination of orchid spp. |
| 112 | Effects of light and CO2 concentration on growth of Spirulina |
| 113 | Effects of nano-bubble technology on water in aquaculture and potential for sludge treatment |
| 114 | Effects of storage time and temperature on urinalysis values from zoo animals |
| 115 | Effects of tank lighting on the occurrence of shock syndrome in orange-spotted grouper, Epinephelus coioides larviculture |
| 116 | Effects of the addition of bio-enrichment in the diet on growth rate of shrimps |
| 117 | Effects of water quality on Vannamei shrimp growth |
| 118 | Effects on application of quantum grow bacterial consortium on vegetables grown in aquaponics system |
| 119 | Efficacy of fresh diets in managing gastrointestinal sensitivities in dogs |
| 120 | Efficiency of microplastic removal by mussels in climate change events |
| 121 | Establishment of cycle time reduction for the assembly line of Fortitude 2.1 test kits |
| 122 | Evaluating antimicrobial properties of polystyrene copolymers |
| 123 | Evaluation of key volatiles of matcha and synthesis of matcha flavour |
| 124 | Evaluation of procedures of Single-Use Technologies (SUTs) of past and existing processes in mammalian cell therapy and, cell and gene therapy manufacturing sites of Singapore |
| 125 | Evaluation of selected silicones and additives improving compression set |
| 126 | Evaluation of stress conditions for optimal carotenoid production in D. salina |
| 127 | Evaluation of the correlation between ATP monitoring, coliform count and aerobic count |
| 128 | Evaluation of the effects of ketamine-medetomidine-butorphanol drug combination as an anesthetic protocol for feline ovariohysterectomy |
| 129 | Evaluation of the protective roles of short chain fatty acids on dysfunctional vascular cells. |
| 130 | Evaluation of the uses of canine hydrotherapy in Singapore |
| 131 | Evolutionary conservation of stop codon |
| 132 | Exercise and nutrition for people with diabetes |
| 133 | Exploring the effects of Fecal Matter Transplant (FMT) in global ischemic mice model |
| 134 | Exploring the histopathological changes in selected mouse models |
| 135 | Factors affecting prevalence of recurring canine otitis externa in Singapore |
| 136 | Factors influencing the choice of oral health products used among the population in Singapore |
| 137 | Fecal microbiota transplantation (FMT): improving the methods of FMT recruitment and success, and discussing the super-donor phenomenon |
| 138 | Feline lower urinary tract disease (FLUTD): a retrospective study of the prospective risk factors for recurrences. |
| 139 | Formulation and sensory evaluation of low Glycaemic Index (GI) bun with functional ingredient |
| 140 | Formulation of feed for marble goby larvae |
| 141 | Freeze-dryer qualification and preparation of E. coli biomass evaluation for lyophilized stock buffer |
| 142 | Functional validation of nano-bubble generators |
| 143 | Getting in the know about depression |
| 144 | Growth efficiency of orchid seeds in different media |
| 145 | Growth in sales in the medical industry through social media marketing |
| 146 | Harnessing the heterogeneity of macrophages to fight cancer |
| 147 | Hazard Analysis and Critical Control Points (HACCP) in food safety management of Bistro Lab |
| 148 | Heterotrophic cultivation of Chlorella |
| 149 | How does dog daycare contribute to pets' physical and mental well-being |
| 150 | How K5 + safety and ISO 45001:2018 has contributed in upholding quality assurance |
| 151 | How well treated can fish water be? |
| 152 | Identification of probiotics and effects of prebiotics on the gut microbiome of shrimps |
| 153 | Identifying the role of protein kinase in glucose deprivation-induced cancer cell death |
| 154 | Immuno-monitoring immune genes in fish fed with worms on plastic diet |
| 155 | Improve efficiency in releasing of products |
| 156 | Improvement of the quality and shelf-life of bread using fermented flour |
| 157 | Improving the ability of a zooplankton to promote growth and survival rate in mud crab zoea |
| 158 | Improving the diets of type 2 diabetic patients through digital health |
| 159 | Improving the inspection of incoming material to minimize pest infiltration |
| 160 | Increasing efficiency to evolve into a high-performance laboratory by reducing time consumption |
| 161 | Insights into the evolution of bacteria response to phages using CRISPR systems from longitudinal microbiomes |
| 162 | Interference of heparin and propofol on APTT-based clot waveform analysis |
| 163 | Inventory management in COVID-19 clinical laboratory |
| 164 | Investigation into the effect of coral fragment size and feeding on growth |
| 165 | Investigation of insulin resistance associated with pancreatic biomarker gene expression and the longitudinal relationship of gut microbiota in diabetic rat model |
| 166 | Investigation on efficiency of Chlorella beads in green water |
| 167 | In-vitro evaluation across brands of Paracetamol tablets available in retail pharmacies |
| 168 | Isolation and characterisation of novel pigmented bacteria |
| 169 | Isolation and characterisation of novel pigmented bacterium |
| 170 | Isolation and identification of gram-positive and gram-negative bacteria in food, cosmetics and water samples |
| 171 | Isolation of probiotics and the effects of diet on the canine gut microbiome |
| 172 | Kaizen: checklist review comments status tracker via digital platform |
| 173 | Large scale protein production for drug target |
| 174 | Locally-adapted and indigenous plant species |
| 175 | Managing canine renal insufficiencies with fresh foods |
| 176 | Market analysis on competitive skincare products |
| 177 | Method of ammonification treatment to remove nitrogen from recirculating water used in aquaculture system |
| 178 | Normal radiographic reference values of cardiac silhoutte in parrots specifically amazons, macaws and cockatoos |
| 179 | Ocean acidification matters: the effect of low pH on the reproductive success and larval development of giant clam, Tridacna crocea |
| 180 | Optimal time of surgery for neon-natal hernia |
| 181 | Optimisation of DNA synthesis and assembly technologies for designer microbes |
| 182 | Optimisation of indoor culture techniques on the survivability of blood clams |
| 183 | Optimise parameters for growth of probiotics |
| 184 | Optimising the germination and growth of the Mertensia maritima plant |
| 185 | Optimising the space in the SOM lab compactors |
| 186 | Optimisation of COVID-19 test kit production |
| 187 | Optimisation of COVID-19 test kit quality control |
| 188 | Optimisation of protocol for vaccination and heartworm preventative reminders in veterinary practices |
| 189 | Optimisation of transformation techniques for developing designer microbes for the production of commercially important products |
| 190 | Optimising the use of dosing machine |
| 191 | Parent's knowledge of self-medication for flu and cold for their children |
| 192 | Patient Information Leaflet (PIL) on migraine pain management |
| 193 | Pediatric oncology nutrition training materials |
| 194 | Persea americana seeds as high value food |
| 195 | Post-treatment management of male cats with feline urologic syndrome |
| 196 | Preparation of suitable media for producing cordyceps to generate food ingredients from fruit waste |
| 197 | Prevalence and severity of periodontitis in diabetic patients in Singapore |
| 198 | Probiotics for fish's feed |
| 199 | Process monitoring control for dry blending – blender 1, 2, 3 and 4 |
| 200 | Producing GFP-expressing Enterovirus D68 (EV-D68) |
| 201 | Production of probiotics from agricultural waste |
| 202 | Production of rapid test reagents |
| 203 | Production optimisation of cordyceps protein as potential anti-microbial compound |
| 204 | Profiling LAG3 immune cells as a predictor of immunotherapy responsiveness in hepatocellular carcinoma |
| 205 | Profiling of microbiome in diabetes mice models |
| 206 | Profiling of microbiome in post-depression mice model |
| 207 | Public education on cold, flu and allergic rhinitis |
| 208 | Public perception of health supplements |
| 209 | Public's awareness and knowledge about dry eyes and its management in Singapore |
| 210 | Public's awareness and knowledge about hair loss and its management in Singapore |
| 211 | Public's perception on self-management of simple acute wounds at home |
| 212 | Qualification of Ksuk liquid filling and capping machine for the production of western blot and ELISA controls |
| 213 | Qualification of manufacturing clean room and equipment |
| 214 | Quality improvement project for a local hospital dietetics department |
| 215 | Raising awareness of generics in retail pharmacies |
| 216 | Raising awareness of Nicotine Replacement Therapy (NRT) |
| 217 | Raising awareness of stroke |
| 218 | Raising public awareness of proper wound management |
| 219 | Raising public awareness on the importance of travel medicines |
| 220 | Recombinant collagen methacrylate hydrogels for tissue engineering applications |
| 221 | Reducing human errors to achieve higher efficiency and high-performance laboratory |
| 222 | Reduction of size change timing in packaging lines |
| 223 | Reduction of time taken for full course cleaning in stickpack and pouch line |
| 224 | Reference products developed for authentication of TCM granules |
| 225 | Repurposing of an thalidomide |
| 226 | Repurposing of aspirin |
| 227 | Repurposing of sildenafil |
| 228 | Research and development of algae-based biofilm for aquaculture water treatment |
| 229 | Research and development of anammox used in Recirculating Aquaculture Systems (RAS) |
| 230 | Research on how different stock density affects water treatment efficiency of a spinning bed bioreactor in a RAS |
| 231 | Research on microorganism levels in different areas of RAS system |
| 232 | Retrospective study  on a dog's diet and dental care and its effects on the dog's overall health |
| 233 | Retrospective study of diagnosis and management of chronic kidney disease |
| 234 | Role of BUB1B protein in skin homeostasis and aging |
| 235 | Rosemary extract as an antioxidant in fish oil |
| 236 | School canteen improvement project |
| 237 | Screening and identification of novel pigment-producing bacteria from the environment |
| 238 | Screening of anti-cancer activity from mushroom secondary metabolites |
| 239 | Screening of anti-cancer activity from plant and fungal secondary metabolites |
| 240 | Screening of anti-cancer activity in lemongrass and longevity spinach extract with MCF-7 cells using MTT assay |
| 241 | Screening of anti-cancer activity of plant and microbial secondary metabolites |
| 242 | Seed germination of orchid species using different media types |
| 243 | Sequence similarity networks and their application in microbiome analysis |
| 244 | Setting up a pineapple processing plant |
| 245 | Shelf-life extension of emulsified butter |
| 246 | Shelf-life extension of fish and chips batter |
| 247 | Smoking and gut microbiome |
| 248 | Soil microbiome profiling and its role in nutrition and extension of shelf-life of vegetables |
| 249 | Standing-bending films in EOS for the evaluation of spinal flexibility in scoliosis |
| 250 | Study of encysted Metacercariae and its medicated treatment efficacy in ornamental freshwater fish |
| 251 | Study of the factors that affect the effectiveness of Cushing's disease treatment in canines |
| 252 | Study of the prevalence and treatment of obesity-induced osteoarthritis of dogs in Singapore |
| 253 | Study on consumer perception and behaviour concerning health supplements for management of chronic illness |
| 254 | Study on effects of pasteurisation on algae removal |
| 255 | Study on in-vivo skin sensitization using reconstructed human epidermis and analysis by RT-PCR |
| 256 | Study on plant growth performance of Pak Choy incorporation with microbial concoction in soilless culture |
| 257 | Study the plant growth performance of Chye Sim incorporation with microbial concoction in soilless culture |
| 258 | Studying of trends in fish growth and mortality |
| 259 | Studying the health literacy in Singapore and customer's understanding of over-the-counter (OTC) medication for the treatment of gastric pain |
| 260 | Studying the level of understanding towards cough and cold over-the-counter (OTC) medication |
| 261 | Studying the role of TP53 on hepcidin-mediated macrophage polarization |
| 262 | Suitability of fragrances for all skin types |
| 263 | Techniques employed to provide customer satisfaction at retail pharmacies |
| 264 | Telemedicine: an innovative addition to the veterinary industry in Singapore |
| 265 | The effect of diet on dental and gastrointestinal diseases in Oryctolagus cuniciulus domesticus |
| 266 | The effects and treatment of lens luxations on Canis familiaris |
| 267 | The effects of anammox on the nitrification and denitrification process in RAS |
| 268 | The effects of calcium concentration on shrimp's growth rate. |
| 269 | The effects of exogenous application of PGR on the growth and development of a plant |
| 270 | The effects of growth and storage conditions on the storage viability of fungal spores |
| 271 | The effects of probiotics on the growth rate and survivability of shrimps |
| 272 | The effects on application of quantum grow bacteria consortium on vegetables in aquaponics system |
| 273 | The immunological effects of pharmaceutical drugs, social isolation and musical influence on beneficial worms |
| 274 | The impacts of online patient education videos on the layperson's ability to correctly administer epinephrine injections, ear preparations, nasal sprays and washes. |
| 275 | The implication of transforming growth factor beta (TGFB) signaling pathway in the malignancy of colorectal cancer |
| 276 | The level of expression of MBNL1 in normal and type 2 diabetic (T2D) aortic smooth muscle cells. |
| 277 | The neurological effects of Fecal Matter Transplant (FMT) from normal mice onto recipient post-stroke depressed mice |
| 278 | The role played by chromatin remodeler, BAZ2B, in epidermal self-renewal |
| 279 | The study of dwarf gourami (Colisa lalia) diseases and treatments from ornamental fish farms |
| 280 | The study of embryonic development and the effects of probiotics on freshwater prawns |
| 281 | The study of the effects prebiotics in food wastes have on the growth of probiotics and potential pathogens |
| 282 | The study on the effects of systemic inflammation in global ischemia mouse model |
| 283 | The uses of probiotics |
| 284 | Therapeutic effect of phytopharmaceuticals with essential oil on antibiotics resistance |
| 285 | Therapeutic guidelines on smoking cessation |
| 286 | Therapeutic potential of compound 17b in the treatment of hypertension and its associated complications in the liver |
| 287 | To assess the effectiveness of the Patient Information Leaflet (PIL) in educating patients on the treatment of lower back pain |
| 288 | To create awareness to general public on menopause information |
| 289 | To optimise the production and extraction of nutrients from a microalgae |
| 290 | To prepare a question and answer guide for pharmacy assistants on the management of dyspepsia |
| 291 | Traditional recipes of local Eurasian and Indian snacks |
| 292 | Tropical fruit by-products to functional food ingredients (microbial protein) |
| 293 | Troubleshooting of calibration standard stocks using ICP-OES for the determination of trace calcium content in urea |
| 294 | Understanding the mechanisms through which NRF2 is regulated |
| 295 | Understanding the regulatory mechanism and activation of NRF2 for the development of more effective NRF2-targeted therapeutics |
| 296 | Use of alternative tests to substitute titration for the determination of peroxide values of selected vegetable oils. |
| 297 | Use of commercial peroxide test to determine peroxide values of fish oil |
| 298 | Use of Rosemary extract to delay oxidation of fish oil |
| 299 | Use of sodium percarbonate and peracetic acid for disease management in aquaculture |
| 300 | Use of TCM in children |
| 301 | Utilizing wastes-fed superworms in achieving a sustainable circular economy in urban farming |
| 302 | Vaccinations recommended for Singaporeans when travelling |
| 303 | Validation of a fully-automated clinical nucleic acid extraction system |
| 304 | Validation of BD (Becton Dickinson) MAXTM multi-drug resistant tuberculosis assay for non-sputum samples |
| 305 | Validation of control measures in Food Safety Management System (FSMS) |
| 306 | Validation of in-house produced E. coli biomass – real time study |
| 307 | Vermicomposting of different food waste with Malaysian blue earthworm and its effect |
| 308 | Working towards a circular economy: from plastic wastes to plant fertilisers and fish feeds |
| 309 | Young adults' perceptions of the prevalence of high cholesterol |
| | |
| --- | --- |
| No. | Major Project Titles |
| 1 | An experimental study on thermal conductivity and fire-resistance of concrete incorporated with recycled plastics |
| 2 | Automated robotic liquid handling system for downstream processing |
| 3 | Characterisation and sensitivity analysis of High-Density Polyethylene (HDPE) from waste streams incorporated in concrete for a sustainable built environment |
| 4 | Characterisation and sensitivity analysis of Low-Density Polyethylene (LDPE) from waste streams incorporated in Concrete for a sustainable built environment |
| 5 | Characterisation and sensitivity analysis of Polyethylene Terephthalate (PET) from waste streams incorporated in concrete for a sustainable built environment |
| 6 | Characterisation and sensitivity analysis of Polypropylene from waste streams incorporated in concrete for a sustainable built environment |
| 7 | Characterisation of Concentrated Recyclable Ash (CRA) as raw materials for sustainable building products |
| 8 | Chemical separation of hazardous chemicals in oil industries |
| 9 | Chrome, cadmium and nickel plating |
| 10 | Comparative study of material selection and generic corrosion control in a petrochemical plant |
| 11 | Comparing the two procedures, UOP 46-64 and UOP 46-85 of UOP method 46: paraffin wax content of petroleum oils and asphalts |
| 12 | Comparison of manual and automatic Pensky-Martens closed cup tester |
| 13 | Contamination detection and analysis of lubricants |
| 14 | Conversion of food waste into fish feed and growth media for probiotic bacteria |
| 15 | Correlation study on total organic carbon (TOC) to chemical oxygen demand (COD) of effluent |
| 16 | Cost-effective extraction of dietary fibre from fruit peels |
| 17 | Design and operation of statistical quality control (SQC) in micro carbon residue (MCR) |
| 18 | Determination of heavy metals in plastics digested by microwave and examined by inductively coupled plasma optical emission spectroscopy (ICP-OES) |
| 19 | Determination of wear caused by water contamination |
| 20 | Develop database of individual bacteria colonies for artificial intelligence colony counter |
| 21 | Developing new biocatalysts for facilitated composting from food waste |
| 22 | Distillation of petroleum products and liquid fuels at atmospheric pressure |
| 23 | Effects of intermittent flow on quality of drinking water |
| 24 | Efficiency and accuracy of viscosity instruments |
| 25 | Elimination of tag masks on reptile skins |
| 26 | Enhancing of colony database for a SMART colony counting device |
| 27 | Environmental monitoring documentation process optimization |
| 28 | EUV mask blank production integration: full integration flow |
| 29 | EUV mask blank production integration: individual process defect control |
| 30 | Evaluating engine performance with soot analysis |
| 31 | Evaluating lithium ferrocyanide as an electrolyte |
| 32 | Evaluation of effect pigment performance on injection moulding process |
| 33 | Evaluation of test oils |
| 34 | Fermentation of fruit wastes into sustainable cleaning agents |
| 35 | Formulation, production and assessment of the effectiveness of the alcohol-based hand sanitizer with presence of other additives |
| 36 | Functional coatings |
| 37 | Helping in the development of Insta-ColR |
| 38 | Identification and measurement of microplastics |
| 39 | Identification of nutrients and metals in drinking water |
| 40 | Implementation of mass balance templates for process optimisation |
| 41 | Implementation of Quality Alert System within the supply chain |
| 42 | Improvement in plant and equipment processes |
| 43 | Improving documentation abilities in the Petrochemical Industry |
| 44 | Incorporation of Concentrated Recyclable Ash (CRA) in concrete for sustainable building products |
| 45 | Influence of ashing content and element concentration of residual fuel oil from external factors |
| 46 | Ion chromatography process, automation and optimization |
| 47 | Life cycle assessment of recycling mixed-plastic wastes into raw building ingredients: a case study in Singapore |
| 48 | Life cycle assessment of utilization of mixed-plastic wastes in sustainable concrete materials: a Singapore case study |
| 49 | Manufacturing defect of alligator skins – folded line |
| 50 | Mechanism between pigment and polymers |
| 51 | Mesophilic anaerobic digestion of sludge at low SRT |
| 52 | Method validation of dissolved organic carbon in all types of water using TOC Analyzer |
| 53 | Method validation of total organic carbon in all types of water using TOC analyzer |
| 54 | Method validation update on the determination of PBB/PBDE in polymers by GC-MS |
| 55 | Natural and eco-friendly cleaning agent |
| 56 | Natural larvicidal formulation incorporation in water absorbent hydrogel |
| 57 | Optimisation of surface chemistry on ship hulls |
| 58 | Optimization of ASTM D6304 |
| 59 | Optimization of ASTM D664 |
| 60 | Optimization of biological filtration system using different substrates as carbon source |
| 61 | Optimization of checklist for classified areas in production buildings |
| 62 | Optimization of food waste in-vessel composting of Asian food waste |
| 63 | Optimized detection of indicator bacteria in water sources. |
| 64 | Parameter testing of swimming pool water |
| 65 | PET UV blocker Masterbatch for window film |
| 66 | Plant condition monitoring locations review |
| 67 | Production of animal feed and synbiotics from recycled food waste |
| 68 | Production of fertiliser from food waste |
| 69 | Quality assurance: calibration and maintenance of glassware and Statistical Quality Control of potassium hydroxide |
| 70 | Quality control of Lonicerae japonicae flos (金銀花) using HPLC, HPLC Q-TOF-MS and HPLC QQQ-MS |
| 71 | Raw materials characteristic data analysis |
| 72 | Redox-targeting process approach on recycling spent LiFePO4 batteries |
| 73 | Re-qualification and validation of pH/conductivity meter in quality control laboratory for biopharmaceutical industry |
| 74 | Research on how lab testing of water samples from cooling tower depicts the condition of the cooling tower |
| 75 | Revision and monitoring of master data |
| 76 | Sample preparation methods for ICP-OES |
| 77 | Simplification of operational checklist |
| 78 | Small scale column packing for chromatography process |
| 79 | Study between the different types of Interferences affecting the sulfur content in petroleum products |
| 80 | Study of challenge face from manual work to process automation in shop floor |
| 81 | Study of fame acid and compost using earthworms |
| 82 | Study on efforts to mitigate single-use technology in biopharma industries |
| 83 | Sustainable upcycling of fruit by-product into functional food ingredients |
| 84 | Testing of marine fuels by standard and non-standard methods |
| 85 | The development of effective and cost-efficient cleaning agent through fruit waste fermentation |
| 86 | The effect of different types of food waste on earthworm growth |
| 87 | The effect of pigments in blocking UV radiation on PET film |
| 88 | The importance of piping inspection in the petrochemical industry |
| 89 | Thermal degradation of fuel oil and its effects on different test methods |
| 90 | Validity of test method for determination of sulfate content in potassium sulfate and ammonium sulfate |
| | |
| --- | --- |
| No. | Major Project Titles |
| 1 | A quick beginner's guide in Power BI |
| 2 | A study on the use of AI for development of CHE training/ educational materials |
| 3 | Alternative method for acid washing |
| 4 | Bringing education online due to a pandemic |
| 5 | Checklist for health supplement registration |
| 6 | Development of a process control and instrumentation database before integration into a chatbot system |
| 7 | Development of PPE communication tool |
| 8 | Enhance the stability and shelf-life of the laboratory reagents |
| 9 | Equipment commissioning in cell processing room |
| 10 | Establishing contact tracing framework for Applied Science School (ASC) |
| 11 | Establishing standard operating procedures in the cleanroom |
| 12 | Evaluating the possibility of cutting laminated cards in non-humidity controlled environment |
| 13 | Improvement of GMP training process |
| 14 | Improving on technical report template |
| 15 | Improving the workflow of In-Process Testing (IPT) |
| 16 | Improving training procedures and materials to enhance human performance |
| 17 | Increasing awareness and profit through marketing kits |
| 18 | Increasing organic food product profits on e-commerce platforms and growing the business brand |
| 19 | Long-term asset replacement |
| 20 | Operations management for an applied material laboratory - system for optimal productivity |
| 21 | Optimisation of column packing |
| 22 | Optimisation of database marketing to improve competitiveness on E-commerce platforms |
| 23 | Promoting TraceTogether in Temasek Polytechnic |
| 24 | Quality management and risk analysis of an integrated laboratory information management system |
| 25 | Review on CBRN awareness lectures conducted at a local training school |
| 26 | Revision and implementation of tools for accurate master data |
| 27 | Setting up e-commerce, streamlining operations and improving marketing for a food business |
| 28 | Simple starter guide for Power BI |
| 29 | Study on data analysis of steam tracing |
| 30 | Use Of ATP monitoring device in checking hygiene status of high touch areas |
| 31 | Use of Excel macros to enhance productivity on current subject assignment programme |
| 32 | Use of VBA for productivity enhancement |