The Public Service Commission (PSC) Scholarship, the premier scholarship given by the Singapore government, is awarded on the basis of merit to outstanding young men and women who have chosen a career in the Public Service. These are our recent Engineering students who clinched the PSC Scholarship:
1) R.K. Suriya Varshan (2021)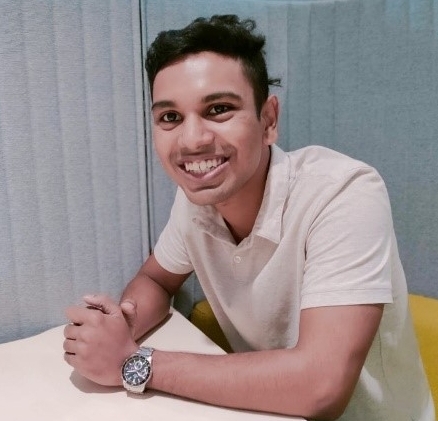 In life, nothing is perfect, so the saying goes. But that did not stop Suriya from striving for – and attaining – perfection.
He chalked up a perfect cGPA of 4.0 over his 3 years in the Diploma in Mechatronics at Temasek Polytechnic (TP), picking up 11 Distinctions along the way, as well as the Course Silver Medal.
Hailing from India, Suriya had completed his national service before joining TP, and is now a Singapore citizen. Resolving to make the best of his stint at TP, he took an active part in CCA.
He was Vice President of the Society of Manufacturing Engineers (SME), the club representing 500 students in his diploma group, President of the Engineering Makers Club (EMC), an interest group that promotes a "makers" culture in the School, and Manager of the SUTD Electric Vehicle competition 2019 team. Amidst his many CCA accomplishments, however, his most prestigious must surely be representing TP in the WorldSkills Singapore (WSS) competition in 2020, in which he was a finalist in the Mechatronics category.
Doing his part for the community, Suriya also helped in the East-Eat food collection & distribution, Lions Home flag day, and a municipal food collection project, "Kovan City of Sharing".  As his engineering skills grew, he successfully organised and conducted a Mobile e-Transaction training session for the elderly in 2018, as well as 4 different skills-based community workshops (Solar Car and Soldering workshops) at various public libraries and a community centre in 2019.
"I am grateful to TP for making me a better person.  Winning the PSC scholarship puts the icing on the cake for me," he said.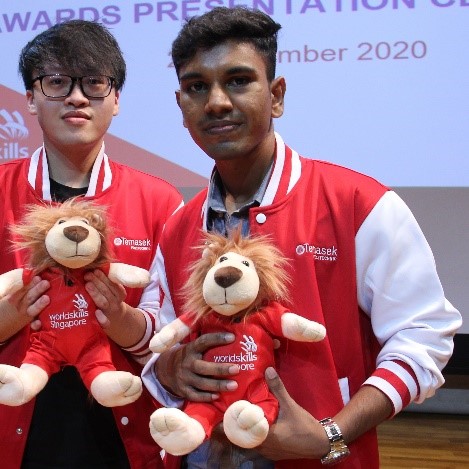 Suriya (right) with his WSS teammate
2) Tan Xue Jian, Patrick (2021)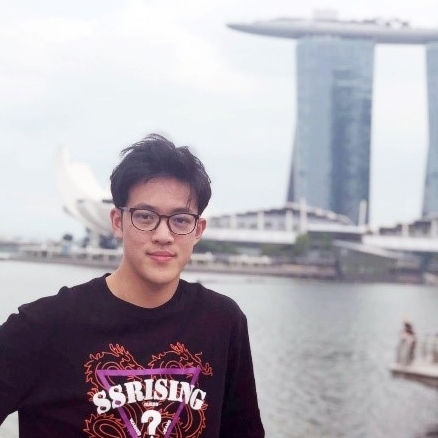 He could have easily made it into a Junior College after his 'O' levels, but the former Chung Cheng High School (Main) student, spurred by his keen interest in aerospace and passion for research, chose instead to pursue a Diploma in Aerospace Engineering at Temasek Polytechnic (TP).
And he has absolutely no regrets. He not only graduated with a Diploma in Aerospace Engineering (Merit) and a cGPA of 3.96, but also had the honour of representing TP at the prestigious WorldSkills Singapore competition in his final year (2020), bagging a Bronze medal in the Aircraft Maintenance category.
His string of achievements at TP also speak of his active involvement in CCA: he was an active member of the TP Triathlon team, and also participated in the Tikkun Olam Makers (TOM) MakeAthon 2019, a 72-hour competition which saw about 80 "makers" (comprising engineers and innovators) from various institutions teaming up with "need-knowers" (social workers and support staff) to conceptualise, develop, test, and deliver within 3 days, working solutions that improve the lives of those with disabilities. He also took part in the Cougars Athletics Association Cross Country Championships in 2018.
Despite his full plate of activities, Xue Jian has been able to find time to volunteer in many activities such as the TP charity event and blood donation drive, the Evergreen Circle Community Service for elderly, as well as an Overseas Community Project to render service to needy residents in rural Vietnam in 2019.
Recalling his 3 years in TP's School of Engineering, Patrick said: "I am glad that I chose TP – it has given me not just a diploma, but also life skills and priceless experiences that I will keep with me for life."     
Patrick with his WSS medal

3) Joel Lau Teck Ern (2020)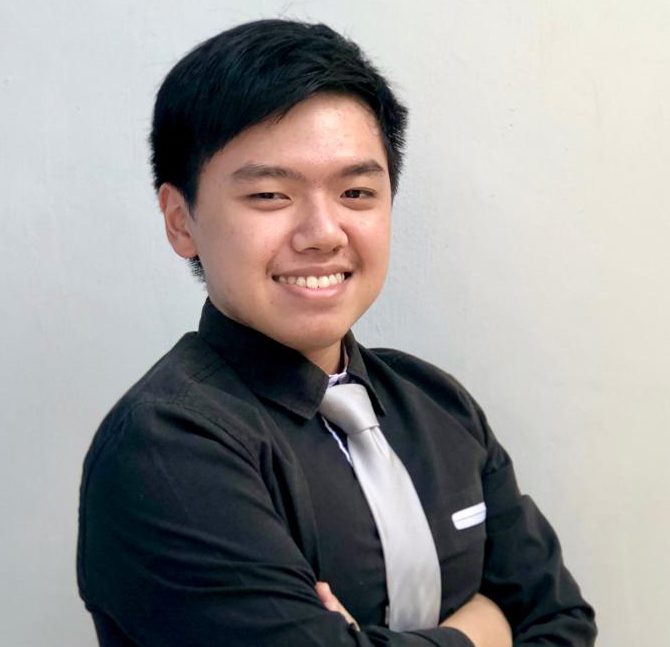 PSC scholarship winner (2020), Joel Lau Teck Ern, is a shining personification of excellent time management.
The Diploma in Clean Energy (Merit) course bronze medallist was placed on the Director's List, the School of Engineering's roll of honour for the top 10% of academic achievers every single semester at Temasek Polytechnic. He also won the Seah Moon Ming scholarship for his second year of diploma studies, and finally graduated with a cGPA of 3.92.
Delicately balancing his studies with CCAs, Joel was an active member of the TP Fusion Percussion team, and performed at various arts and cultural events on campus. Armed with strong skill-sets and rich stage performing experience, he assumed the important role as the Training Head for the percussion team in 2018. In addition, he showed great leadership potential as a student coordinator for the Overseas Community Project trip to the Philippines in 2019, where together with his teammates, he set up a hydroponic system that benefited the community there.
Joel was also elected by his classmates as the Class Representative. In that capacity, he worked very closely with his Care Person to coordinate student development activities for the benefit of his peers.
One of his most significant contributions to the community was his invention of a solar-powered autonomous robotic vehicle that can collect trash, particularly cigarette butts, along the coastline. Working on it as part of his final year Major Project, Joel demonstrated not only his technical competency, but also his strong environmental convictions. His project was ultimately selected to be displayed at the Youth Energy Showcase held in conjunction with the Singapore International Energy Week (SIEW) at Marina Bay Sands in October 2019.