Jointly administered by Temasek Polytechnic (TP) in partnership with Singapore University of Technology and Design (SUTD), the TP-SUTD Pathway Programme (PP) allows students who enrol in TP-Engineering courses to take modules taught by SUTD while studying for their diploma, and to earn credits which are recognised for degree programmes offered by SUTD.

By taking SUTD modules in your final semester at TP, alongside first-year SUTD students, you can complete your SUTD degree one year ahead of your peers!
Who is Eligible?
All Engineering students from Cohort 2021 onwards, in the following courses:
Application & Selection Criteria

Students can apply to the Pathway Programme after a briefing in Year-2 Semester-1
Selection of students will be by merit and interview
The PP programme will start in Year-2 Semester-2
What are the Benefits?

Shortens the time to get from diploma to degree to work
Gets an immersion of university life during your diploma studies
Gains conditional admission to SUTD after TP Year-2 Semester-2

Any Scholarships?

Yes. PP students can apply for SUTD undergraduate scholarships during Semester 1 at SUTD.
Matriculation to SUTD

PP students will be matriculated to SUTD's Term 2 directly after they have completed their TP diploma course requirements and upon meeting SUTD's Term 1 course requirements.
Map of Your Journey on the TP-SUTD Pathway Programme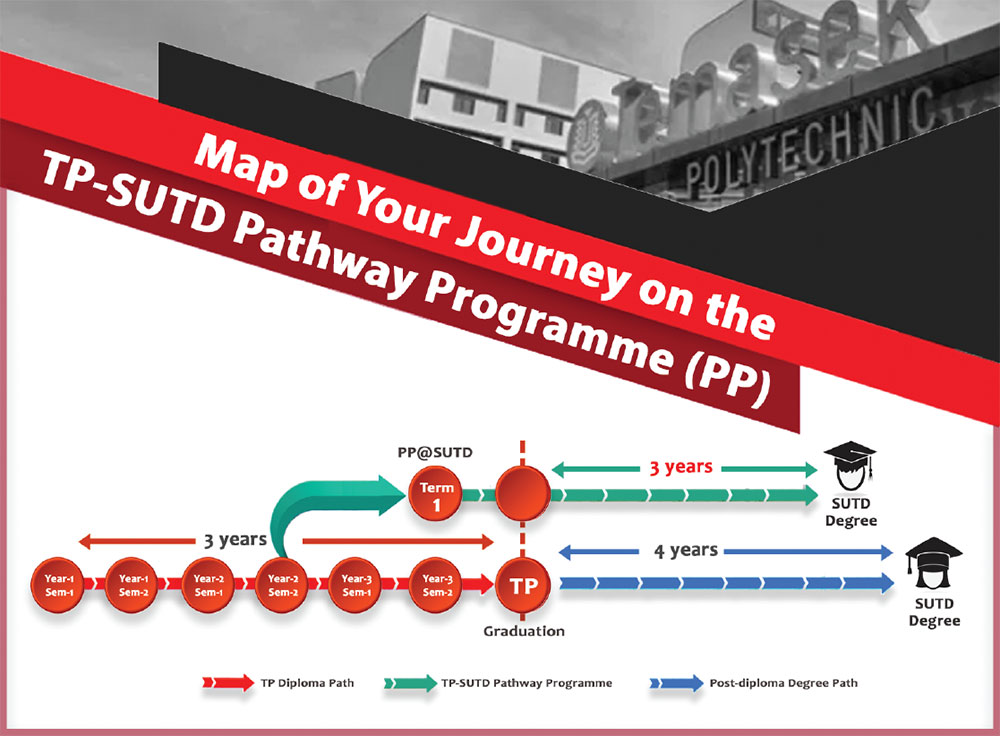 Points of Contact
For enquiries, please get in touch with us.