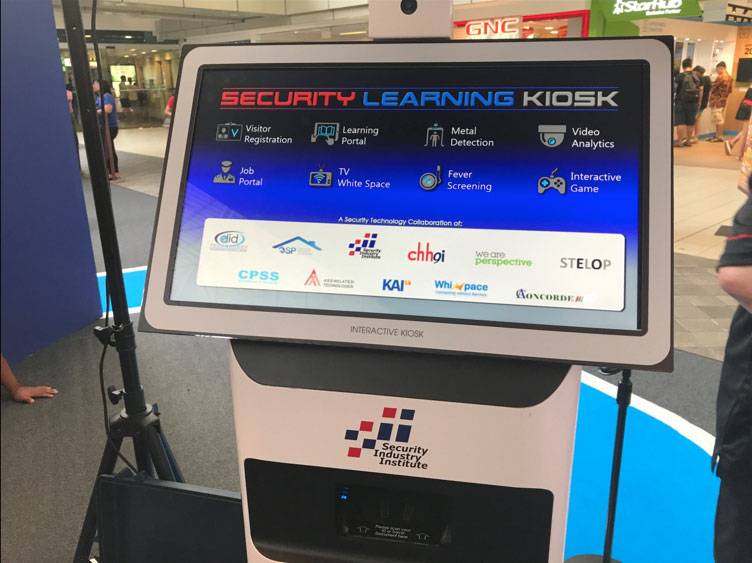 In collaboration with our industry partners, Security Industry Institute (SII) is proud to introduce Singapore's first Security Learning Kiosk (SLK).
Sleekly designed by We Are Perspective, the SLK is an intelligent kiosk that simplifies job processes, facilitates counter terrorism, and equips security personnel with the latest security knowledge and procedures through e-learning.
There is no doubt that this is a kiosk with endless opportunities!
The SLK's functions can be summarised by the 3Ps. Security Personnel can now:
Perform Job Functions demonstrated by ELID technology
Promote Workplace & Technology-enabled Learning, through quality training based on the industry endorsed frameworks by SII & the learning platform IMC
Permit Career Advisory & Progression by the OneStop Security Platform
The following are the features of the Security Learning Kiosk:
Visitor Registration
The visitor registration module can replace the visitor logbook for the security guard. This reduces error, saves time and enhances the security of the information of the visitor. The visitor just needs to scan his IC on the kiosk and his information is stored digitally in the database. The visitor registration module also provides access control restrictions and screen for suspicious individuals by comparing with a database of known criminals.
Learning Portal
The security guard can also be trained through bite sized e-learning modules on security SOPs and policies by interacting with the kiosk as part of their training programme within the Progressive Wage Model. He can also use the learning materials available on the SLK to enhance their job skills and pursue career progression. The learning portal can also encourage lifelong learning.
Metal Detection
The metal detector by CHH Construction System Pte Ltd serves as an effective counter terrorism mechanism to detect concealed metallic objects, electrical devices, weapons and bombs carried by suspicious individuals at entry and exit areas to crowded places like airports, concerts, conferences and big events. It is also smaller, lighter and cheaper compared to a big gantry normally used for such purposes.
Video Analytics
The SLK is connected to a comprehensive network of advanced cameras and software powered by Kai Square that can perform video analytics like facial recognition and analyse trends of human traffic from the raw data obtained from these CCTVs like for example, identifying individuals loitering at restricted premises for a long time.
Job Portal
The One Stop Security Platform (OSP) provides career advisory and enables the security officers to progress in their career through the Progressive Wage Model. They will be informed of the latest jobs opportunities and events in the industry through the OSP.
TV White Spaces
The TV White Spaces devices used in conjunction with the SLK and a network of CCTV cameras create a secured internet network that helps to provide constant monitoring of premises and prevent suspicious individuals from trespassing the secured premises. This technology also enables security agencies to cut down on their manpower by using fewer security guards to monitor more buildings.
Fever Screening
The fever scanning feature on the SLK developed in collaboration with STELOP can help prevent the spread of infectious disease non intrusively by isolating individuals with fever symptoms quickly. It can also detect an Improvised Explosive Device (IED) by the high temperature of suspicious individuals.
Interactive Game
Security officers can play scenario-based games in the kiosk that will train them on how to respond to threat. In a network of SLKs environment, the security officers can play together in a virtual community while doing good for the society.
If you are keen to work with us on the SLK or would like to find out more, please do contact Mr Teo Chwee Guan (DID: 67806692, Email: teocg@tp.edu.sg)
Quick Links
Looking to access other information quickly? Click on any of the items below.
Contact Details
For general enquiries & feedback, please contact:
Security Industry Institute
Hotline: 6225 5744 (6-CALL-SII)
Email: sii@tp.edu.sg
Location Map
Getting to SII Location Map
Course Enquiry Form
If you have any questions about our courses, please feel free to send them to us.
We look forward to hearing from you!
8.30 am to 6.00 pm (Mon to Thur)
8.30 am to 5.30 pm (Fri)
Closed on Sat, Sun & Public Holidays

Due to the safe distancing measures at TP, the SII office will remain closed until further notice. For enquiries, please email or call us.

SII
Temasek Polytechnic
East Wing Block 1A, Level 3, Unit 4
21 Tampines Ave 1
Singapore 529757