Informatics is about using IT for People.  We focus on giving you a strong foundation in IT and an understanding of specialised areas like financial services, digital media and cyber security. With this, you can develop solutions that improve the lives of people.
 
Our objective is to nurture IT Professionals who can contribute confidently to any organisation they join. We emphasise the development of problem-solving and thinking skills, with the aim of cultivating individuals who are independent, analytical and able to respond effectively to the needs of people and organisations. We emphasise professional communication and teamwork skills because these are key attributes for people working in a global economy. After 3 years you will graduate with the qualities and skills to add value to the organisations that you join.
 
We provide many opportunities for you to develop your talent and skills, so that you can adapt to and meet the demands of a fast changing world. To help you excel and stretch your skills, you will have the chance to participate in various enrichment programmes. These include national and international competitions, as well as research attachments to universities.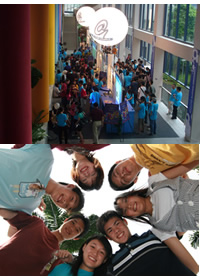 Through the Student Internship Programme, you will have the chance to gain real life work experience in either local or overseas companies, organisations or research institutes. Our academic architecture enables you to be attached as an intern for up to a year. Such extensive experience will undoubtedly groom you for the challenges of the workplace and give you an edge when you seek employment.

Participation in local and global community projects is something we strongly encourage. You will find that there are many avenues through which you can be engaged in social outreach projects to help those in need.

To ensure that our curriculum remains relevant to the Industry, we work closely with employers and universities to maintain quality, industry relevance and high academic standards. An advisory committee, comprising leading academics from universities as well as industry professionals, advises the School in its strategic direction and development to ensure that the courses you join prepare you well for the future.

Moving from a diploma to a degree is a smooth process as we have advanced standing arrangements with both local and overseas universities.
Ms Chong Yoke Sim

Country Manager
Amazon Web Services, Singapore
Mr Andrew Chow

President, Local Business and President, Software Systems Group
ST Engineering Electronics
Mr Alan Goh

IT Management Association Council Representative
[Chief/IHIS HealthHub]
Mr Francis Fong

In transition
Mr Eric Goh

Vice President & Managing Director
Dell EMC Corporation, Singapore
Mr Vincent Goh

Senior Vice President, APJ
Cyberark Software (S'pore) Pte Ltd
Mr Ngee Khoon Hoong

Executive Director
Global Technology Infrastructure
J.P. Morgan
Mr Frank Koo

Head of Asia, Talent & Learning Solutions
LinkedIn
Professor Lai Kim Fatt

Regional Senior Advisor
SenseTime International
Mr Bill Lee

Managing Director
Azendian Solutions Pte Ltd
Mr Andy Lee

Managing Director, Singapore & Brunei
Cisco Systems (USA) Pte Ltd
Mr Nicholas Ma

Chief Executive Officer
Huawei International Pte Ltd
Mr Adrian Ong

Director
TechSkills Accelerator (TeSA) Programme Office
IMDA
Ms Claudia Tan

Head, Public Sector
NCS Pte Ltd
Ms Elsie Tan

General Manager, Public Sector ASEAN
IBM Pte Ltd
Specialist Centres & Learning Enterprises
To ensure that the graduates of Temasek Polytechnic School of Informatics & IT will continue to remain relevant, the School has developed a wide range of niche facilities to better prepare our students for the world of work. Our Specialist Centres and Learning Enterprises are developed to emulate up-to-date industry operations and to facilitate industrial collaboration and consultancy. The School is proud of its state-of-the-art facilities which provide a conducive environment for enhancing the professional and academic capability of our staff and students.

Agile IT Solutions Centre
This Centre is a Learning Enterprise where staff, students and industry engage in providing solutions to real-life business and organisational challenges by developing solutions using Agile methodologies and design thinking. The use of Agile methodologies help improve productivity in developing IT solutions, demonstrating in the process a keen sensitivity and responsiveness to user needs.
Innovation & Research Centre
This Centre is a Learning Enterprise for staff, students and industry to work together on translational research and innovation projects. It will host and enable participants to pursue applied industry research and participate in programmes that will help commercialise their innovations. The Centre's goal is to support participation in Research, Innovation and Enterprise (RIE) projects to nurture innovative scientists, IT engineers and competent IT professionals, through funded projects.
TP-Nvidia AI Technology Centre (TP-NVAITC)
TP-Nvidia AI Technology Centre (TP-NVAITC) facilitates engagement on industry projects using Deep/Machine Learning and AI technologies, and Nvidia's GPU (Graphics Processing Unit) platform. This is the only centre that Nvidia has set up at a polytechnic in Singapore.
TP-Pivotal Agile Cloud Digital Centre
The TP-Pivotal Agile Cloud Digital Centre (TPAC) enables the practice of industry-recognised cloud platform software development processes. The Centre provides an environment to deep dive into DevOps with pair programming and test-driven development methodology.
TP-Thomson Reuters Financial Risk Management Centre
Established in collaboration with Thomson Reuters and equipped with its financial software, and premium financial information terminals, this Centre provides students with the unique opportunity to learn in a live financial market environment that familiarises them with investment banking and risk management operations.

AI & Analytics Hub
This Hub comprises the following facilities dedicated to nurturing competent professionals in the areas of AI & Analytics:

TP-Pivotal Data Science Academy
At this academy located in the School of Informatics & IT, students studying subjects in Big Data and Business Analytics will take modules that support their coursework and lead to professional certifications. Students taking part-time courses would also benefit from modules offered by this academy.
TP-SAS Business Intelligence & Analytics Centre
Established in collaboration with SAS Institute, this Centre provides the latest infrastructure, facilities, software, and datasets to facilitate learning of comprehensive business intelligence and analytics skill sets in a data-rich environment. This Centre is capable of supporting the end-to-end business analytics life cycle, and focuses on areas such as business intelligence, data mining, social media analytics and predictive analytics. It also promotes industry collaboration and capability building by enabling students and staff to undertake relevant industry projects, and conduct applied research and development in advanced analytics.

At this Hub, the School works on a wide range of projects in the area of Artificial Intelligence in close collaboration with industry partners to build strong competencies among staff and students in the field of AI in order to build AI talent.

Serious Games Hub
This Hub comprises the following facilities dedicated to nurturing competent game designers & developers:

• Select-Start Studios

These Studios provide an environment, which supports the development of digital games for education, business, human resource training, entertainment and a host of other purposes. It provides students with a real world learning environment and experience at each crucial stage of the game development process. Within the Studios, students will have spaces for game design and game development.
• Ui/Ux Future Lab

Students at the Ui (user interface) and Ux (user experience) labs will learn about human computer interaction and engage in testing out their applications. Beyond evaluating current user interfaces and user experiences the Ui/ Ux Future Lab is also equipped to work on new forms of interactions for future devices and applications. The labs have the latest equipment such as a state-of-the-art eye tracker system for evaluations. The results of the evaluations help students refine their interface and improve the overall user experience.
• Game Certification Centre

At the Game Certification Centre, we validate the skills and professional development for the game industry. This gamification centre provides certification for game technologies related to the industry. Such technologies include the latest game engines and industry recognised certifications, such as the Autodesk Professional certifications. We are currently the only polytechnic, which provides Autodesk Professional certifications for the media and entertainment industry.

IT Security & Forensics Hub
This Hub comprises the following facilities dedicated to nurturing competent cybersecurity & digital forensics professionals:
Temasek Advanced Learning, Nurturing and Testing Laboratory(TALENT Lab)
The Ministry of Home Affairs and Temasek Polytechnic have jointly collaborated to set up the Temasek Advanced Learning, Nurturing and Testing Laboratory (TALENT Lab) to groom cybersecurity and forensics professionals. The TALENT Lab provides a conducive and realistic environment for students to practice their 'defend and protect' skillsets through near real-life cybersecurity scenario simulations. Students also learn how to design and validate their innovations in dealing with the latest cyber-threats. This practical approach prepares students well for future careers in cyber security and digital forensics.
Malware Analysis Lab
At the Malware Analysis Lab, students use industry technologies to inspect the functionality and origin of the malware, whether they are malicious in nature and will cause harm to notebooks, servers and systems. At this facility, students would also be able to perform code reverse engineering, behaviour, static and automatic analysis, before removing the malware.