Informatics is about using IT for People.  We focus on giving you a strong foundation in IT and an understanding of specialised areas like financial services, digital media and cyber security. With this, you can develop solutions that improve the lives of people.
 
Our objective is to nurture IT Professionals who can contribute confidently to any organisation they join. We emphasise the development of problem-solving and thinking skills, with the aim of cultivating individuals who are independent, analytical and able to respond effectively to the needs of people and organisations. We emphasise professional communication and teamwork skills because these are key attributes for people working in a global economy. After 3 years you will graduate with the qualities and skills to add value to the organisations that you join.
 
We provide many opportunities for you to develop your talent and skills, so that you can adapt to and meet the demands of a fast changing world. To help you excel and stretch your skills, you will have the chance to participate in various enrichment programmes. These include national and international competitions, as well as research attachments to universities.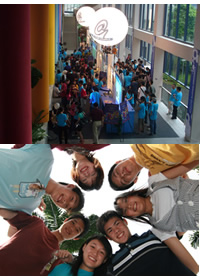 Through the Student Internship Programme, you will have the chance to gain real-life work experience in either local or overseas companies, organisations or research institutes. Our academic architecture enables you to be attached as an intern for up to a year. Such extensive experience will undoubtedly groom you for the challenges of the workplace and give you an edge when you seek employment.

Participation in local and global community projects is something we strongly encourage. You will find that there are many avenues through which you can be engaged in social outreach projects to help those in need.

To ensure that our curriculum remains relevant to the industry, we work closely with employers and universities to maintain quality, industry relevance and high academic standards. An advisory committee, comprising leading academics from universities as well as industry professionals, advises the School in its strategic direction and development to ensure that the courses you join prepare you well for the future.

Moving from a diploma to a degree is a smooth process as we have advanced standing arrangements with both local and overseas universities.
Ms Chong Yoke Sim

Principal Director, Business Development
Accenture Pte Ltd
Mr Foo Fang Yong

CEO, Huawei International Pte Ltd
Mr Ngee Khoon Hoong

Executive Director
Asia Pacific Head of Network Operations
J.P. Morgan Chase & Co
Professor Lai Kim Fatt

Regional Senior Advisor
SenseTime International
Mr Andy Lee

Managing Director, Singapore & Brunei
Cisco Systems (USA) Pte Ltd
Mr Lim Guo Hong

Director
Corsiva Lab Pte Ltd
Ms Elsie Ng
Head of Talent Solutions
LinkedIn Singapore
Mr Ivan Ng

President/IT Management Association, Singapore
Chief Technology Officer, City Developments Limited
Mr Adrian Ong


Director of Jobs & Skills
Human Capital Development
Infocomm Media Development Authority
Mr Colin Tan

General Manager, IBM Technology
IBM Singapore Pte Ltd
Ms Elsie Tan

Country Manager, Worldwide Public Sector, Singapore
Amazon Web Services (AWS)