Mission
This Centre aims to provide research & development capability and technological know-how for Singapore's clean energy industry, as well as to offer the industry-relevant infrastructure to support the School's diploma programmes, particularly the Diplomas in Clean Energy, Electronics, Green Buildings & Sustainability, and Mechatronics.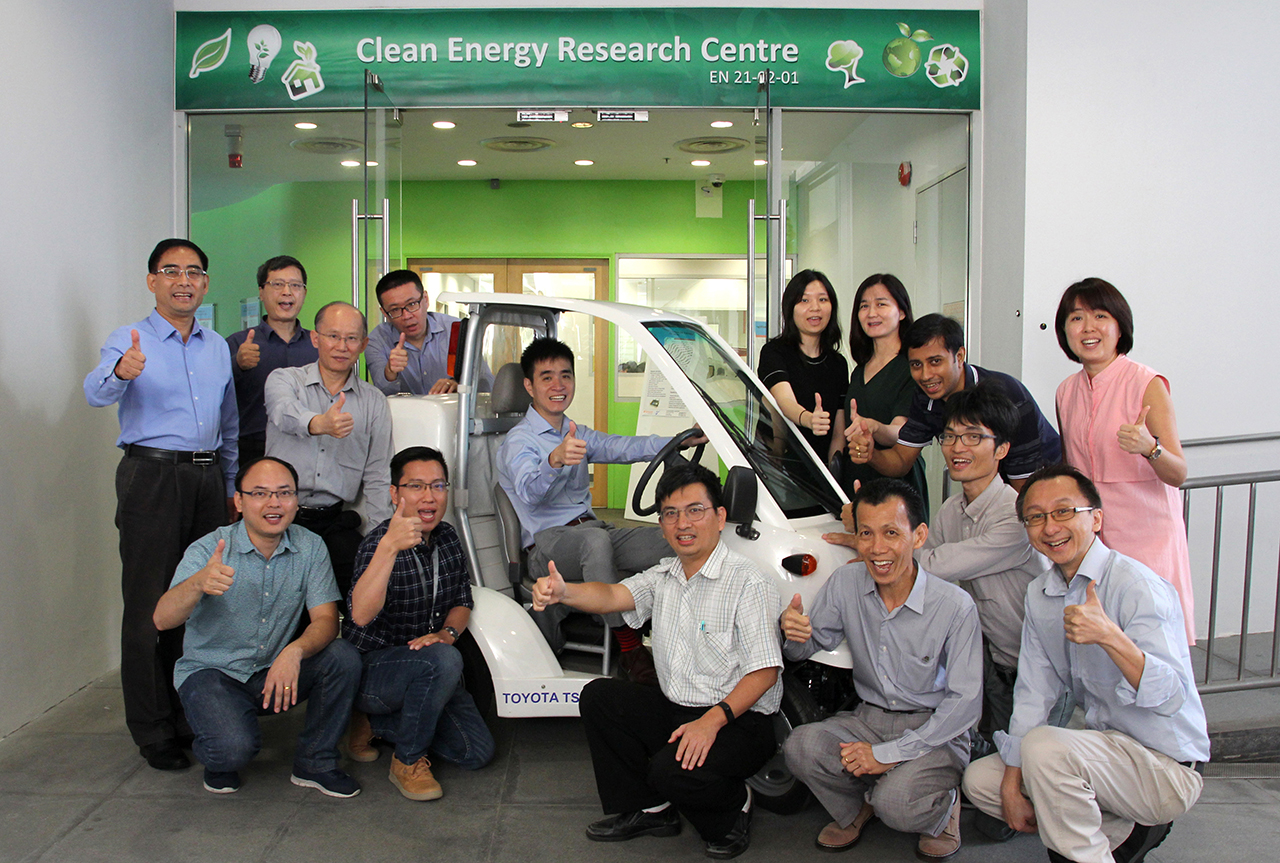 About the Centre
This Centre works on energy generation & storage technologies, power and energy management system & analytics. The objective is to proliferate and develop these technologies for applied research & development, training, industry collaborations and commercialisation. Backed by a team of scientists and engineers with vast experience in chemical, electrical, electronic and mechanical engineering, the Centre offers various facilities including chemistry labs, fuel cell test-stations, various gas supply (including hydrogen), power electronics and mechanical prototyping labs & workshops to conduct applied and industry-relevant research & development.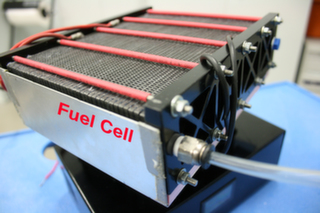 This Centre has 3 focus areas:
(i) Advance Energy Conversion Research
For the first area on Advance Energy Conversion Research, we focus on hydrogen generation, and fuel cell & redox-flow batteries from the material level to the stack & system development.
(ii) Intelligent Power Systems Research
For the second area on Intelligent Power Systems Research, we focus on power and battery management as well as telemetry for electrical vehicles and mission critical applications.
(iii) Smart Energy Sensors and Analytics
For the third area on Smart Energy Sensors and Analytics, we develop robust and efficient energy sensors technology coupled with data analytics to smartly manage energy usage and behavior in homes, buildings and industries.
Since its inception in 2007, CERC has secured nearly S$7 million in research funding from government agencies such as the National Research Foundation, Economic Development Board, MOE Translational and Innovative Fund, Singapore Maritime Institute, A*STAR, Defence Science & Technology Agency, Infocomm Development Authority and Tote Board Fund.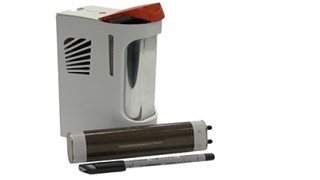 Duralite 50 (Portable Hydrogen Fuel Cell Power Pack)

Based on CERC's latest fuel cell technologies, including patented dual air-flow heat management method, functional pattern gas diffusion layer and innovative hydrogen-on-demand generation technology, a fuel cell power system has been developed for portable applications, especially those that demand lightweight and high energy density power sources. The successful integration of these patented technologies leads to superior performance in energy density and efficiency as well as safe operation.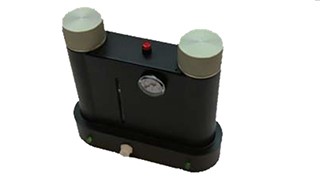 Portable Hydrogen Generator
Based on chemical hydride hydrolysis technology, an innovative fuel compound with scaffolding structure is synthesized. Together with its unique water dispensing design, it can generate hydrogen of up to 99.99% purity with controllable hydrogen releasing speed and high utilisation. It is lightweight, high in energy density and provides safe operation.
Smart Telemetry System for E-Mobility

This smart telemetry device is specially designed to remotely monitor the status and parameters of the battery system on electric vehicles.  The system comprises GPS and GPRS enabled devices with built-in sensors for battery stack monitoring and data-logging capabilities.  Data collected is transmitted in real-time to a backend system.  The device is designed for "plug-and-play" that comes with remote system recovery functions.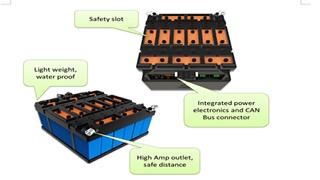 Active Battery Management System
This Battery Management System (BMS) is equipped with active cell balancing technology and sophisticated State-of-Charge (SOC) prediction algorithm.  Using this algorithm, faster cell balancing can be achieved during charge and even discharge operation as compared to conventional passive cell balancing technology.  This allows the BMS to maximise the net energy output from the battery system during its service life.  Ultimately, higher BMS increases the driving range and reduces battery repair or replacement cost.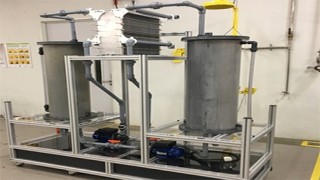 Redox-flow Lithium Batteries 
The redox-flow lithium battery (RFLB) addresses the limitations of current power sources.  It combines the advantage of great system flexibility of the redox flow battery with the high energy density of the lithium ion batteries.  Once fully developed, the RFLB can provide a potentially disruptive solution for both large-scale stationary and automotive energy storage. 
The condensed-phase Aqueous Redox-flow Battery System (CARB) battery system to be developed in this project represents a disruptive and implementable solution in addressing the limitations of current power sources.  Once fully developed, CARB will provide a low-cost, scalable, high energy density and high safety energy storage solution for the near term deployment in distributed energy storage and grid applications.
High Performance  Lithium-Ion Battery Power System for Long Deep Water Operation
In this project, a large format lithium-ion battery stack power system is designed for electric-propelled underwater robotic vehicles (URVs) involved in extended underwater operations.  The large format lithium-ion battery stacks are chosen for their high energy density, modularity and ready availability.  To increase their output power rating, many battery stacks can be connected in series and/or parallel in an enclosure.  The use of active cell balancing technology will lead to 25% longer battery life.  A built-in pressure-resistance enclosure will eliminate the risks of underwater pressure, thereby increasing reliability at sub-sea depths.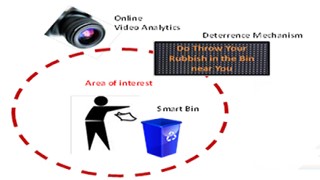 Enhanced Cleanliness Monitoring with Predictive Capabilities
This is a project under the Smart Nation initiative to develop and pilot advanced cleanliness monitoring technologies in Jurong Lake District.  Analytics using CCTV video will be performed to identify the level of cleanliness and human flow in public areas, e.g., bus stop or walkways, while deterring littering behaviour.  A smart bin is also deployed to monitor its utilisation.  This system provides a comprehensive solution on cleanliness monitoring and trending, so as to facilitate more efficient deployment of resources.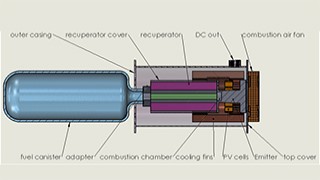 Micro-Thermo-Photovoltaic Generator 
This Micro-thermophotovoltaic (TPV) generator is a novel concept for compact, lightweight and high power density applications.  It consists of a micro-combustor selective emitter and photovoltaic (PV) cells.  The heat produced in the micro-combustor heats up the emitter to emit radiation which is then captured by the PV cells and converted to electrical energy.  It can be used for devices such as micro air and space vehicles, wireless equipment, communication systems, micro-scouting military vehicles and radio controlled air planes.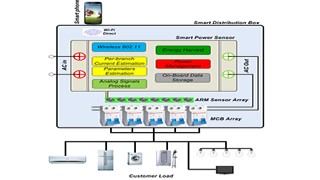 AMR-based Energy Monitoring System for a Smart Home
This project uses the Anisotropic Magneto Resistive (AMR) technology to develop a non-invasive way of measuring current.  Unlike traditional methods of measuring current such as via a current transformer, this system detects current via the magnetic-field on the conducting wire.  This eliminates the need for any wiring or hardware upgrade; the device only needs to be placed on top (on the casing) of a conducting wire.   The revolutionary solution is expected to replace the Smart Meter (currently deployed in several countries) and the costly Smart Plug in providing homeowners with a real-time gauge of energy usage to consumer.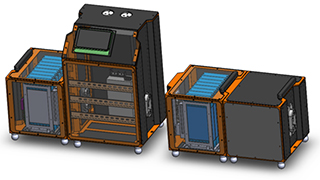 Smart Power System for Mission-Critical Applications 
The Smart Power System is a modular lithium-ion battery power system which provides a reliable, long-endurance and extended lifetime power solution for mission-critical applications.  It uses a Smart Battery Management System (SBMS) which incorporates high efficiency cell balancing technology and intelligent self-learning battery State-of-Charge (SoC) and State-of-Health (SoH) prediction.  Integrated with a telemetry system for inter-modular and server communications, the Smart Power System is constantly monitoring the state of function of the lithium-ion battery cells and ensures effective and reliable operation.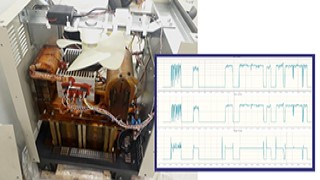 Smart Welding Machine 
This is an IoT device that is applied in industrial equipment to analyse and derive "energy signatures" from the electricity usage patterns of industrial equipment.  Such signatures are applied to manage various aspects such as the energy efficiency of equipment, as well as worker productivity and safety.
The technology consists of the sensors and analytics which are applied collaboratively.  Specifically, the current sensing technique is ruggedised to work in a harsh environment while achieving low cost hardware architecture.  The data extracted and analysed by the smart sensor is then communicated to the server for visualisation and advanced analytics, so as to provide insights into usage patterns.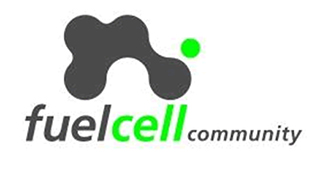 Singapore Fuel Cell Community
This Centre houses the Singapore Fuel Cell Community (FCC) – an initiative of the Singapore Economic Development Board, as part of the government's plan for a fuel cell industry hub that will position Singapore as a place for innovations in fuel cell technology and applications.
FCC brings together leading industry partners, technopreneurs and start-ups, and offers a wide spectrum of support and services including product conceptualisation, design & development, test & measurement, manufacturing, commercialisation, consultancy, intellectual property management and funding. Currently, the FCC has more than 30 partner and member companies.
Some of the partners which the Centre works closely with are:
Universities & Research Institutions
In addition, some of the patents for technology developed by the Clean Energy Research Centre are: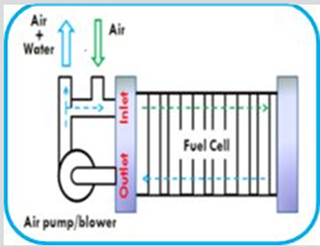 "Self-Humidifying Technique"
(End Plate Assembly for Proton Exchange Membrane Fuel Cell and Fuel Cell Assembly Employing Same)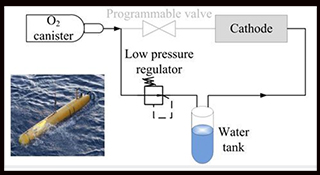 "Purge-Free Design"
(Fuel Cell Apparatus and Method of Operation)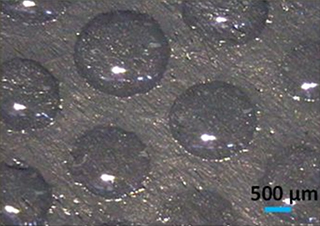 "Gas Diffusion Layer with Functional Patterns"
(Diffusion Medium for Use in Fuel Cell, Fuel Cell and Method of Making the Diffusion Medium)
Contact Details
Dr Kwan Kian Hoong

8.30 am to 6.00 pm (Mon to Fri). Closed on Sat, Sun & Public Holidays

Centre under School of Engineering

Temasek Polytechnic
West Wing Block 21, Level 2, Unit 1
21 Tampines Ave 1
Singapore 529757
Quick Links To Centres Under Schools