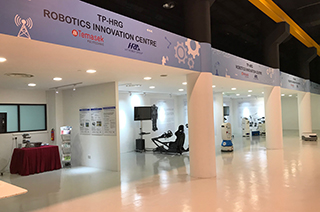 About the Centre
This Centre, launched on 21 Feb 2019, focuses on the following joint activities:
Designing, delivering and integrating a complete suite of robotics and smart manufacturing system solutions for industry players especially local or regional Small and Medium Enterprises (SMEs)
Offering test-bedding facilities for such solutions for eventual implementation by SMEs
Developing and undertaking applied research & development activities/projects
Developing real-life industrial case studies and advanced robotics cyber physical systems
Making available training and learning opportunities to TP students and staff
Facilitating the attachment of TP students and staff at HRG's overseas affiliates located locally or overseas
Facilitating the attachment of technical staff from HRG's overseas affiliates at the Centre
Developing pedagogical approaches and hands-on training programmes, including micro-learning packages and courses under the national SkillsFuture initiative.
Watch a 1-minute video about this Centre:

This Centre focuses on robotics, automation and smart technologies associated with Industry 4.0.  These technologies include Automated Guided Vehicle (AGV) systems, embedded intelligent robotics system, face recognition, autonomous navigation, and intelligent factory automation.  These technologies are used in various industries for applications such as food service robots, greeting robots, fire-fighting robots, unmanned aerial vehicles, industrial robots, collaborative robots, smart factories, as well as applications for the entertainment industry.
The Centre serves as a platform for developing, customising, incubating and test-bedding robotics applications and ideas to support and accelerate the adoption of digital, automation and smart manufacturing solutions by local companies, particularly small & medium enterprises (SMEs).
The close collaboration between Temasek Polytechnic (TP) and HIT Robot Group (HRG) provides premium training that is highly relevant to the industry, widening and deepening the offering of Continual Education & Training (CET) modules, as well as train-the-trainer courses, so as to provide the necessary skills-training and skills-upgrading that would complement the adoption of new cutting-edge technologies, as Singapore moves towards becoming a Smart Nation and digital hub in the region.
In addition, the collaboration allows opportunities for mutual knowledge sharing and exchange between TP and HRG through the overseas attachment of suitable staff and students, thereby enhancing the competence level and technical skills of both organisations in developing and adopting new breakthrough technologies for Industry 4.0.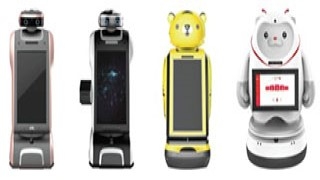 Greeting Robot
The greeting robot allows human-to-robot interaction by adopting face recognition, autonomous laser navigation, intelligent interactive voice response, customer guidance, and automatic obstacle avoidance technologies.  In addition, it is loaded with a customisable program to allow further interaction between visitors and staff.
The greeting robot is able to guide visitors to designated locations and thus can be deployed at places of interest and during opening ceremonies and major events.  The greeting robots have been deployed in the TP Library and during the polytechnic's annual Open House event.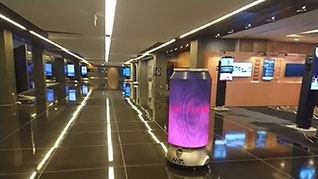 Display Robot
The display robot is capable of autonomous navigation, with real-time route planning and obstacle avoidance.  It comes with a 360-degree flexible LED display, which can be adapted to individual companies' requirements, providing a platform for targeted advertising with minimal human intervention.  Future development could include more features and analytics, for manufacturers and retailers to better understand the needs of consumers. The display robot was deployed during the Singapore Retail Industry Conference and Exhibition, Industrial Transformation Asia-Pacific trade show and the Singapore International Robo Expo.
The Centre works closely with the various industry partners in knowledge sharing and project collaboration. Our main partners are:


HRG Singapore Holdings Pte, Ltd.
HRG Institute (Yueyang) Of Military and Civilian
HRG Edubot Industrial Robot Co. Ltd
HRG Zhejiang Zillion Robotics Co. Ltd
HRG Zhejiang Zhongdao Technology Co. Ltd
HRG HIT Teinyo Robot Co. Ltd
HRG HIT Teinyo Robot Co. Ltd
HRG Hefei UP Robot Co. Ltd
HRG Shanghai Shengyao Intelligent Technology Co. Ltd
HRG HIT Special Robot Co. Ltd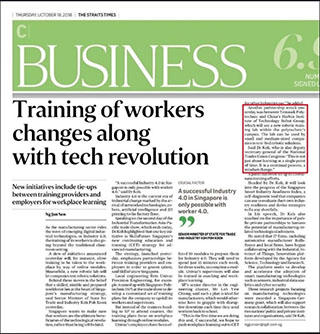 Training workforce for the tech revolution

An article in The Business Times (18 Oct 2019) reported on the TP-HRG collaboration and setting up of a robotics innovation centre on campus to provide vital training, with Dr Koh reminding participants that "a successful Industry 4.0 is only possible in Singapore with Worker 4.0".

Here is an excerpt from the article (in red box):

Meanwhile, Temasek Polytechnic (TP) and Harbin Institute of Technology Robot Group (HRG) have forged a partnership to set up a training facility in the campus, allowing SMEs to trial and implement robotics solutions. TP will also tap HRG's expertise to enhance its CET capabilities in Industry 4.0, and develop train-the-trainer and industrial attachment programmes for local firms.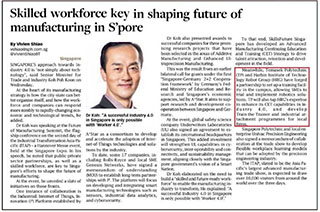 Partnership between TP and HRG

An article in The Straits Times (18 Oct 2018) reported on the collaboration between TP and HRG, as part of the new continuing education and training strategy announced by Senior Minister of State (Trade & Industry) Dr Koh Poh Koon at the Industrial Transformation Asia-Pacific trade show held on 17 & 18 Oct 2018.
Here is an excerpt from the article (in red box):
Another partnership struck yesterday was between Temasek Polytechnic and China's Harbin Institute of Technology Robot Group, which will see a new robotic training lab within the polytechnic's campus. The lab can be used by small and medium-sized companies to test-bed robotics solutions.
The Centre also participated and showcased its competencies at the following official public events:


Singapore Retail Industry Conference and Exhibition (5-6 Sept 2018)
Industrial Transformation ASIA-PACIFIC (16-18 Oct 2018)
Future of Manufacturing Summit (17 Oct 2018)
Singapore International Robo Expo (1-2 Nov 2018)

Mr Chong Ngai Yeen
Head
Tel: 6780 4096
Email: ngaiyeen@tp.edu.sg
Qualifications: B.Eng (Hons)
Areas of Specialisation: Electrical Engineering

Mr Raymond Wong Kim Jyh
Senior Lecturer
Tel: 6780 6714
Email: kimjyh@tp.edu.sg
Qualifications: M.Sc (Management of Technology), B.Eng (Hons)
Areas of Specialisation: Electrical Engineering

Mr Wong Tit Keung, James
Senior Lecturer
Tel: 6780 5607
Email: wongtk@tp.edu.sg
Qualifications: M.Sc (Communications Engineering), B.Eng (Hons)
Areas of Specialisation: Electrical Engineering
Contact Details
Mr Chong Ngai Yeen

8.30 am to 6.00 pm (Mon to Fri). Closed on Sat, Sun & Public Holidays

Centre under School of Engineering

Temasek Polytechnic
West Wing Block 34, Level 1, Unit 21
21 Tampines Ave 1
Singapore 529757
Quick Links for the Centres under Schools