Mission
ETC is a multi-disciplinary centre focusing on integrating core enabling technologies required by Industry to innovate and create new value to differentiate themselves from competitors. The centre comprises collaboration spaces specialising in applied research in Artificial Intelligence (AI) and Machine Learning, Internet of Things (IoT), and Immersive Media. The Innovation collaboration space within the centre serves as a proof of concept test-bedding facility to bring together the core enabling technologies to solve industry problems.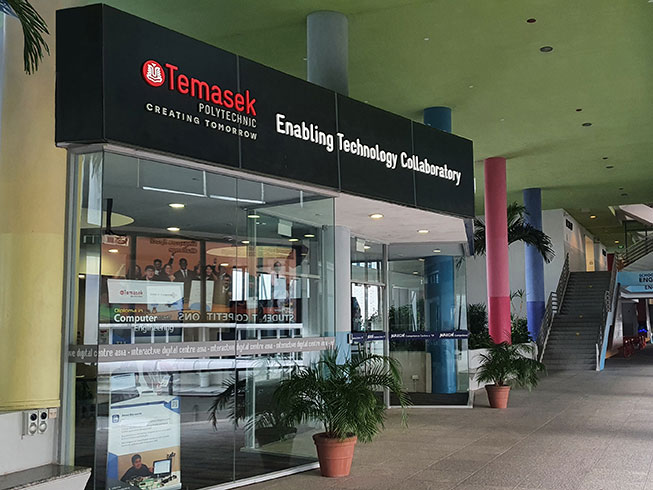 About the Centre
ETC is our latest R&D centre housing four research laboratories: Artificial Intelligence, Immersive Media, Internet of Things and Innovation. The Centre participates in research projects with the industry and works collaboratively across schools, research centres, and departments in Temasek Polytechnic.
Watch a 1-minute video about this Centre: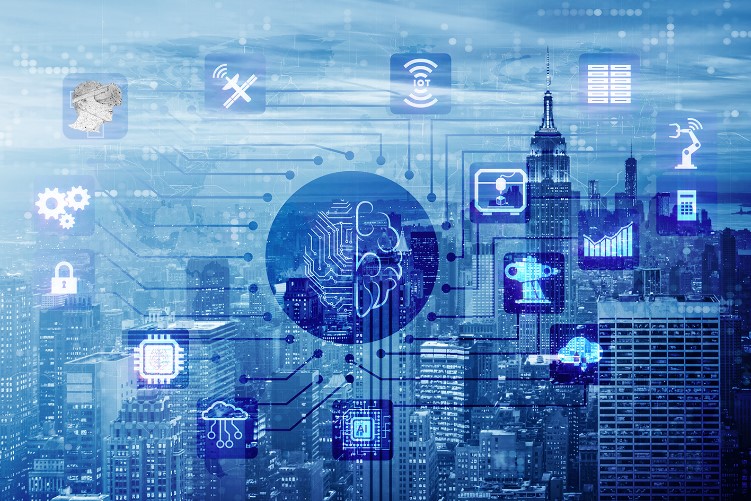 The Centre's core technology areas include:
Artificial Intelligence (AI) and Machine Learning: Chatbot, video analytics and image recognition
Internet of Things (IoT): Embedded Device/System, cloud and mobile computing, and communication modules
Immersive Media: training and simulation, integration of IoT, data analytics and AI in Immersive Media
The Centre has done projects involving the development of Interactive Digital Media (IDM) applications for various sectors such as engineering, architecture, transportation, media and education, just to name a few. It also engages in research & development on smart solutions incorporating various technologies such as immersive media, artificial intelligence (AI) and Internet of Things (IoT).
Some examples are shown below: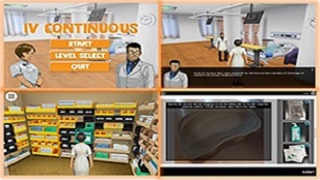 Game Application for Intravenous Administration of Medications (IVAM)
A game for the Intravenous Administration of Medications (IVAM), called "IVAMped", was developed by staff and students in the Centre.  Specially designed for Registered Nurses who have completed the Nursing Orientation Programme (NOP) and have at least 3 months of exposure in the clinical area post orientation, the game helps to train nurses in identifying the correct medication, selecting the appropriate dosage and mode of administering it, and observing the various precautions when administering it intravenously.  The game won 2nd  prize in the inaugural SIMS Games Challenge 2019 organised by Serious Games Association (SGA) and SingHealth Duke-NUS Institute of Medical Simulation (SIMS) as part of the S3 Conference 2019.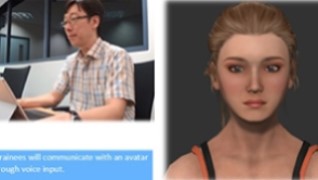 Enabling Immersive Media Applications with AI capabilities
Our team of researchers and developers embarked on a research project that leverages on pedagogy, modelling and interactive content development capabilities to develop techniques for dynamic scenes generation with the addition of voice into the application. It entails a platform that will integrate immersive media and chatbot technologies to capture and facilitate the interchange of data between the physical and virtual environments.
Patient Safety Applications
Our Virtual Reality (VR) developers, working with senior physicians of a hospital, embarked on a project to develop a role-playing simulation game set in a virtual environment to promote and emphasise the concepts of patient safety. The project aims to increase motivation and improve learners' understanding and retention regarding common patient safety pitfalls.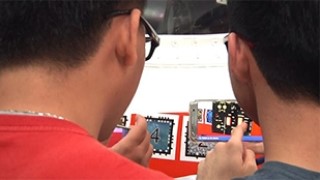 Augmented Reality App for Operational Checks on a Small Aircraft's Environmental Control System
Working with lecturers from the Diploma in Aerospace Engineering in TP, our Augmented Reality (AR) developers built an app that lets learners perform operational checks on the environment control system of a small aircraft, thereby allowing them to practice their skill-sets in a controlled and risk-free environment.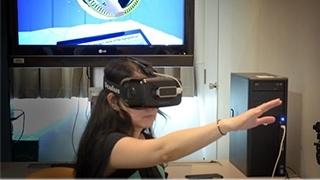 Virtual Reality (VR) Learning Module
Researchers in the Centre developed a VR learning module to equip students in TP's Diploma in Aerospace Engineering with the knowledge and skills to perform a visual inspection of an aircraft combustion chamber, which is usually difficult to access in real life. The module took top spot in the InnovJAM VR+Pedagogy Competition held on 25 May 2017, beating 36 other teams comprising industry experts, professional training providers and developers from other tertiary institutions. The competition, organised by the Institute for Adult Learning (IAL) as part of iN.LAB's innovation activities, aimed to showcase innovative solutions to enhance teaching and learning.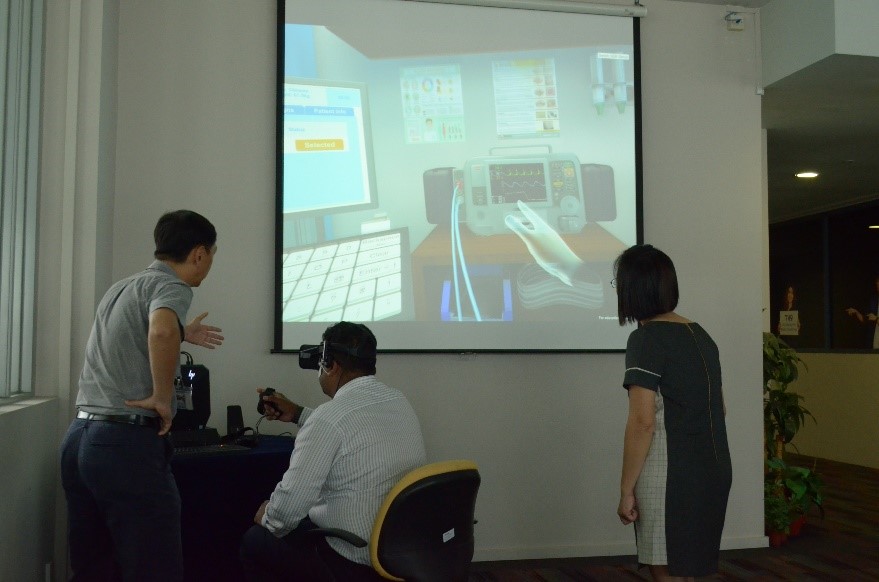 The Centre works closely with various industry partners, centres of excellence and academic schools within Temasek Polytechnic (TP). These include:
Changi General Hospital
CERTIS-CISCO
Tan Tock Seng Hospital
Helen O'Grady Asia Pte Ltd
Security Industry Institute (TP)
Clean Energy Research Centre (TP)
Aviation Research Centre (TP)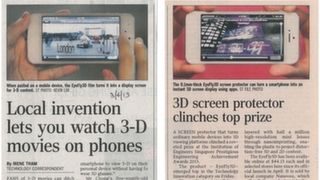 Eye Fly 3D
This revolutionary project, done by the Centre's staff in collaboration with A*STAR, was reported in the local media.
For more details, please look under Projects.
Method of forming a film with a lenticular lens array
Published date: 5 Jun 2014
Publication No: WO2014084798 A1
Publication type: Application
Security film for revealing a passcode
Published date: 3 Apr 2014
Publication No: WO2014051518 A1
Publication type: Application


Optical grating
Published date: 13 Feb 2014
Publication No: WO2014025318 A1
Publication type: Application

Dr Tan Hock Soon 
Head
Qualifications: B.Eng (Hons), M.Sc (Computer Integrated Manufacturing), Ed.D

Areas of Specialisation: Electronic & Manufacturing Engineering, Computer Integrated Manufacturing, Educational Technology
Members
Ms Cheng Shuyun
Ms Chua Ai Lay, Jaclyn
Dr Fang Mei Ling, Linda
Mr Khong Kim Wah, Christopher
Ms Kyawt Kyawt Khaing
Mr Lim Kang Woei, Sean
Mr Lim Joo Guan, Desmond
Ms Linda William
Ms Liu Yanyan
Mr Malcolm Stuart Grant
Mr Pang Yoke Kum, Ezra
Mr Rick Png
Mr Shamim Akthar
Mdm Sherly Chiech
Mr Wu Jiyan
Mr Zaw Htet Wai
Mr Zhou Hongg
Contact Details
Dr Tan Hock Soon

8.30 am to 6.00 pm (Mon to Fri). Closed on Sat, Sun & Public Holidays

Centre under School of Engineering

Temasek Polytechnic
West Wing Block 20, Level 3
21 Tampines Ave 1
Singapore 529757
Quick Links To Centres Under Schools