Mission
This Centre brings together scientists and engineers to pursue translational research and develop practical applications to improve human health and well-being. It also supports staff capability development as well as teaching and learning activities by providing the necessary platforms and expertise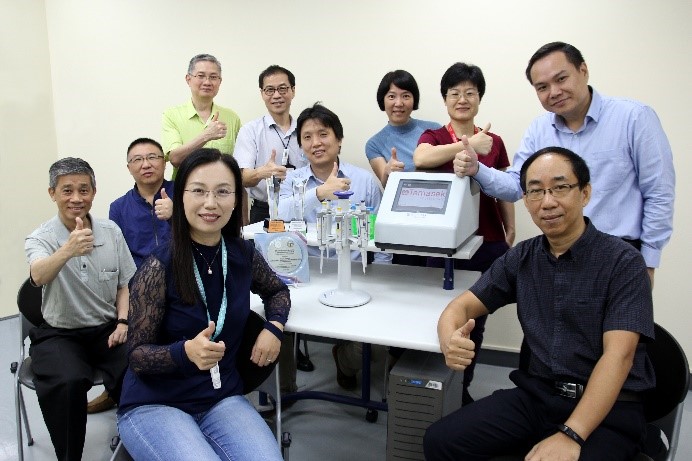 About the Centre
This is a multi-disciplinary centre focusing on the development of BioMEMS (Biomedical micro-electro-mechanical systems) based healthcare devices and systems. The centre continuously grows its research & development (R&D) capabilities in biosensors, microfluidics, and wearable healthcare sensors.

The Centre has secured various competitive R&D grants and established strategic partnerships with industry companies and research institutes, and has strong capabilities in developing innovative devices and systems from concept to field-deployable prototypes.
Watch a 1-minute video about this Centre:

The Centre focuses on developing BioMEMS (Biomedical micro-electro-mechanical systems) based innovative devices for healthcare applications: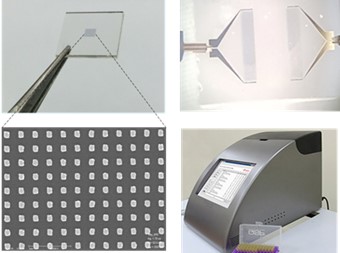 Biosensor for point-of-care diagnostics
Localised Surface Plasmon Resonance (LSPR) biosensors
Microelectrode biosensors
Surface Acoustic Wave (SAW) biosensors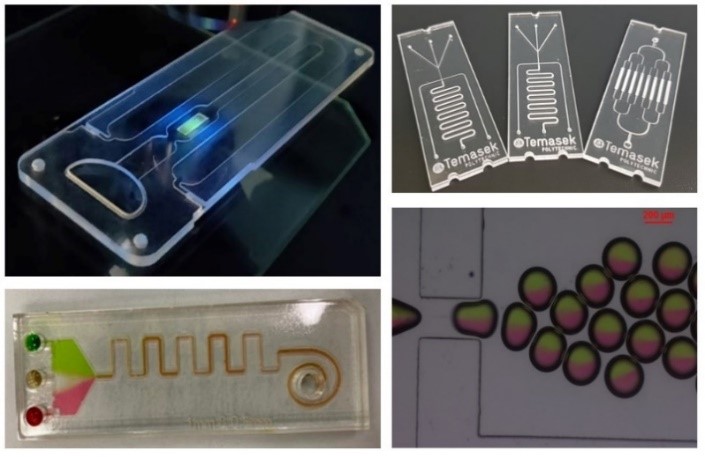 Microfluidic devices for miniaturised chemical and biological testing
Development of microfluidic devices with integrated functional components
Development of new chemical/biological testing protocols on a microfluidic platform
Fabrication of microfluidic products using industrial-standard materials and methods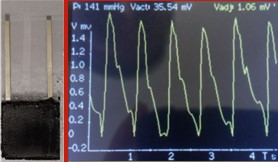 Wearable sensors for healthcare applications
Development of a wide range of microfluidic pressure sensors for healthcare applications from TCM Pulse Analyzer to 'Tui Na' Robot
Development of flexible pressure sensors based on different conductive materials
Development of intelligent wearable healthcare products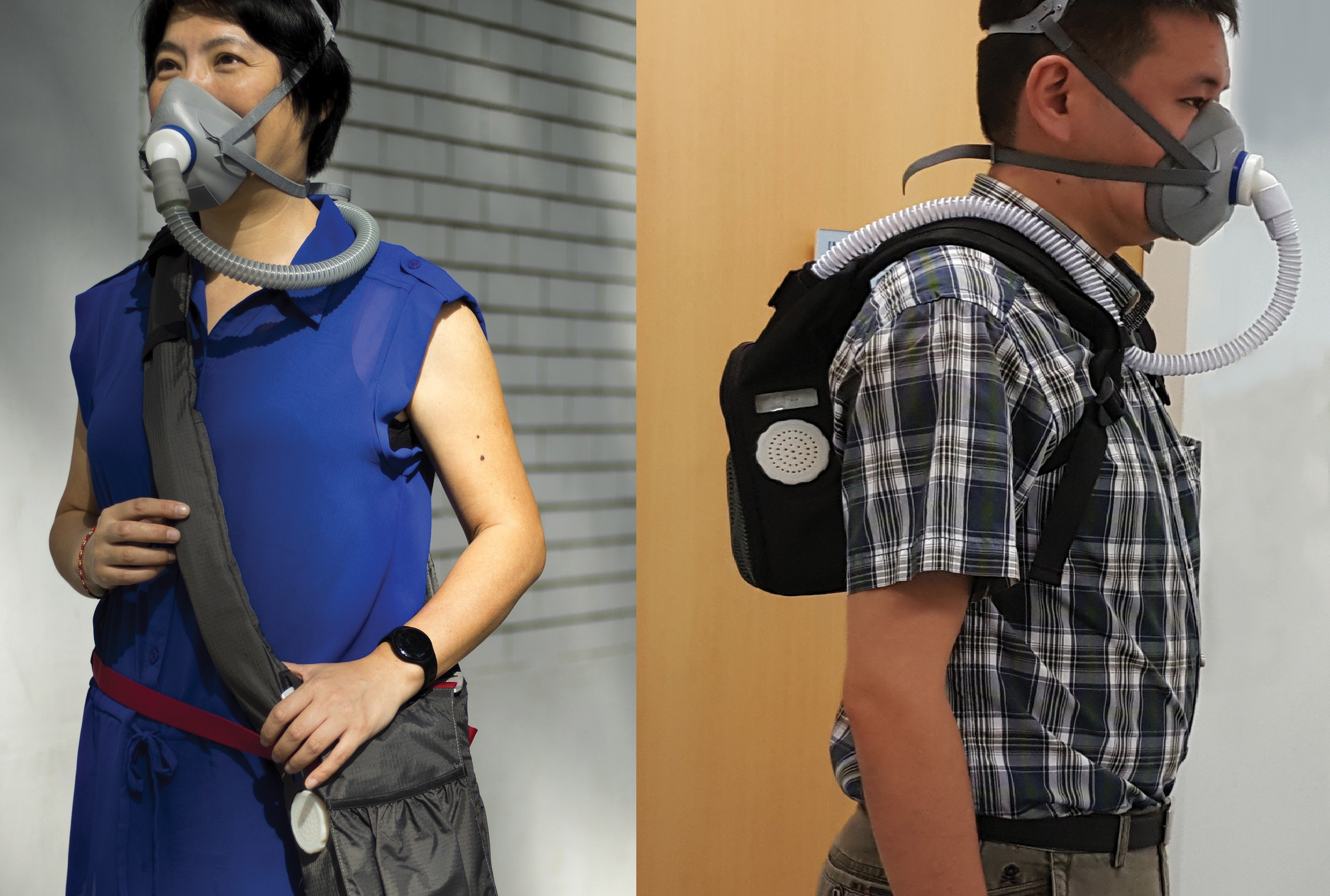 Anti-viral and anti-bacterial respirator (AVR)
Functions as a personal wearable respirator
Employs a novel combination of air filtration, antiviral coating, and germicidal irradiation technology.
Eliminates the limitations of using high power in a heavy device normally required for inactivation of  viruses and achieves superior air-cleansing performance.
Able to block or inactivate about 99% of viruses belonging to the family MERS-CoV and Influenza A, and up to 95% of particulates in the range of 0.3 to 10.0 microns
A Plasmonic Biosensor-Based Point-of-Care System
Sepsis is a condition caused by severe bacterial infection, posing a significant threat to global health. The point-of-care (POC) system for rapid diagnosis of sepsis uses a novel gold nanopillar-enhanced immunoassay to measure procalcitonin (PCT), a biomarker indicating bacterial infection in human serum. Results show that this system can achieve equal sensitivity to usual laboratory methods while shortening the total detection time from 2 hours to just 30 minutes. Rapid and accurate diagnosis will result in better antibiotic therapies and reduced mortality from sepsis.
This project, which was done in collaboration with the Institute of Materials Research and Engineering (IMRE)-A*STAR and Tan Tock Seng Hospital, won the IES Prestigious Engineering Achievement Award in 2016.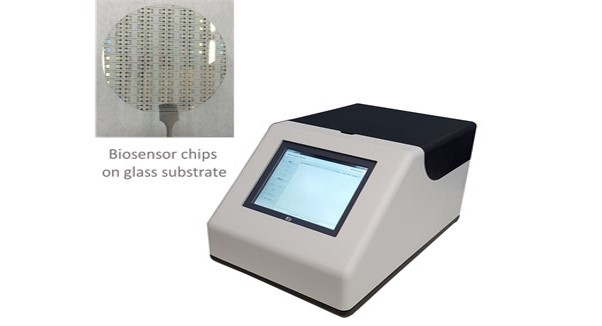 A Point-of-Care System for Quick Urinary Tract Infection Diagnostics (SQUID)
This is a point-of-care system integrated with microfluidic delivery sub-system, temperature control unit and DEP on-chip concentration module which can detect E.Coli at a concentration level of 105 CFU/ml.  A sandwiched immunoassay was developed on a micro-fabricated biosensor chip for UTI E.Coli detection.  The biosensor chip fabrication process and surface modification protocol were optimised, and the biosensor-based immunoassay was transferred onto the microfluidic platform.  Dielectrophoresis (DEP) technology was used on concentrated E.Coli, and this increased the local concentration of bacteria by more than 1000 folds, allowing for quicker and easier detection.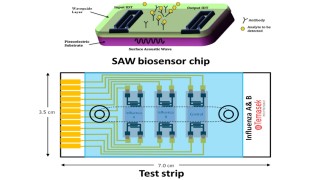 A Hand-held Biosensor System for Rapid and Accurate Diagnosis of Influenza
This project involved the development of a highly sensitive handheld SAW biosensor system for diagnosing influenza at the point-of-care.  The system is based on the LW biosensor chip developed by Dr Yao Kui's team.  The patented technology was transformed from a laboratory setup into a market-compatible handheld system.  Apart from the LW biosensor chip production, a number of additional tasks had to be performed when considering a market-compatible overall system, such as (a) LW biosensor chip package design and development; (b) integration with fluidic channels; and (c) electronic circuit design for signal detection and analysis.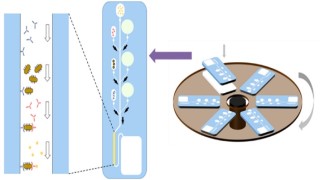 Centrifugal Microfluidic Immunoassay Device for Rapid Pathogen Detection
This project involved the development of a novel immunoassay device based on centrifugal microfluidics for rapid and cost-effective pathogen detection.  The device relies on centrifugal force from spinning platforms such as centrifuge machine or CD-ROM to drive fluid movement.  Various fluidic functions such as valving, decanting, calibration, mixing, metering, sample splitting, and separation, can be implemented on the platform.  The diagnostic assay can be performed in most clinical and research laboratories without the requirements of highly skilled personnel and expensive equipment.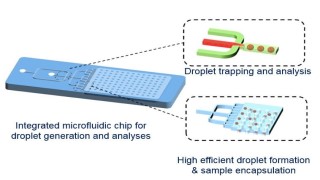 Droplet Microfluidic Device for Molecular Diagnosis

Droplet-based molecular diagnosis is an emerging new medical technology. Standard diagnosis protocol includes droplet generation, reaction, and signal analysis. In most commercial systems, these steps must be performed separately, which reduce the convenience in usage and make the results prone to mistake.  This a microfluidic device overcomes the limits of most commercial products.  Through integration of several innovative designs, droplet generation and analysis can be achieved on a single chip.  A special process to mass-produce the chip using industrial methodologies was also developed to reduce the cost and facilitate the commercialisation of the final products.  With these inventions, the labour and cost of molecular diagnosis can be greatly reduced, thus allowing more people to  benefit from this new technology.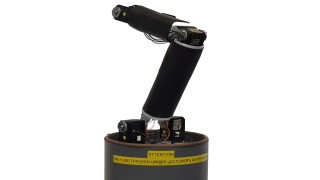 Microfluidics-Based Flexible Tactile Sensors for Robotic Arm Collision Detection
Artificial skin with microfluidics-based tactile sensors is embedded into robots. The skin will estimate contact force and enable the robot to handle both unintentional collisions in safe human-robot collaboration tasks as well as intentional touches where it is used as a human-machine interface. In addition, the artificial skin can be offered as a solution platform that can be upgraded to perform collision detection with minor modification on any robotic hardware.
Design and Prototyping Artificial Skin for TCM Tui Na Robot
This project aims to design and fabricate a flexible tactile sensor array and integrate the fabricated sensor array to a Tui Na robot palm for detecting bones and measuring muscle stiffness in patients.
Wearable TCM Pulse Analyser
This project aims to develop a wearable Traditional Chinese Medicine (TCM) pulse analyser enabled with artificial intelligence for self-monitoring of illnesses.  The device mimics a TCM physician palpating artery pulses on the wrist and analyses various pulse characteristics to provide a diagnosis both qualitatively and quantitatively.  The embedded artificial intelligence will also greatly improve diagnosis accuracy.  Sensitive, accurate, and compact microfluidic-based pressure sensors make the analyser small and potentially wearable.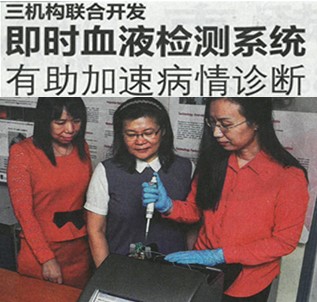 Publications in the Media

An article featuring a revolutionary blood testing system prototype jointly developed by Temasek Polytechnic, A*STAR's Institute of Materials Research and Engineering (IMRE), and Tan Tock Seng Hospital (TTSH), which can accelerate medical diagnosis, was featured in Lianhe Zaobao on 12 Aug 2016.
Papers Presented/Published
L. L. Sun, Y. S. Leo, X. D. Zhou, W. Ng, T. I. Wong, J. Deng, Localized surface plasmon resonance based point-of-care system for sepsis diagnosis, Materials Science for Energy Technologies 3 (2020) 274–281.
L. L. Sun, Biosensor and microfluidic chip based Point-of-care systems for disease diagnosis, 12th International Conference on Ceramic Materials and Components for Energy and Environmental Applications (CMCEE 2018) Singapore, 22-27 Jul 2018 (invited).
L. L. Sun, "Biosensor and microfluidic chip based Point-of-care systems for disease diagnosis", The 7th International Multidisciplinary Conference on Optofluidics 2017, 25 Jul 2017, Singapore, (Invited).
Y. Fu, "Centrifugation-enhanced enzyme immunoassay for rapid bacteria detection in common laboratory tube", The 21st International Conference on Miniaturized Systems for Chemistry and Life Sciences, MicroTAS 2017, 22-26 Oct 2017, USA.
J. Deng, T.I. Wong, L. L. Sun, C.G. Quan, X. D. Zhou, "Acceleration of e-beam lithography by minimized resist exposure for large scale nanofabrication, Microelectronic Engineering", Microelectronic Engineering 166 (2016) 31–38.
T. I. Wong, J. Limantoro, K. P. Fong, C. Y. L. Tan, C. G. Quan, L. L. Sun and X. D. Zhou, "Easy fabrication of high quality nickel mold for deep polymer microfluidic channels", J. Micromech. Microeng.26 (2016) 065016.
R. Riazul, Y. Fu, L. L. Sun, "Silver Enhanced Immunoassay for Escherichia coli Rapid Detection", International Research Symposium on Engineering and Technology (IRSET) 2016, 13-15 September, 2016.
Y. Fu, R. Raziq, H. Miao, Y. Yang, M. H. Kuok, N. C. Tan & L. L. Sun, "Rapid urinary bacteria detection using DEP-enhanced microfluidic immunocapture assay", The 19th International Conference on Miniaturized Systems for Chemistry and Life Sciences (MicroTAS), Korea, 25-29 October, 2015.
"Detection of Salmonella Using Immunomagnetic Separation and Qdot Fluorescent Assay", Singapore provisional patent Application No.: SG10201910341T, Filing Date: 06 Nov 2019.
"Biomarker Detection System", PCT/SG2017/050372, Filing Date: 21 July 2017.
"Microfluidic system with dielectrophoresis on-chip concentration module", SG provisional patent No.: 10201706170X, Filling Date: 28 Jul 2017.
"A novel laser assisted chemical etching method for GaN", SG provisional patent No.: 10201706171X, Filling Date: 28 Jul 2017.
"Plasmonic biosensing based microfluidics point-of-care system for procalcitonin detection", Singapore provisional patent application No: 10201606001Q, Filing Date: 21 Jul 2016.
Contact Details
Dr Sun Ling Ling

8.30 am to 6.00 pm (Mon to Fri). Closed on Sat, Sun & Public Holidays

Centre under School of Engineering

Temasek Polytechnic
West Wing Block 34, Level 1, Room 28
21 Tampines Ave 1
Singapore 529757
Quick Links To Centres Under Schools