Mission
This Centre aims to foster, develop and promote robotics and automation technologies for advanced manufacturing and workplace automation through applied research, capability development and industrial collaboration.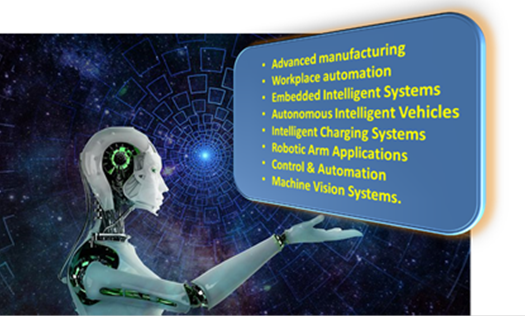 About the Centre
The Centre focuses on core technological areas for advanced manufacturing and workplace automation such as Embedded Intelligent Systems, Autonomous Intelligent Vehicles, Intelligent Battery Charging Systems, Robotic Arm Applications, Control & Automation, and Machine Vision Systems.
Watch a 1-minute video about this Centre:

This Centre focuses on research & development involving various aspects of robotics and automation in both hardware and software. The key technological areas include:
Robotics and Automation

Autonomous Intelligent Vehicles (AIVs)
Robotic Arms
Embedded Intelligent Robotics System



Advanced Manufacturing

Intelligent Factory Automation
Shop-floor Digitalisation & Connectivity
Data Analytics, Machine Learning & Artificial Intelligence
The technologies are tested and used in various applications such as in-house research and development projects, industrial collaboration projects (factory automation AIVs, cleaning AIVs, service AIVs and warehouse AIVs) and robotic competition projects (Singapore Robotic Games and WorldSkills Singapore).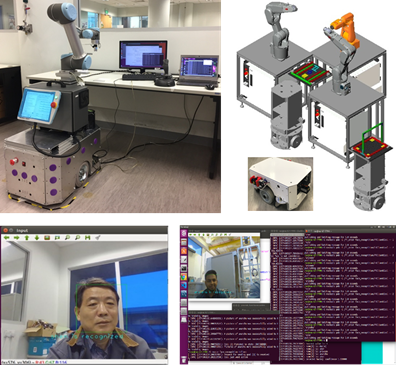 The robotics technology is tested and used in various applications such as microcontrollers, edutainment robots, building / construction sector robots, factory automation robots, search & rescue robots, medical and rehabilitative robots, as well as competition robots (for competitions such as Singapore Robotic Games).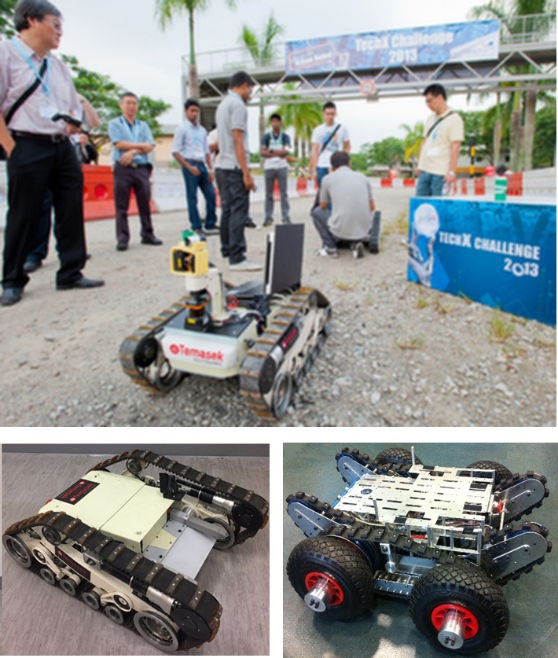 Our Robotics & Automation Centre (RAC) took part in the Tech-X Challenge in 2008 and 2013. It is a national robotic competition organised by the Defence Science & Technology Agency (DSTA), in which fully autonomous robots are required to navigate difficult terrain to conduct a search & rescue mission, while gathering data and beaming back the information to a base station in real time. Various other tasks also had to be fulfilled in order to complete the gruelling operation.
On both occasions, the RAC team qualified for the grand finals, and its performances, based on the Tech-X competition benchmark, has been ranked among the best in Singapore, comparable to the top research capabilities of our local universities. (No participating team has ever managed to complete the entire competition course to qualify as the grand winner.)
The RAC robots were designed, built, and programmed entirely from scratch, testifying to the success of the intensive R&D programme in the Centre.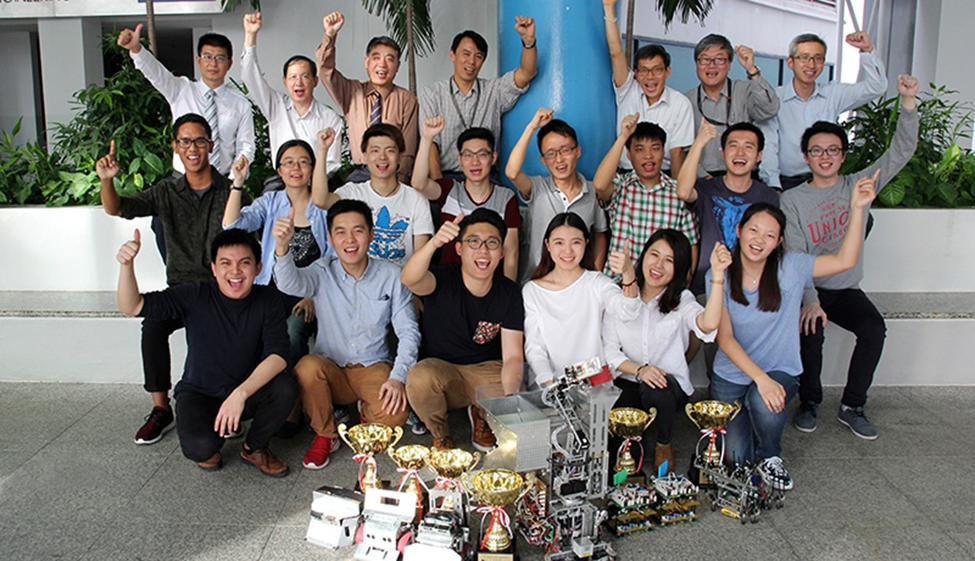 The Centre also engages in Research & Development to design and build the most powerful and effective robots to take part in the annual Singapore Robotic Games (SRG). Competing in various categories such as the Intelligent Robot, Autonomous Sumo Robot and RC Sumo Robot categories, our teams have won numerous medals and awards.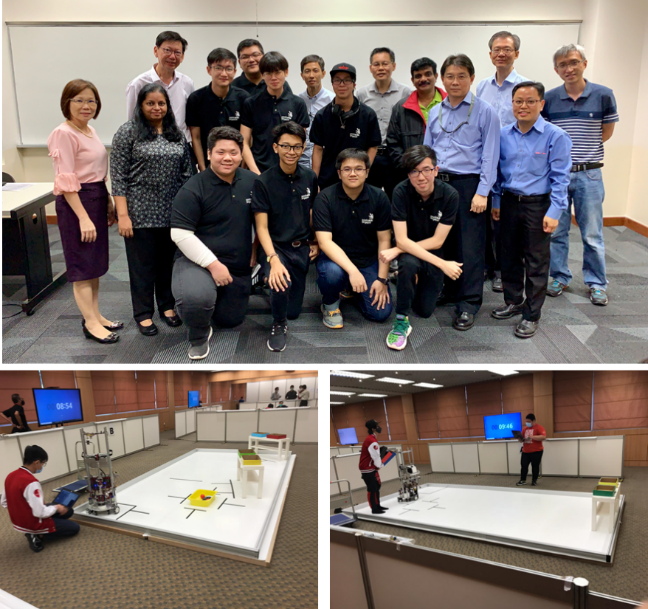 RAC designs and develops mobile robots and trains Temasek Polytechnic students to take part in the Mobile Robotics Trade of the WorldSkills Singapore competition. The technologies involved in the development of the mobile robots include mechanical design and fabrication, electrical and electronic design and fabrication, motor control, robotic arm development and computer vision.
Industry Collaboration Projects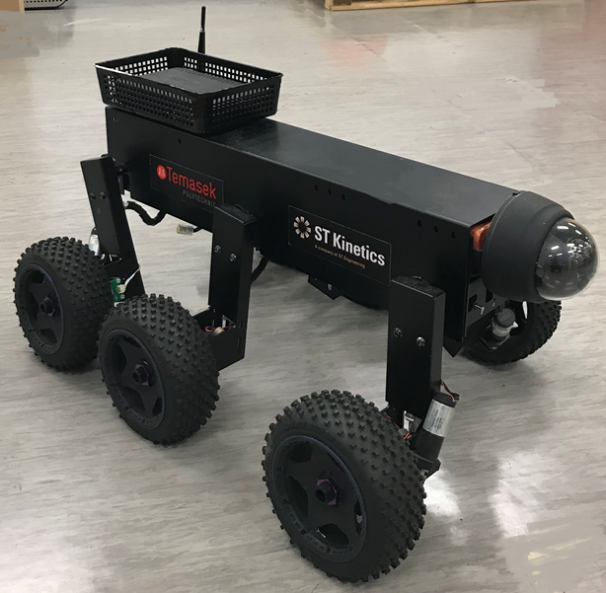 Working in collaboration with ST Kinetics, the RAC has also developed a Robotic Articulated Wheel Vehicle (RAWV) that has the potential to beef up Singapore's defence capabilities.  This unmanned vehicle is scalable and can be used for dangerous search and rescue operations, bomb disposal, mine detection or military surveillance and also function as a logistics transporter infiltrating into enemy territory.
Remotely controlled using most modern day mobile devices, this RAWV has 16 motors and a camera that allows the operator to remotely view what lies ahead.  Challenging terrain including obstacles and gaps wider than the vehicle's length can be easily surmounted.
The RAWV was also showcased under the "New Ideas-Playpen" section of the ST Engineering booth at the Singapore Air Show 2012.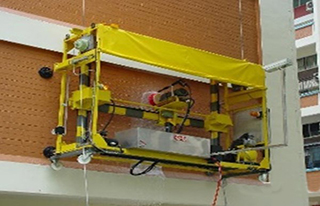 This robot is able to inspect and clean the inside of rubbish chutes and the exterior walls of HDB blocks, previously inaccessible to human beings. The robot is remotely controlled by an operator, who will be able to observe and control the cleaning process in real time via a camera mounted on the robot. Infra-red lamps around the camera ensure perfect visibility even in the darkest corners of the chute. This design is patented (Publication No: SG200106962, "Exterior servicing apparatus").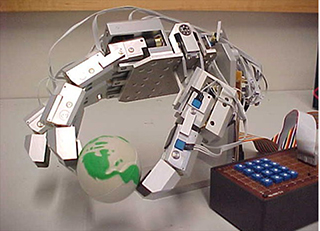 Robotic hand systems are used in a wide range of applications, from performing routine and automated tasks in production lines and manipulating objects in hazardous environments, to assisting with delicate and complicated surgical procedures. The increasing use of robotic hand systems has made a significant impact on industries such as manufacturing, defence, environment, medical, entertainment, edutainment and even space. The continuing quest is to develop a system that can entirely replace the capabilities of the human hand in order to meet the demands of present and future applications requiring even greater accuracy, precision, flexibility and dexterity. This design is patented (Publication No: PCT/SG00/00060, "An axially-compact gear assembly").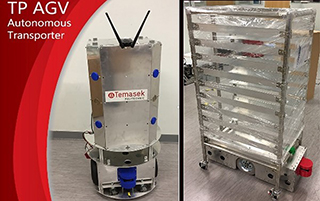 AIVs, designed to work alongside human beings, are great tools for performing repetitive tasks and improving productivity and are critical components for advanced manufacturing. The TP AIV robot provides a simple, lean solution for materials transportation, and can handle payloads of up to 100kg (can be customised to handle higher payload). It is fully autonomous and can navigate narrow spaces with a position accuracy of ±35mm. The TP AGV robot uses open-source Robot Operating System (ROS), is modular and easy to configure, customisable and scalable, and has unlimited extension to include vision, GPS, camera, as well as a 6-axis arm with 3-finger hand and other gadgets. Our industry partners include: MeiBan, SSMC, Lumileds, Agilent and Philips. This design is patent pending (Publication No: 10201709761U, "Drive Wheel Spring and Suspension Mechanism").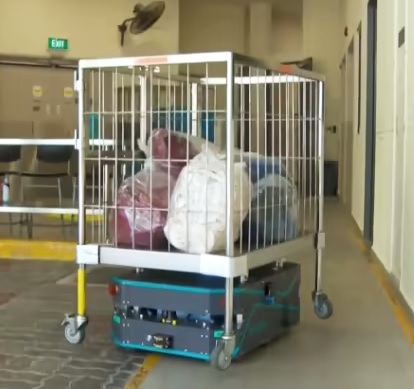 An autonomous robot vehicle that resembles a trolley, and is capable of moving around Independently, was developed for the Chai Chee Nursing Home and has been deployed there, easing the workload of nurses. Capable of carrying loads of up to 180kg, the robot vehicle is used to transport laundry and linen at scheduled timings, or when activated by staff for deliveries.
The Home collaborated with Temasek Polytechnic in 2020 to develop the vehicle so that mundane tasks could be automated, freeing up employees for other jobs. NTUC Health, which runs the Home, plans to equip all its nursing homes with the robot by 2024.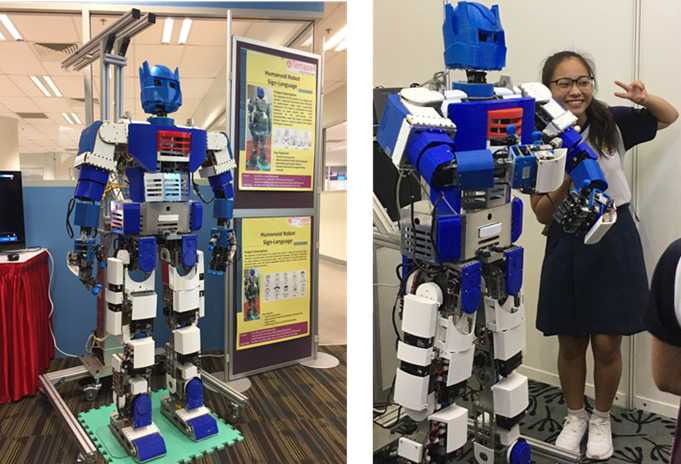 Our Centre also participated in state-of-the-art scientific and engineering research and development in the field of humanoid robotics and its applications. The objective was to discover the abilities of humanoid robots by studying a variety of integrated research in various scientific and engineering fields which includes kinematics & dynamics, optimal gait control & path planning, locomotion, adaptive motion, image processing, MMI interaction and machine artificial intelligence (AI) learning. This project won the "Best Innovation in Robotics" in the Engineering Impact Awards, ASEAN Regional Contest 2014.
Advanced Manufacturing Projects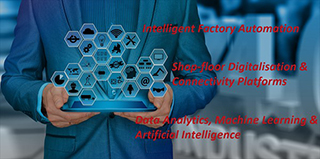 RAC engages in a number of activities closely related to the Industry 4.0 initiatives for advanced manufacturing. The Centre works closely with the TP – Advanced Manufacturing Centre (TP-AMC) to test-bed and perform proof-of-concept experiments related to the integration of robotics and automation technologies for advanced manufacturing, so as to develop cutting-edge complete industrial solutions.
There are 3 main focus areas:
RAC designs several AIVs for deployment in the field of advanced manufacturing. These AIVs perform material transportation, autonomous pick-and-place tasks, as well as remote mobile surveillance and monitoring. The flexible and fast redeployment features of the AIVs are ideal for the advanced manufacturing concept which focuses on high-mix-low-volume outputs, with highly configurable systems for large variant products.
RAC also designs robotic systems which can provide intelligence and visibility to the production processes. These include information on material movements, equipment utilization, and maintenance alerts. The robotic systems can also be remotely operated and monitored by the Manufacturing Execution System via wireless means. With a centralised on-demand information access system, management teams can make quick decisions, different teams are connected to work on common tasks and operations personnel can act immediately to solve problems.
The ability to generate manufacturing data for the overall value chain is an essential part of Industry 4.0. The data collected can be used for predictive maintenance, equipment efficiency monitoring and process optimisation. The huge amount of data also facilitates intelligent information processing for Deep Learning, thereby optimising the performances of smart machines.
The Centre has worked with various industry partners on collaboration projects, knowledge sharing and joint research & development initiatives. Some of our partners include:


Meiban Group Ptd Ltd
System on Silicon Manufacturing Co. Pte Ltd (SSMC)
Lumileds
Agilent Technologies
Globotix Ptd Ltd
Bolloré Logistics
NTUC Health
ST Engineering
Housing & Development Board (HDB)
Nanyang Technological University (Robotics Research Centre)
Singapore Manufacturing Federation (SMF)
Publications in the Media 
Low Cost Robotic Arm

A ground-breaking project by the RAC to engage in research & development to develop a low-cost robotic arm for rehabilitation was reported in The Straits Times.  It was a collaboration project with Exploit Technologies (A*STAR) and part of a wider nationwide effort to enhance cooperation and knowledge sharing between the local polytechnics and A*STAR so as bring products from lab to market in a shorter span of time.
T.C. Wee, "Mechanical design and optimal control of humanoid robot (TPinokio)", The Journal of Engineering, IET, April 2014, (pp. 1-12.)

Dr Wee Teck Chew 
Centre Head
Tel: 6780 5598
Email: WEE_Teck_Chew@tp.edu.sg
Qualifications: B.Sc (EE), M.Sc (Control Systems & Mechatronics), Ph.D
Areas of Specialisation: Robotics and Control Systems

Mr Ng Yong Seng
Lead Engineer
Tel: 6780 5197
Email: ngys@tp.edu.sg
Qualifications: B.Eng (Electrical Engineering)
Areas of Specialisation: Robotics and Embedded System Development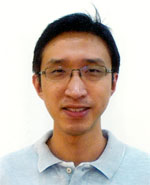 Mr Yeo Chau Tiong
Senior Engineer
Tel: 6780 1891
Email: yeoct@tp.edu.sg
Qualifications: B.Eng (Hons) (EEE), M.Eng
Areas of Specialisation: Electrical & Electronics Engineering
Members
Mr Lim Hock Beng
Mr Ong Eng Huat
Mr Peter Lim
Dr Shen Xue Feng
Mr Shi WeiXiong
Mr Venkata Rathnaiah Akkasaliga
Contact Details
Dr Wee Teck Chew

8.30 am to 6.00 pm (Mon to Fri). Closed on Sat, Sun & Public Holidays

Centre under School of Engineering

Temasek Polytechnic
West Wing Block 21, Level 3, Room 01
21 Tampines Ave 1
Singapore 529757
Quick Links To Centres Under Schools