Mission
This Academy was created to meet the needs of the aviation/aerospace industry for quality training, consultancy and collaborative industry-focused applied research projects.
The Academy provides aviation & aerospace related consultancy services and engages in collaborative industry-focused applied research and development projects. Its core competencies are in the areas of business & operations optimisation, competency based training, aerospace composites & repair, UAV composite airframe design, simulator sub system integration & development, as well as UAV control systems. Equipped with state-of-the-art training and research facilities, the Academy aims to collaborate with like-minded industry players and training institutions to further the industry's technological, human resource development, safety and economic goals.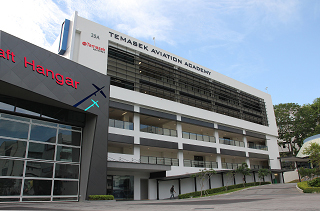 About the Academy

The Temasek Aviation Academy (TAA) is one of the largest aviation/aerospace facilities in Singapore. It has specialised training labs for airport & airline operations, air traffic control, as well as pilot and Licensed Aircraft Engineer training, and boasts of the latest state-of-the-art aerospace and aviation training equipment including full-flight simulators for training pilots and an aircraft hangar with a ground operational Hawker Siddeley 700A business jet.
The Aviation Research Centre (ARC) is the latest addition to the TAA. The ARC conducts applied research, testing and system optimisation in areas such as unmanned systems, aerospace maintenance, repair & overhaul (MRO) and airport systems. It is well-equipped with quality facilities such as developmental labs, indoor and outdoor UAV flying enclosures, wind tunnels, flight simulators, as well as computational fluid dynamics, virtual/augmented reality, and composite materials labs. Working with strategic partners, ARC innovates with a future-oriented approach in developing new capabilities for deployment and training for the industry.
This Academy focuses on the key technology areas that are related to each of our 3 diploma courses, namely the Diploma in Aviation Management & Services, Diploma in Aerospace Engineering, and Diploma in Aerospace Electronics.
These technology areas are:
Aviation Management & Services
Business & Operations Optimization
Competency Based Training
Aerospace Engineering
Composites
UAV Composite Airframe Design


Aerospace Electronics

Simulator Sub-Systems Integration and Development
UAV (unmanned aerial vehicle) Control Systems
Competition Projects
The Academy spearheads R&D in various technologies so as to design and develop the capability to take part in various competitions related to aviation or aerospace.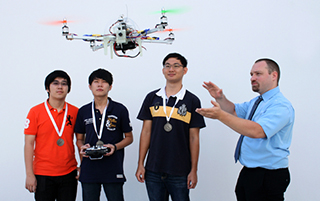 Singapore Amazing Flying Machine competition
We have designed flying machines ranging from simple or composite gliders, to remote-controlled and battery-powered aerial drones and quadcopters, to take part in the various categories of the annual Singapore Amazing Flying Machine competition – winning many awards over the years. Entries are judged based on aesthetics, performance, and creativity.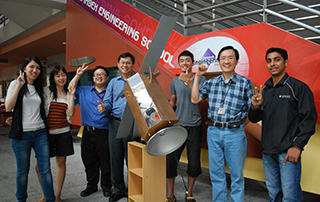 Singapore Space Challenge
Our project teams have also designed concepts of feasible space-related equipment or modes of transportation, based on technical and industrial research and development, to take part in the annual Singapore Space Challenge.  Among the concept designs submitted by our students were an aircraft capable of taking off from a city airport and venturing into space with two human passengers on a space tour.  Another concept was a satellite system called the "Vigilant Satellite System" which can monitor piracy in shipping lanes within a radius of 400 nautical miles around Singapore, 24-hours a day, and then transmit the information together with a satellite map of all ships within the area to a local base station in real time.
International European Air Protection Policies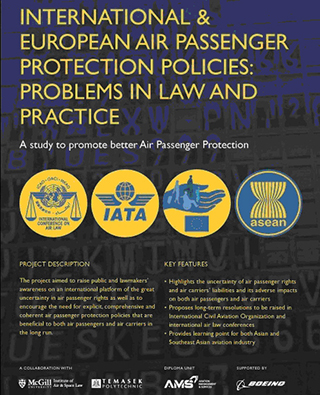 This project involved the study about the rights of international air passengers and the liabilities of airlines, so as to raise public and lawmakers' awareness of the uncertainties in these areas. It also proposed long term solutions at International Civil Aviation Organisation and international air law conferences. The objective is to encourage the evolution of a set of comprehensive and explicit air passenger protection policies that would benefit both passengers as well as carriers.
Reorganisation of Cathay Pacific Airways Ticketing Office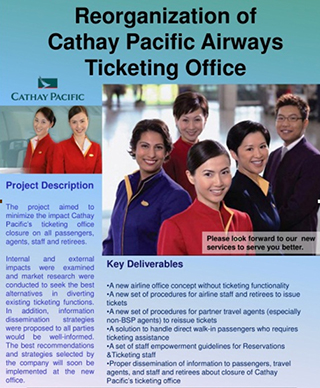 This project proposes new operating procedures for Cathay Pacific's ticketing office, aimed at improving work flow, increasing productivity, enhancing customer satisfaction, as well as minimising down time in the event of an unforeseen closure of the airline's ticketing office. Recommendations – which have since been implemented by the airline – include a new set of procedures for issuance of tickets, dealing with partner travel agents, and handling of walk-in customers. Also included were a set of guidelines for staff empowerment and the dissemination of information to the airline's customers and stake holders.
The Academy works with the following industry partners in areas such as project collaboration, knowledge sharing, and training: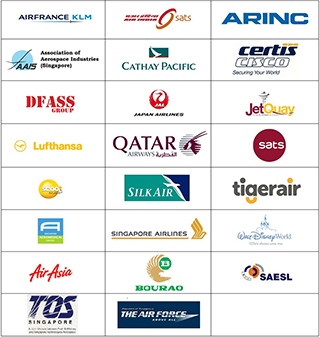 News about our Aerospace or Aviation students and their projects have been published in the local media from time to time. Here are some interesting ones:
TP Interns Get to Fly to Bangkok Every Other Weekend
This story, published in The New Paper (5 Nov 2012), tells of how a group of students from our Diploma in Aviation Management & Services (AMS) work as cabin crew with Scoot Airlines as part of their student internship, flying every other weekend to Bangkok. This unique internship opportunity is part of a special tie-up with Scoot; there is also another similar arrangement with Tigerair.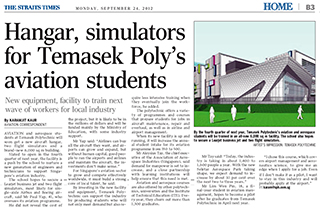 Hanger, Simulators for Temasek Poly's Aviation Students
When news about the impending opening of the new "West Wing" aerospace and aviation centre in the TP campus was released in late 2012, newspapers scrambled for a scoop. This report, published in The Straits Times (24 Sep 2012), elaborates on the high-tech equipment and facilities that would be housed in this 6,000 sqm fully air-conditioned building located in the TP's School of Engineering.
(Note: This "West Wing" facility was fully operational in early 2014, and has since been the centrepoint of Aviation & Aerospace training and research & development activities in the School.)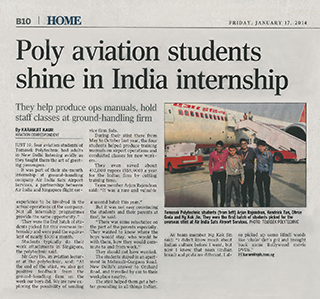 Internship Students Save Indian Company S$9,000 per year
A project done by four Aviation Management & Services (AMS) students for Air India Sats Airport Services, a ground-handling company in India, was reported in The Straits Times on 14 Jan 2014. The four students produced an operations manual for the company, and also conducted training classes for their new staff. In the process, they helped to raise productivity in training, thereby saving the company about S$9,000 a year.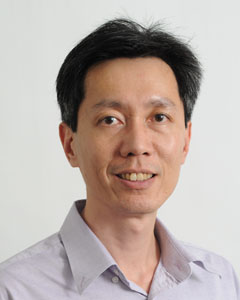 Mr Yue Keng Mun
Head

Tel: 6780 5239
Email: kengmun@tp.edu.sg
Qualifications: B.Eng (Hons) M.Sc
Areas of Specialisation: Aerospace & Mechanical Engineering
Contact Details
Mr Yue Keng Mun

8.30 am to 6.00 pm (Mon to Fri). Closed on Sat, Sun & Public Holidays

Centre under School of Engineering

Temasek Polytechnic
West Wing Block 25A, Level 3, Unit 22
21 Tampines Ave 1
Singapore 529757
Quick Links To Centres Under Schools